Local
Watch Michelle Wu's speech after taking the oath of office to become Boston's new mayor
"Boston was founded on a revolutionary promise: that things don't have to be as they always were."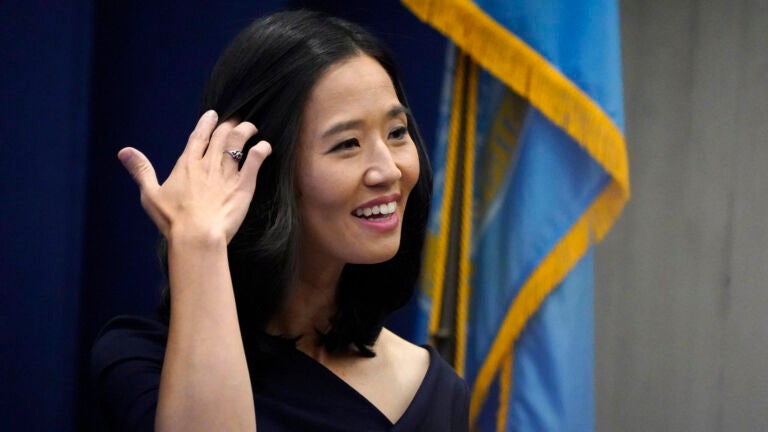 It's official.
Mayor Michelle Wu was sworn in as the first woman and person of color elected to lead the city of Boston during a ceremony Tuesday afternoon in the Boston City Council chambers, where the at-large city councilor and former Council president has served for the past eight years.
"Thank you, Boston," Wu said after taking the oath of office. "I am so honored to stand here in this chamber that has meant so much to me as your next mayor."
The brief ceremony Tuesday comes after an unusually quick two-week transition, due to city charter rules about replacing an acting mayor. Wu's team is planning a full inauguration with public events in January, alongside newly elected members of the City Council.
The program began with a Pledge of Allegiance led by Boston Public Schools student Eliana Rivas, followed by an invocation provided by Rev. Dr. Arlene Hall.
Boston Municipal Court Justice Myong J. Joun swore in Wu, who took the oath — as the first millennial and mother to serve as the city's mayor — alongside her husband and two young sons, Blaise and Cass.
During a subsequent speech, Wu recalled her "unexpected full circle journey over the last decade" as the daughter of Taiwanese immigrants who first landed an internship while at Harvard University in the office of late longtime mayor Tom Menino before running for City Council.
"Today, I know City Hall's passageways and stairwells like my own home, but this space is the most special," Wu said, noting the chamber "wasn't always this way."
She went on to use the chamber's 2018 accessibility renovations as an allegory for inclusive government leadership.
"When I joined the Council, this space wasn't fully accessible to everyone," Wu said to the audience, which included Gov. Charlie Baker, Sens. Elizabeth Warren and Ed Markey, Rep. Ayanna Pressley, and a who's-who of other state and local elected officials.
"The floor that so many of you all are sitting on today was actually much lower — designed as a pit, three steps down — part of a striking feature of what many, or I, would call a beautiful building in City Hall," Wu continued (a staunch defender of City Hall's divisive brutalist design, Wu jokingly added: "I've earned the mandate to call it a beautiful building").
Wu said the sunken chamber floor prevented Bostonians in wheelchairs and with other mobility challenges "from coming down directly to testify and advocate for change."
"Three steps down were a barrier between our government and the people we are here to serve," she said. "So we changed this space, reshaped it to be accessible for everyone and brought the floor up three steps. When we make City Hall more accessible, we are all raised up. When we communicate in many languages, we all understand more. And most of all, when we connect the power of city government to the force of our neighborhoods and communities, we see how much is possible for our city."
Now as mayor, Wu heads back to the mayor's office where she once interned on the other side of City Hall's fifth floor to begin her official duties.
The top vote-getter in the city's preliminary mayoral election in September, the unabashedly progressive city councilor beat fellow at-large councilor Annissa Essaibi George in the general election on Nov. 2.
And while she campaigned on structural reforms to address Boston's persistent racial and socioeconomic inequalities, Wu stressed Tuesday that city government "must do the big and the small."
"In this moment, we'll tackle our biggest challenges by getting the small things right, by getting City Hall out of City Hall into our neighborhoods, block by block, street by street," Wu said. "After all, Boston was founded on a revolutionary promise: that things don't have to be as they always were."
Share your questions about Boston's new mayor Michelle Wu
Newsletter Signup
Stay up to date on all the latest news from Boston.com