Politics
Andrea Campbell, former Boston city councilor, enters race for attorney general
A recent poll shows the one-time candidate for mayor has a leg up in the race to become the state's next AG.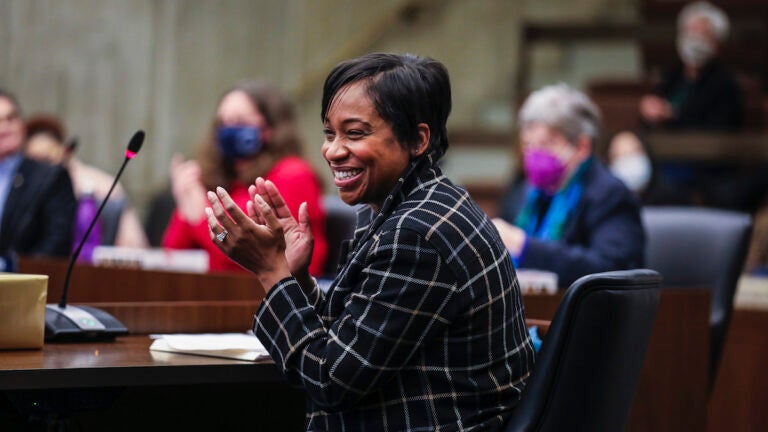 Andrea Campbell, a former Boston city councilor who made a bid for the mayoral seat last year, announced a run for Massachusetts attorney general on Wednesday.
The 39-year-old Democrat and Mattapan resident was reportedly considering launching a campaign after it became clear last month Attorney General Maura Healey would relinquish the position as she seeks the governor's office this fall.
If elected, Campbell would be the first woman of color to serve as attorney general of the commonwealth.
"I've dedicated my life to fighting for greater equity and opportunity, and that's what I'll do as Attorney General because the Attorney General is not just the top law enforcement official of the commonwealth, she must be an advocate for fundamental change and progress," Campbell said in a statement. "From Boston to Springfield, and Lawrence to the Cape & Islands, I will be an Attorney General for justice and opportunity for all — no matter who you are, where you come from, or where you live."
Campbell kicked off her campaign at Dorchester's Codman Square Park on Wednesday morning.
Campbell is the second candidate to formally declare a campaign: Labor attorney Shannon Liss-Riordan, a Brookline Democrat who previously challenged Ed Markey for the U.S. Senate in 2020, entered the race last week.
Quentin Palfrey, a former candidate for lieutenant governor in 2018, is also reportedly on the short list of potential candidates, though he has yet to make an announcement.
Campbell, however, is apparently joining the race with a sizable advantage.
A poll conducted by MassINC Polling Group released on Monday shows the former city councilor for District 4 garnered support from 31 percent of voters surveyed — far above the 3 percent and 2 percent collected by Liss-Riordan and Palfrey, respectively.
A Boston native, Campbell mounted a run for mayor focused on breaking down the city's inequities — systemic problems that had a personal and profound impact on Campbell personally.
On the campaign trail in July, Campbell told Boston.com her lived experience spans "almost every inequity you can think of."
Her public service has been particularly driven by the trajectory of her life in comparison to the experiences of her twin brother Andre, who died from an autoimmune disease while in pre-trial custody in 2012.
Campbell grew up in Roxbury, and her family relied on public housing and food assistance throughout her adolescence.
Her mother was killed in a car crash while traveling to visit Campbell's father in prison when Campbell was eight months old.
Campbell subsequently grew up staying with relatives and sometimes in foster care while her father was incarcerated. She ultimately graduated from Boston Latin School and holds degrees from Princeton University and UCLA Law School.
"Tragic things can happen in your life," Campbell said as she left the council in December. "It's how you respond. It's what you do with it."
As a legal services attorney for the EdLaw project, Campbell defended rights of children with disabilities and their families. She later served as an employment attorney at Proskauer LLP.
She also went on to serve as general counsel at the Metropolitan Area Planning Commission, working on regional issues with over 100 communities in Massachusetts, before she became legal counsel to Gov. Deval Patrick.
In 2015, Campbell ran for councilor of District 4 — which includes the neighborhoods of Dorchester and Mattapan, along with parts of Roslindale and Jamaica Plain — and secured an upset victory against 32-year-incumbent Charles Yancey.
Campbell became the first Black woman to serve as council president in 2018.
Her tenure in City Hall included shepherding the Community Preservation Act, her first piece of legislation, which brings in $20 million annually to help create new affordable housing and maintain historical properties, parks, and open space.
Campbell was also the chairperson of the council's Committee on Public Safety and Criminal Justice. She pushed the city to take on law enforcement reforms throughout her time in office, including reallocating portions of the Boston Police Department budget.
"I'm living proof that a girl who grew up in public housing in Roxbury, with a family torn apart by incarceration and poverty, with support from a community that believed in me, could turn pain into purpose, and become Legal Counsel for the Governor of Massachusetts, be elected the first Black woman President of the Boston City Council, and today announce my candidacy for Attorney General of Massachusetts," Campbell said in a statement on Wednesday.
After the campaign announcement in Boston, Campbell was scheduled to travel to Worcester to meet with the Central Massachusetts Housing Alliance and the Boys and Girls Club of Worcester. She was also slated greet voters and supporters at the White Lion Brewery in Springfield.
Correction: An earlier version of this story incorrectly stated Andrea Campbell would be the first person of color to serve as attorney general. Edward Brooke was the first person of color elected attorney general in Massachusetts in 1962.
Campbell would be the first woman of color to serve, if elected.
Newsletter Signup
Stay up to date on all the latest news from Boston.com