Animals
Bald eagle, found injured in Sterling, released back into wild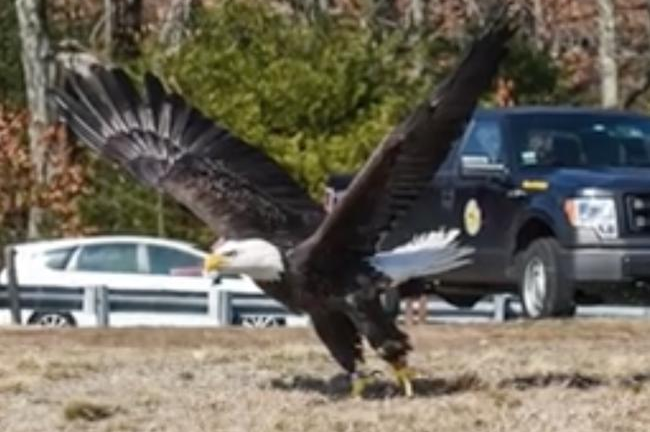 A bald eagle, found injured in Sterling in January, was released back into the wild on Tuesday.
Workers with the Massachusetts Division of Fisheries and Wildlife documented the release of the eagle at the Wachusett Reservoir in a video, which was posted on Facebook. As of Wednesday afternoon, the video had more than 38,000 views.
[fragment number=0]
The injured bird of prey was found by Anthony Papandrea on January 23, according to the state environmental department. He contacted the local animal control officer when he noticed the bird hadn't moved from a spot on the ground for a couple of hours. Local officials eventually contacted Marion Larson, the state's wildlife information and education officer.
The following day Larson and Dr. Scott Handler, her husband and a veterinarian with experience handling raptors, arrived with the items needed to capture the bird.
"The eagle tried to sneak away, bounding and hopping through the brush and trees,'' the state said in a statement.
After 15 minutes, the officials were able to throw a blanket over the raptor and safely place it into a crate.
The eagle was brought to Tufts Wildlife Clinic at the Cummings School of Veterinary Medicine in Grafton where an examination revealed the bird had a dislocated bone in its sternum, which officials said indicated the bird had most likely struck something with a great impact. The dislocated coracoid prevented the bird from flying.
The bird's wing was bandaged to stabilize the injury and it was given pain medication, fluids, food, and rest.
Officials also discovered the eagle had federal and state leg bands, meaning the eagle had been given the band by MassWildlife almost six years ago while a chick at a nest site at the Quabbin Reservoir. Based on its size, officials believe the eagle is an adult male.