Animals
This blind, elderly dog needs a supportive home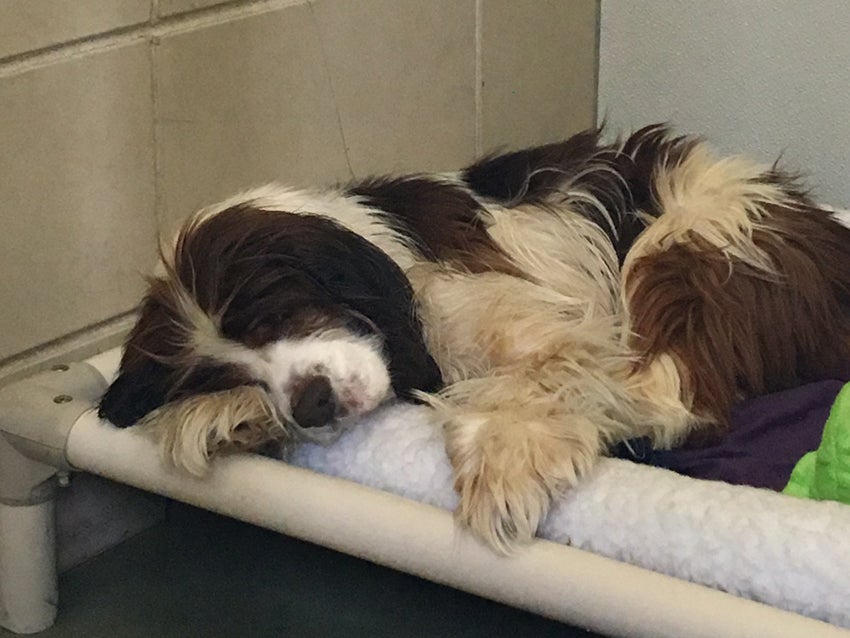 When her owner had to move into a nursing home, Lassie was delivered, homeless, to the MSPCA-Cape Cod shelter.
The blind, 10-year-old dog was one of eight dogs brought to the shelter during the last week of March, according to a statement from the MSPCA.
But unlike the other dogs who went on to quickly find new homes, Lassie needed extensive medical care before she would be ready for adoption. In addition to her swollen, blind eyes, Lassie had severe skin and ear infections.
Because her eyes were causing her pain, vets with MSPCA's Angell Animal Medical Center in Boston determined they needed to be removed. She underwent the surgery on Wednesday and is now back at the Centerville adoption center. She was also treated for her skin and ear infections, though MSPCA-Cape Cod Director Mary Sarah Fairweather said Lassie will likely need ongoing treatment to clear the infections.
"Even though she cannot see—and she's still battling other infections—she is sweet-natured and adores affection from staff and volunteers," Fairweather said in a statement. "Whoever takes this special animal home will need to continue her care to ensure she thrives."
Lassie's care, which cost over $3,000, was paid for through the Guardian Angel Fund, which is supported by donations.
"Every dollar was well spent," Fairweather said. "We must always be here for dogs like Lassie, whose bodies may be ailing but whose spirit and personality make them wonderful companion animals."
Fairweather believes Lassie would do well in a home with older children — potential homes would need baby gates across the stairs and be free of sharp corners and furniture to accommodate the blind dog.
Anyone interested in adopting Lassie can visit the shelter or email [email protected] for more information.