Animals
Turkeys are attacking people in Foxborough
Learn how to avoid an attack and what to do in the face of one.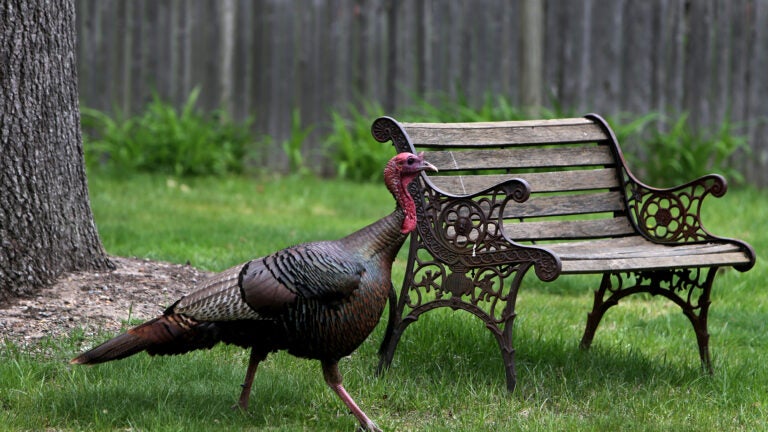 It looks like turkeys in Foxborough are getting advance revenge for Thanksgiving.
The town's animal control officer, Sue Thibedeau, said she's received several reports of wild turkeys going on the attack against humans in the past few weeks.
This has been the first summer that she's received repeated reports of turkey attacks, and she thinks the issue isn't isolated to just Foxborough.
Here are some tips to avoid getting attacked by a turkey, according to Thibedeau:
Don't feed them.
The issue is a man-made one, Thibedeau said. People try to feed the birds, and they get attacked instead. It's best to maintain a safe distance and not approach them at all.
Don't keep a messy bird feeder.
Make sure your bird seed isn't scattered around the ground. It should be kept in a compact container and raised above the ground. Otherwise, turkeys will see it as a steady food source, and keep coming back to your home.
But what happens if, by chance, you do get attacked by a wild turkey? You should respond with "humane harassment," a way of scaring the turkeys away without injuring them, Thibedeau said. Here are some examples:
Simply be bold.
Don't appear scared. Make the bird fear you. "Move your arms, shout at them. … Generally that would frighten the bird and they'll leave you alone," Thibedeau said. Maybe even pretend like you're going to run at them. 
Wave a large object.
Got a broom or umbrella handy? Use it. Don't strike the bird, but wave it around to scare the animal away.
Don't run away from them.
According to Thibedeau, "If you run, they will chase." 'Nuff said.
Spray them with a hose.
No, seriously. It will freak out the bird and make them retreat, but won't hurt them, Thibedeau said.