Animals
Seals are washing up dead on Maine beaches and stranding in high numbers. Here's what we know.
"A day or two might be an anomaly, but as it continues, it obviously becomes more concerning."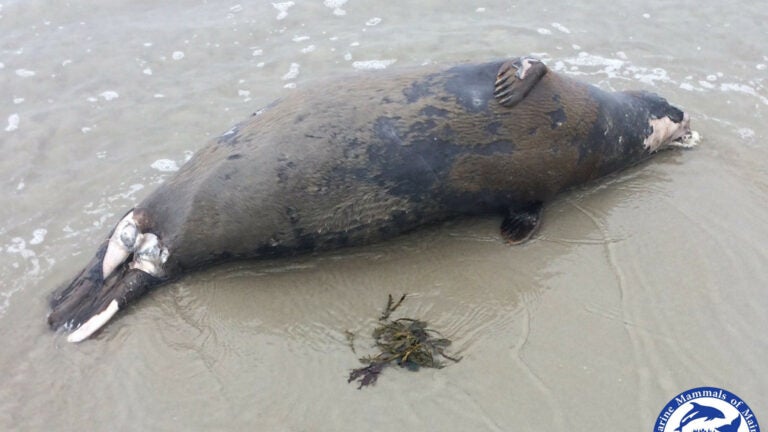 In just three days, 40 seals washed up on Maine beaches.
Ten of them were alive and rescued. But 30 of the marine mammals that appeared from Sunday to Tuesday on the shoreline — stretching from Kittery to Portland — were already dead.
Lynda Doughty, the executive director of the animal rescue agency Marine Mammals of Maine, told Boston.com there is some "seasonality" for seals becoming stranded on land in the region. But she and her colleagues have been seeing an increase in the number of seals reported stuck or deceased on beaches in recent weeks.
"The last few days it's really kind of exploded for responses," she said.
Experts say the cause of the surge, which is now being labeled as a "die-off," is unknown. But it now appears to be happening in other states besides Maine.
"We're not sure because we're still in the middle of it," Doughty said. "But we're trying to collect and gather as much information for documentation purposes as well so that we can look at the whole of what may be going on."
Right now, she said, "everything" is being put on the table as a potential culprit as the deaths are investigated in conjunction with the National Oceanic and Atmospheric Administration.
"We're trying to collect the samples that we can from the freshest animals that are deceased to have the most impact or value on the samples that are sent off for testing," Doughty said.  
From July 1 to Aug. 14, there were about 201 strandings and deaths of seals of all life-stages in Maine, with about 133 of the animals washing up deceased, according to Jennifer Goebel, a public affairs officer with NOAA.
The 10-year average for responses in the month of August for Marine Mammals of Maine is usually around 38.
On Tuesday alone, the organization responded to 18 different incidents involving seals, according to Goebel.
"They've been really busy on the beach," she said.
The goal now is to get as many tissue samples as possible sent off to the lab for testing, she said.
"When events like this happen it's obviously very concerning," Goebel said. "There's no smoking gun — there's nothing we can immediately point to and say that this is the cause."
The phenomenon also appears to extend down into New Hampshire and northern Massachusetts, where Goebel said 19 seals were rescued or recovered on Tuesday.
"This goes now beyond just Maine," she said.
Sarah Perez, a marine mammal rescue assistant at the Seacoast Science Center in Rye, New Hampshire, said she and her colleagues have seen an increase in seal strandings over the last two months. The rescue team at the science center covers New Hampshire and northern Massachusetts.
Perez said that usually her team will see 15 cases of stranded seals for the entire month of August. But since Sunday, they've seen 26.
"That is significantly higher than normal," she said. 
In July alone, 23 deceased seals washed up, compared to the 10 or 11 that are typically expected.
And, like in Maine, the animals being discovered in New Hampshire have ranged from adults to young "weanlings" and have cropped up across the coastline, though sometimes a number will wash up at once on one beach.
"Right now we're seeing mostly harbor seals, and we're seeing them varying in age class," Perez said. 
Between Maine and New Hampshire, rescuers have responded to about 276 strandings of alive or deceased seals from July 1 to Aug. 14, according to NOAA.
The last time seals washed up on New England's shores in such high numbers was 2011. At that time, an influenza virus was discovered to be the culprit of the die-off.
Tony LaCasse, a spokesman for the New England Aquarium, which covers marine mammal rescue from Salem down to Bourne in Massachusetts, said the uptick in deaths hasn't been witnessed on the Bay State's coast so far.
This time of year is when there tends to be "a lot of mortality" in harbor seal pups, he said. On average, about 30 percent of harbor seal pups die each year, making it common around this time to see their carcasses on the shore.
"What happens is they're born in May, they're nursed by their moms for about 30 days," LaCasse said. "Then in late June or early July they're on their own and hopefully they have enough fat on board to sustain them for a month, a month-and-a-half as they learn to hunt. For those that don't do well, or if there's a lack of food around, that's part of the natural mortality that will happen in that time."
The numbers being reported in Maine, however, are "way above" what is to be expected, he said.
The cause of a higher mortality rate could range from an underlying disease or pathogen to a naturally occuring biotoxin or harmful algal bloom — like red tide — to a local pollution event, the marine experts said.
Or it could be something else all together.
"It's too early to really speculate what the cause is, but those things have been implicated in die-offs in the past," Goebel said.
Doughty said they've observed that the seal carcasses have been at different levels of decomposition, which indicates that the animals didn't just all die at the same time.
It also appears that it's mostly harbor seals that are affected, but grey seals have also been reported.
The seals are "bioindicators" of what might be going on in the environment in general, according to Doughty.
"It looks like it started happening in July," Goebel said. "A day or two might be an anomaly, but as it continues, it obviously becomes more concerning."
The recent surge has placed Maine facilities for marine mammal rehabilitation at capacity, according to the Portland Press Herald.   
Anyone who comes across a stranded or dead seal is being urged to contact the rescue hotlines and refrain from touching the animal. The Maine rescue group (1-800-532-9551), New Hampshire team (603- 997-9448), and NOAA (1-866-755-6622) have their own hotlines where stranded seals and marine mammals can be reported.
"We highly recommend that you do not touch the seal," Goebel said. "Do not allow pets to approach the seal — whether it's alive or dead. And observe the animal from a safe distance, which we would say would be about 100 yards."