Animals
A Cape Cod marine biologist recalls capturing the 'rare' sight of great white sharks feasting on a dead whale
"You could actually hear people gasp."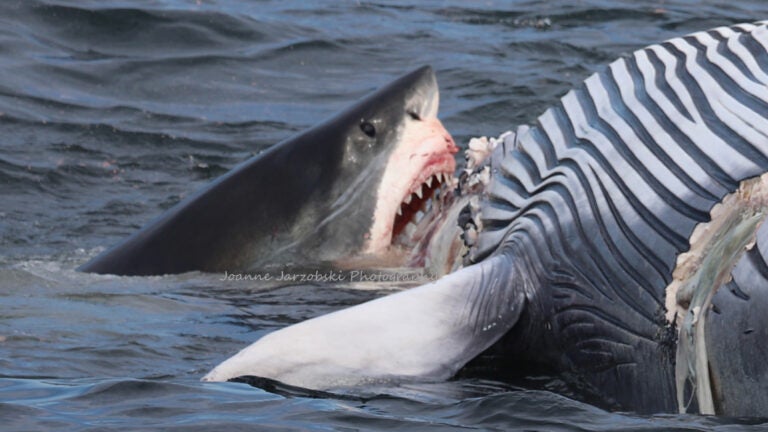 Joanne Jarzobski knows just how rare it was to see.
Aboard a Barnstable-based Hyannis Whale Watcher cruise she works on, the marine biologist and some 160 passengers watched in awe earlier this month as two great white sharks devoured the carcass of an approximately 60-foot-long finback whale.
"You could actually hear people gasp when the shark would lunge out of the water," she told Boston.com Monday.
The feast was about seven miles north of Barnstable Harbor as the boat traveled on Oct. 14.
A marine biologist in New England for 22 years, Jarzobski described the chance of seeing one of the predators chomp down on a whale as "extremely rare."
While sharks frequently munch on whales — dead ones are part of a great white shark's regular diet, Jarzobski said — humans don't often have the chance to see it because the whale carcass can sink beneath sea level, which means meal time is usually out of sight, she said.
Jarzobski is among those who've witnessed the sight before, but the awestruck feeling of showing it to boat passengers never changes.
"It always feels just as exciting," she said.
Luckily for those who missed the action from the deck that day, Jarzobski captured the moment in several photographs she posted on Facebook.
Information about the sighting was shared with the state's Division of Marine Fisheries to identify the predators, according to Jarzobski, who said she confidently believes one of the sharks captured in her lens was 18-feet long.
Shark sightings in the area increased over the summer, and attacks left a New York man severely injured and a Revere man dead.
Jarzobski said in many ways the creatures are still mysterious despite the public's and pop culture's fascination with them.
A shark presence indicates there is a healthy ecosystem, she said, but Jarzobski, who said she was heartbroken by the attacks this summer, hopes that scientists can work to better understand them so a safe coexistence between sharks and humans can come to Cape Cod.