Animals
'Really it should never happen': 2 young cats were abandoned in a box on the side of the road in Dedham
The Animal Rescue League of Boston is continuing to investigate.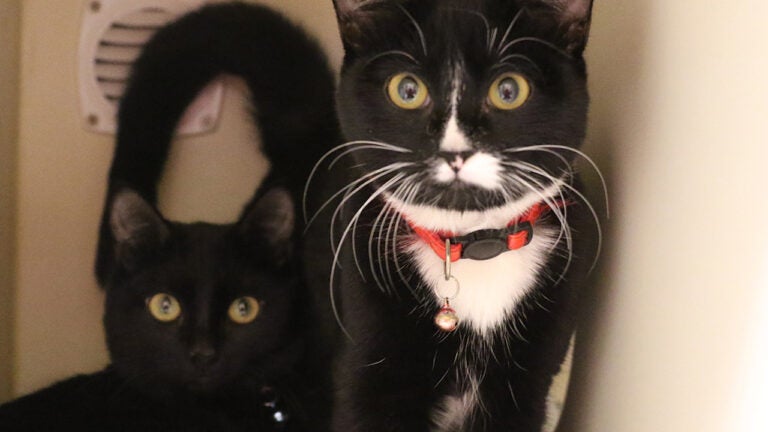 Two 6-month-old cats, one with a broken leg, were found abandoned in a box alongside a street in Dedham this past weekend.
Now, the Animal Rescue League of Boston wants to find the felines a home before the holidays, and figure out who's responsible.
The cats were found by someone who saw a man standing over a box on High Street, according to the ARL. When this person pulled over, the man drove off. The person found the cats inside the box and brought them to ARL's Dedham Animal Care and Adoption Center.
Now named Arnold and Helga, a throwback to the 1990s Nickelodeon cartoon show "Hey Arnold," both cats are healthy overall, the ARL said. Helga, who had the broken leg, also had a rabbit nail stuck in her tail.
"Incidents like this don't happen [every day], but they are more frequent than people may think," Michael DeFina, a spokesman for the ARL, said in an email to Boston.com. "There are months where ARL may see 4-5 abandoned animals, and really it should never happen as abandonment is never an option."
There are life circumstances that do force people to consider giving up their pets. In cases like these, DeFina advocated for surrendering them to a place that can find them a new home. 
"When an animal is surrendered to ARL, there is no [judgment], no condemnation, we take in the animal, make sure it's healthy and then find the animal a loving home," he said. "The person(s) responsible for abandoning these animals should've done the right thing by surrendering, however now they are facing possible felony abandonment and cruelty charges."
Other than a mending limb, Arnold and Helga are "socialized, friendly, and adore attention," DeFina said.
"So it does appear that they were cared for at some point, however that goes out the window when they are left on the side of a busy street to fend for themselves," he added.