Animals
Wareham officials ask residents to stop trying to feed seals peanut butter and jelly sandwiches
"He is watching his weight."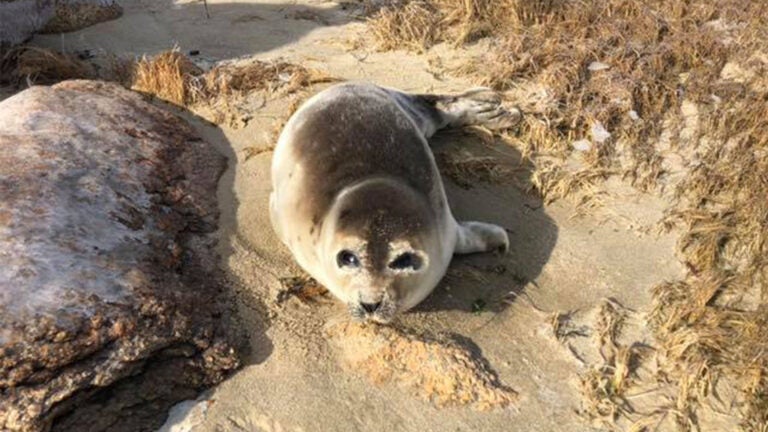 Wareham officials are asking local residents to not, among other things, feed seals peanut butter and jelly sandwiches, after one of the animals was found ashore Monday — along with a few sandwiches.
"I'm sure someone came across it and felt bad for it," Garry Buckminster, the director of the town's Department of Natural Resources, told Boston.com. 
"While the intent was nice that they thought he would love a peanut butter and jelly sandwich on his way down the coast, we frown upon it," he said.
Buckminster had responded to a report Monday afternoon of a possibly sick or injured seal at Swifts Beach. Upon arriving, he found a group of worried onlookers surrounding a harp seal that had come ashore. Some were planning to fetch blankets to wrap around the animal, given the freezing temperatures.
However, Buckminster said the seal had no visible injuries and appeared in otherwise good health. Harp seal cubs typically migrate south from the Canadian shores during the winter, making stops along the East Coast.
"They're just trying to rest," Buckminster said.
Even the most well-meaning humans can stress out seals if they don't give the animals space. In a Facebook post, the Wareham Department of Natural Resources noted that the seal found Monday "was vocal due to the onlookers congregating close by."
"We ask that if you come across a seal to please keep a significant distance and do not disturb them," the department wrote. "Harp seals tend to eat sand when they become stressed and it is not good for them."
In addition to sand, they noted that seals' diets should also not include PB&Js.
According to the National Oceanic and Atmospheric Administration, harp seals mostly sustain themselves by hunting for small fish, such as capelin, Arctic cod, and polar cod. However, sandwiches had been left with the one found Monday, which the department affectionately named "Sammy" in their Facebook post Monday.
"He is watching his weight," officials joked.
While human-seal encounters are common in Wareham and the surrounding areas, Buckminster said that he'd never seen sandwiches left for them before. He never got to ask the sources of the sandwiches about their thinking; whoever left the PB&Js with the seal Monday had apparently left by the time Buckminster arrived.
"Their hearts are in the right place," he said.
Buckminster says the seals appeared to have returned to the ocean on Tuesday. For future encounters, he asked that residents not approach seals — or try to provide them with any sort of human food.
"We all have zoom on our cameras," Buckminster said.