Animals
'She's very sweet': Amy, the overweight pig in MSPCA care, finds a home
"She will become part of our animal therapy program."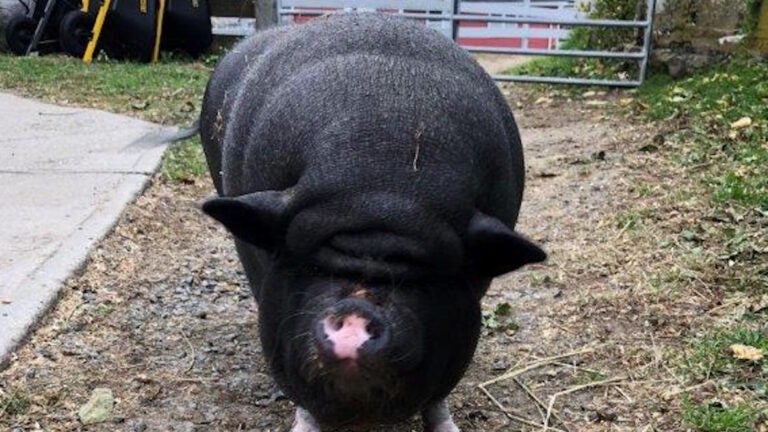 Workers at the MSPCA's Nevins Farm in Methuen hoped to find Amy, an extremely overweight pot belly pig, a home for the holidays.
And it wasn't long after the new year that Amy was adopted.
Amy, a mostly black, 2-year-old pig, was spotted online by the animal coordinator for Cooperative for Human Services, a nonprofit that works with adults with special needs. The organization has its own farm in North Reading, and Amy was brought there last Tuesday.
"We're thrilled that Amy has been adopted into a loving home that is as unique as she is, and we look forward to hearing more about how her story inspires others to overcome some of life's biggest challenges," MSPCA officials said in a statement.
Gale Alles, the cooperative's director of operations, noted that Amy is a special needs pig considering that she has to lose about another 90 pounds. She and others at the organization felt Amy would fit right in.
"She will become part of our animal therapy program," Alles said. "It seemed like a good fit. … Right now she's in a barn very similar to where she came from at the MSPCA. She has her own stall with blankets and toys."
The farm provides clients an opportunity to work in the organization's organic garden and learn about nature. Plus, it gives them a place to just "really relax and reconnect," according to Alles.
"So having Amy at the farm now is another reason for them to come back," she said.
Amy went outside shortly after her arrival at the farm, Alles said, adding that workers used a small piece of apple to lure her. Her spirits rose after she went outside, and she was out there for about 15 minutes before she got tired and went back to her stall.
"She's very sweet," Alles said.
Amy's the only pig at the farm, but there are other animals, including goats and chickens, plus three guinea pig sisters and a couple of rabbits who are father and son. The organization "constantly" considers what animals to add, according to Alles.
Once Amy slims down, Alles said officials may consider bringing her to the homes of clients who can't leave as easily to visit the farm. But for now, weight loss is front and center.
"Our goal is to help Amy lose 90 pounds, and I'm really hoping by sometime in the summer we'll see her in better shape, so that's our goal and we're very mindful of it," she said.