Animals
MBTA riders helped out an 'adorable' four-legged passenger on the Red Line
"We appreciate the compassion of MBTA riders aboard the Red Line this morning."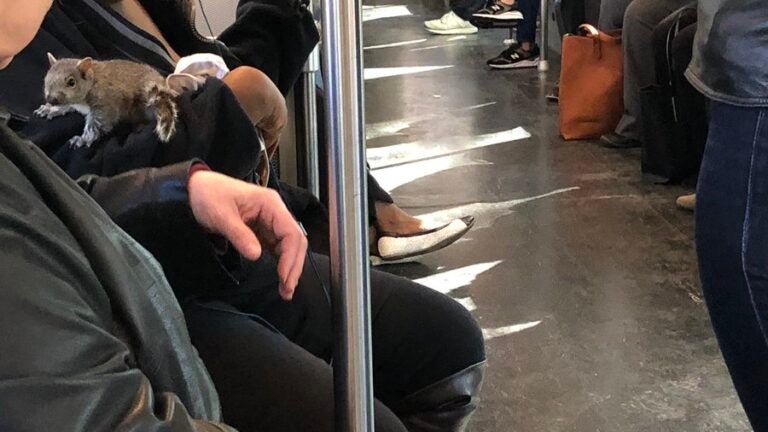 MBTA commuters came to the aid of an unexpected passenger Monday morning.
A baby squirrel snuck on an inbound Red Line car at Ashmont station, creating "minor pandemonium" before passengers "banded together" to let it off two stops later, according to a passenger on the train.
Rosanne Foley, a Dorchester resident and executive director of the Boston Landmarks Commission, told Boston.com that the tiny animal mistakenly entered the subway car "just as the doors were closing," prompting some passengers to climb onto their seats.
"They weren't sure if it would attack them," she said. "I explained it was only a baby squirrel to help calm things down."
However, passengers quickly warmed up to the fury little rodent. Foley said one woman got out a cloth reusable bag, bent down, and gently wrapped the squirrel to pick it up. The squirrel "snuggled in her arms" and let the passenger stroke its head, Foley said.
"Very adorable," she added.
So @MBTA this morning passengers banded together to try and help a baby squirrel who got on the train at #Ashmont let him off the train at Fields Corner, we're concerned the little guy will be injured if he stays on the station platform pic.twitter.com/Qy25vQf1qG

— Rosanne Foley ??? (@rafdotmass) April 29, 2019
Another passenger broke off a piece of a granola bar to offer to the squirrel as a morning snack (Foley said it was unclear if it actually ate it). The animal remained cradled for two stops until Fields Corner, an aboveground Red Line station.
"We were thinking best to release above ground where it could see trees rather than underground in Shawmut," Foley said.
MBTA spokeswoman Lisa Battiston says transit agency staff is still working to identify the squirrel's whereabouts. It's unclear if it made it off T property. While she commended passengers' kindness, Battiston noted that it's generally not a good idea to pick up wild animals.
"We appreciate the compassion of MBTA riders aboard the Red Line this morning, though we also encourage customers to be extremely cautious if they come into contact with an animal on the T," she said in an email. "It is not advised to interact with stray animals (however adorable they may appear). "