Animals
Not heading out to the dog park? Consider these tips to keep your pet happy and healthy near home.
"Just exhausting your dog will keep your dog mentally and physically stimulated."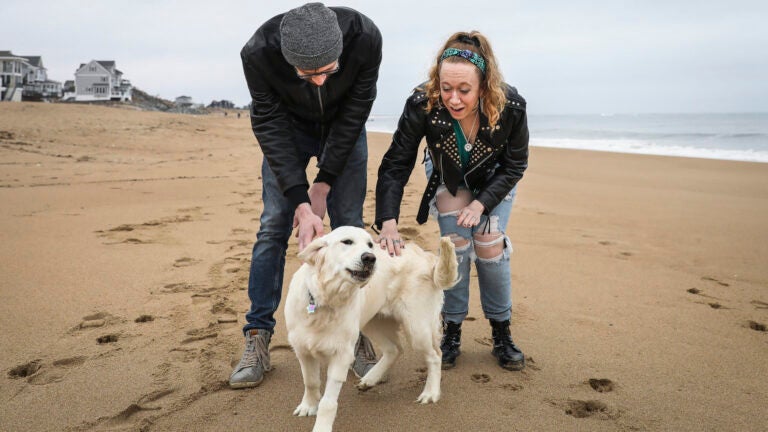 Working from home can be an adjustment, not just for you, but your pets too.
As Dr. Edward Schettino — vice president of animal welfare and veterinary services at the Animal Rescue League of Boston — points out, your dog or cat may not be thrilled with no longer having the house to themselves all day.
Keeping a routine is important.
Dogs are creatures of habit, according to Schettino. (There's a good chance your cat, however, will just keep their routine humming on their own.)
The dog park isn't really the place for social distancing, so don't underestimate the power of a good walk.
"Taking your dog on a long walk, just exhausting your dog, will keep your dog mentally and physically stimulated," Schettino said.
Mike Keiley, director of adoption centers and programs at the Massachusetts Society for the Prevention of Cruelty to Animals-Angell Animal Medical Center, agrees. "It's a good time to go out for a walk with your dog, or a hike in the woods with a dog," he said.
There aren't any cases of animals contracting COVID-19, according to Schettino. But experts believe the coronavirus can live on fur and hair.
That means washing your pup when you return home, especially after a pet from a neighbor or passerby.
It's also a good time to practice training. Keiley said the MSPCA is working on getting advice on that up on its website soon.
In the event that someone becomes sick and is unable to walk and/or take care of their pet, both Schettino and Keiley said they recommend they reach out to neighbors, family, or friends.
"If someone is sick and asking you to walk their dog, just be careful," Schettino said, pointing to the need to wash animals — and your hands — upon returning home.
According to Keiley, it's also important that pet owners have a plan in place should they get separated or need to be separated from their animal. That includes having food and pet records readily available.
And don't forget to check in on pet owners proactively.
"Obviously we are always a backup… but given this crisis and the potential impact, we really need the whole community to support each other through this," Keiley said.
<hr>
<h2>Your 60-second guide to social distancing during the coronavirus outbreak</h2>