Animals
Bear populations are flourishing in Mass. Here's how to keep them off your porch.
MassWildlife officials say the commonwealth's bear population has been consistently growing for the past 50 years.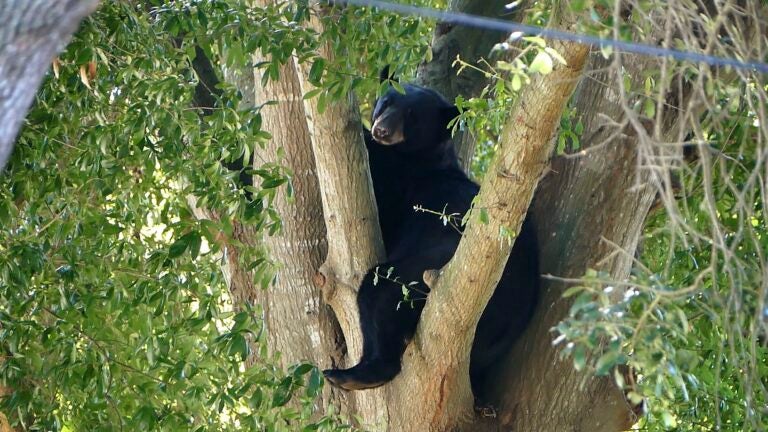 Bay Staters were transfixed when stories emerged of the September viral video showing a rogue bear nudge a Greenfield man awake from his poolside nap — but local officials say this experience is much more common than one might think. 
"We have bears in people's yards and neighborhoods on a daily basis, probably a hundred times or more a day, in our established bear range," said Dave Wattles, a black bear and furbearer biologist for Massachusetts Division of Fisheries and Wildlife. 
Since the peak of people transitioning to a working-from-home routine due to the coronavirus pandemic, Wattles said human-bear interactions have increased. And as bears continue foraging widely for food in preparation for winter denning, he said it's important to know how to coexist with the creatures in an effort to keep them from stumbling through residents' yards, screened porches, and properties.
"Massachusetts is bear country and it is up to the citizens of Massachusetts to be responsible for coexisting with our wildlife and help keep bears wild, by removing bird feeders, securing garbage in a garage or shed, and cleaning up other food sources," Wattles told Boston.com in an email. 
He added that the commonwealth's bear population has been consistently growing for the past 50 years. Bear densities have been increasing rapidly in central Mass., the places bears are often found is now expanding East, and bears have even begun inhabiting places in eastern Mass. that they haven't in the past 250 years.
Wattles also said there are now resident bears living between Interstate 495 and Route 128. Additionally, there have been more sightings east of the Connecticut River.  
Connecticut's Department of Energy and Environmental Protection also reported an increase in interactions between black bears and people throughout 2020, "resulting in unprecedented numbers of complaints and requests for assistance."
Wattles said the main reason bears are drawn to local homes is because of the abundance of food people have around.
"Bears are driven by food," he said, adding that they mostly eat plant-based foods so they need to gain all the calories they can to survive hibernation. "This means when they're active they search out whatever high calorie foods they can and we readily supply those around our homes."
Yet the main culprits, Wattles said, are bird feeders. 
"Bird feeders are huge sources of calories and we refill them when they're empty. Bears love them and can't help it," he said. "Unfortunately, every time a bear feeds at a bird feeder it is being trained to come to yards and neighborhoods to find food."
Other tasty snacks for bears could look like pet food, garbage, and sometimes compost. 
"They'll take advantage of any easy meal," Wattles said. "They also can get into trouble by looking for other foods. Increasingly we're having issues with bears breaking into chicken coops and bee hives in people's backyards."
He said MassWildlife also often fields reports of bears entering screened porches where people have stored bags of bird seed. 
This, Wattles noted, is a "terrible situation" since screened porches provide zero protection from a bear, and the animal can easily smell and access bird seed when it's on a porch. This also tends to train bears that local homes can be entered to find food, he said. 
"People should NEVER store any bird seed, garbage, or other food on a screened porch. It is about the worst thing that can be done," Wattles said. 
But thankfully, he added that black bears aren't inherently aggressive toward people and in most cases when they pass through yards and neighborhoods, it's best to let them be. Injuries are often caused by chance encounters instead, such as someone surprising a bear feeding in a dumpster, or while taking the trash out late at night, or letting the dog outside as a bear snacks from a bird feeder. 
"This is why we want them using natural areas and not around our homes," Wattles said. "The more time a bear spends around our homes the greater the chances of a negative encounter. The only way to reduce the chances of those, is to remove the food sources."
Get Boston.com's browser alerts:
Enable breaking news notifications straight to your internet browser.