Animals
Mass. may soon have an official dinosaur, and this is the one Boston.com readers want
"If the Route 1 orange dinosaur doesn't win, this was RIGGED."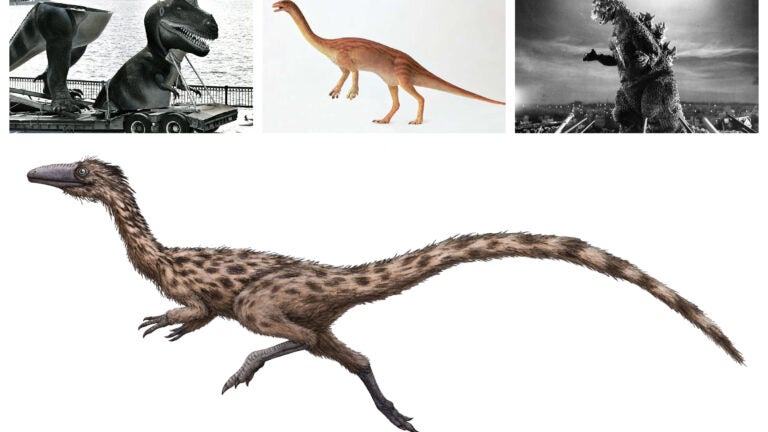 If you've spent any time at all traveling between Boston and the North Shore, you know there is only one dinosaur that truly represents the essence of who we are as a people here in Massachusetts, and he (or she?) is perched above Route 1 in Saugus.
After all, in stark contrast to its delicate, meteor-stricken ancestors, the hardy Route 1 orange dinosaur managed to survive the demise of the Saugus mini-golf course that hosted it for decades, retaining its prime location overseeing the travelers speeding up and down that legendary throughway.
But despite that indisputable fact — and if you don't believe us, ask the 7,662 people who signed a petition to have the orange dino replace Christopher Columbus in Boston's North End — that particular reptile isn't one of the options being offered up by Rep. Jack Lewis, the Massachusetts Democrat planning to file legislation to designate an official state dinosaur for the commonwealth.
Instead, Lewis wants a dinosaur who is a) real, and b) had strong Massachusetts ties when it roamed the earth during millennia past. Hence the options Podokesaurus holyokensis, a small bipedal carnivore first discovered by Mount Holyoke, and Anchisaurus polyzelus, a slightly larger, long-necked herbivore found in Springfield.
Rep. Lewis is conducting his own poll prior to filing the legislation next week, but we asked Boston.com readers to weigh in in the meantime, and more than 700 answered the charge. And maybe it was due to its name rolling off the tongue or a general fondness for Holyoke, but Podokesaurus holyokensis was the clear winner, garnering 51% of the vote. Anchisaurus polyzelus managed 21%, while 16% were made up of Paleozoic party poopers who are against the idea of a state dinosaur entirely. ("There is nothing else currently going on in the state that is more important?" asked one of several readers who seem to be under the impression that the Legislature can only handle one thought at a time.)
As for the 12% who chose "other," the majority of those picked (of course) the orange dino, and were pretty eloquent about it too:
"Route 1 dinosaur. I know you said it's not an option but it should be."
"The big orange Route 1 T-Rex, cmon, was that even a question?!"
"You were too afraid to include the Route 1 orange dino because you knew it would win in a landslide."
"If the Route 1 orange dinosaur doesn't win, this was RIGGED."
Other options offered included a few for velociraptor (from "Jurassic Park" fans, no doubt), and pushes for old favorites pterodactyl, triceratops, and good old Tyrannosaurus rex. A few traditionalists mentioned the dinosaur that used to guard the entrance of the Museum of Science in Cambridge, along with individual nods for, and we quote, Fenway Park, Godzilla, Joe Rogan, Sen. Ed Markey, and state GOP chairman Jim Lyons.
As to whether Rep. Lewis's bill will end with a roar or with a whimper when it reaches the floor of the Legislature, you'll have to stay tuned. But we have a feeling it has teeth.
Get Boston.com's browser alerts:
Enable breaking news notifications straight to your internet browser.