Animals
Is Boston's No. 3 dog name a tribute to Charlie Baker? We're going to say yes.
Here are Boston's top 25 dog names, some of which have clear local connections.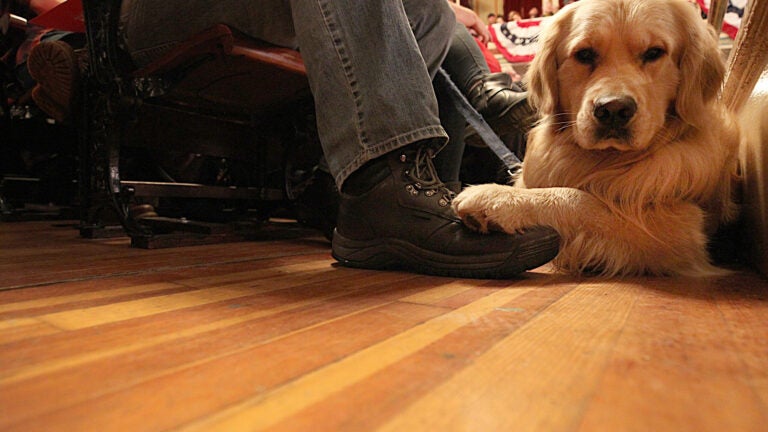 Naming your puppy is no easy feat: You have to pick something that's appropriate to the breed, has some personal meaning, and that you'd be comfortable screaming at the top of your lungs when he starts acting inappropriately to strangers at the dog park. That's why it's so interesting to see Boston's most popular dog names of 2020, released this week by the Boston Parks and Recreation Department's Animal Care and Control Division from their licensing data.
Some of them were surprising: Like the top name, "Luna," which could have come from a Harry Potter heroine, an online video game, or a character from "Bear in The Big Blue House" (which seems unlikely since that's been off the air since 2006). But others made perfect sense, in that they seem inextricably tied to the canines' home state. In fact, we spotted at least a half dozen dog names on the list with clear Massachusetts affiliations:
No. 3: Charlie
Granted, not everybody is a fan of Gov. Charlie Baker — for instance, the Mass. GOP seems eternally frustrated about how people like him better than them. But judging from the opinion polls, despite the occasional misstep, Baker remains one of the most popular governors around. So it's far from a stretch to assume that Boston's No. 3 dog name, "Charlie," is in honor of the guv. (It doesn't hurt that "Charlie" is a darn good dog name; if he went by "Charles" there probably wouldn't be nearly as many four-legged gubernatorial namesakes running around The Hub.)
No. 7: Bailey
This moniker is no doubt owing to the popularity of one of Washington, D.C.'s favorite canines, the golden retriever belonging to Sen. Elizabeth Warren. A mainstay on the campaign trail during her ill-fated run for president, Bailey is probably best known for improving Warren's likability scores and stealing burritos. One good part about her not becoming president is that we get to still see Bailey around Cambridge, although if he'd gone to the White House he probably wouldn't have bitten anybody, like some dogs.
No. 12: Teddy
He may have shuffled off this mortal coil back in 2009, but Teddy Kennedy — a.k.a. the Lion of the Senate, which is a much better nickname than "Lyin' Ted" (sorry Sen. Cruz) — remains a towering figure in the history of Massachusetts politics, while at the same time being an appealing namesake for your favorite dachshund or Shi Tzu. Well, or bear, but those are far less common in the eastern part of the commonwealth.
No. 13: Maggie
Could it be that all the folks naming their dogs "Maggie" are doing so in honor of Massachusetts Supreme Judicial Court Chief Justice Margaret Marshall, author of 2003's groundbreaking same-sex marriage decision, Goodridge v. Department of Public Health? We'd like to think so. (And while we're at it, let's say that both No. 11, "Oliver," and No. 15, "Ollie," are named after that other famous Supreme Judicial Court chief justice (and eventual U.S. Supreme Court associate justice), Boston's own Oliver Wendell Holmes Jr. Because why not?)
No. 19: Rocky
Now you might think the dogs with this appellation are named for Sylvester Stallone's legendary cinematic boxer, but you would be wrong. Around these parts we're betting those dogs got their title from Brockton's own Rocky Marciano,  the world heavyweight champion from 1952-1956 and the only one to finish his career undefeated. But don't worry, this does not preclude you from talking like Burgess Meredith as Mickey every time you address your dog. ("Stay away from that Welsh corgi! He'll knock you to tomorrow, Rock!" etc.)
Here's the full list so you can see if your own pooch made the grade:
Luna
Bella
Charlie
Lucy
Lola
Daisy
Bailey
Cooper
Max
Penny
Oliver
Teddy
Maggie
Stella
Ollie
Molly
Lily
Scout
Rocky
Milo
Buddy
Riley
Finn
Coco
Winston
Get Boston.com's browser alerts:
Enable breaking news notifications straight to your internet browser.