Animals
Here's where Boston.com readers bring their dogs — and where they'd like new dog parks
"I believe that every neighborhood in the city should have at least one dedicated dog park."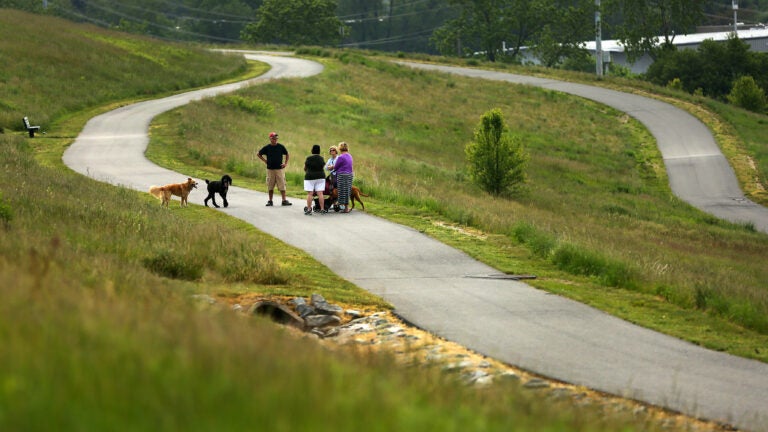 What makes a dog park a dog park? After all, you'd be hard pressed to find a green space in all of Boston that isn't chock full of happy hounds and playful pups, especially once spring weather returns.
But as for true dog parks — enclosed and open to responsible dog owners who want to let their well-behaved pooches run free — there are only so many: In fact, Boston only lists six official dog parks within city limits, at DeFilippo Playground, Peters Park, Downer Avenue Playground, Garvey Playground, Ronan Park, and on the Boston Common.
There are also some state-run and private areas where dogs can roam, but regardless, City Councilor Ricardo Arroyo is looking to up the number of ones under the auspices of city government by getting at least one in each of the city's neighborhoods — including Hyde Park, Roslindale, Mattapan, West Roxbury, Roxbury, and Brighton, where dog owners are currently bereft of true dog park spaces.
That said, Boston.com wanted to know where folks most enjoy bringing their dogs, either off leash or on, and the suggestions were plentiful. The most-mentioned area was Millennium Park in West Roxbury, which may not be a proper dog park but which does feature six miles of handicapped-accessible walking trails to keep your canine occupied while on leash.
Also high on the list was Franklin Park — definitely on-leash, or Rover might wind up commiserating with the lions at the Franklin Park Zoo — and the Arnold Arboretum, Harvard's 281-acre preserve that straddles Jamaica Plain and Roslindale.
"My dog and I love to go to the Arboretum!" said Emma of Jamaica Plain. "There is not a dog park there and I am OK with that — my dog and other dogs stay on their leashes there. But I do think Boston needs more dog parks or designated off-leash dog areas in other parks."
To that end, Boston.com readers also volunteered the places where they'd like to see real, honest-to-goodness dog parks in town, no leashes required. By far the most popular suggestion was Jamaica Plain, with Roslindale being second, closely followed by Roxbury.
"There currently are none here," said Kelly from Jamaica Plain, "and my understanding is that JP has the highest number of dog licenses in the city. Why the disconnect?"
Here's what some other Boston.com readers had to say about the need for more dog parks and where they should go:
"I believe that every neighborhood in the city should have at least one dedicated dog park. Being a resident of Jamaica Plain and a dog owner, I know that there is a dire need for one here." — Paul, Jamaica Plain
"Fenway/Kenmore — there are a TON of dogs in our neighborhood and nowhere to safely socialize them." — Meaghan, Fenway
"I'd HIGHLY recommend putting turf down within an existing fenced-in area in Mayor Menino Park [near the Charlestown Navy Yard] and calling it a dog park. It's an under utilized area of the park that's already enclosed. It's a layup for the city!" — Maureen, Charlestown
"West Roxbury — there is none. Dogs need exercise just like humans. Tired of being confronted by animal control/police. We pay taxes too. Long overdue that this be addressed. Civic groups have worked hard to establish a dog park but roadblocks at every turn." — Annie, West Roxbury
"Absolutely! In every neighborhood!"
"Dog parks are like bike lanes. Desirable cities and towns have them across the area."
"Yes [we need more dog parks]. Boston also needs to enforce the regs currently on the books about keeping dogs on leashes. Too many people ignore this which causes problems."
"I absolutely agree with the goal of making sure there is equity across all neighborhoods in terms of dog parks, but even in Cambridge, where I live, there are not enough dog parks or the parks aren't open at certain hours. Dogs inevitably interact with each other — either on leash on the sidewalk or in a park. I prefer to have it happen in a safe and controlled environment, and I think we need more shared spaces for this." — Dev, Cambridge
Here's a list of some of the favorite places to visit with your dog in the Boston area, beyond the six official dog parks, according to Boston.com readers:
Amory Park, Brookline
Arnold Arboretum, Boston
Charles River Esplanade, Boston
Charles River Walkway, Watertown
Franklin Park, Boston
Fresh Pond Reservation Trail, Cambridge
Gold Star Mothers Park, Cambridge
Highland Park, Roxbury
Millennium Park, West Roxbury
Olmsted Park, Boston/Brookline
Robert Paine Square Playground, Cambridge
Southwest Corridor Park, Back Bay
Thomas J. Hynes Field, West Roxbury
Boston.com Today
Sign up to receive the latest headlines in your inbox each morning.