Animals
Watch: Baby boy and his mother fascinate Kiki the gorilla at Franklin Park Zoo
Kiki had her first son in the fall.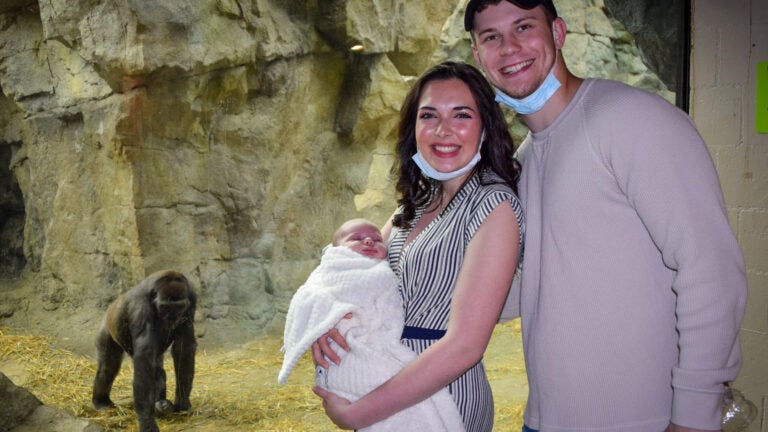 Humans love cute baby animals — and it seems that interspecies fascination with infants isn't just limited to Homo sapiens.
Emmily and Michael Austin of Jefferson, Maine visited the Franklin Park Zoo in Boston earlier this month with their five-week-old son Canyon.
After visiting the ostriches and the zebras, the Austins dropped by the gorilla exhibit, where Emmily held her sleeping son up near the safety glass. The boy seemed to catch the eye of Kiki, a gorilla who is also raising a young child: She had her fifth baby and first son Pablo in October.
Emmily, who works at a daycare, said she didn't know that Kiki also had a baby boy. She told Boston.com that she first saw Pablo playing with his older sisters, but Kiki snatched him up after some roughhousing.
"You can tell that the mom was watching them, as if to say, 'You can watch the baby, but don't you hurt him,'" Emmily said in a phone call.
After the Austins proceeded through the exhibit, Emmily noticed Kiki looking over at her from a rocky cave through the glass.
"As soon as she looked over, I held Canyon up," Emmily said. "As we were walking through, I said, 'Aw, I really want her to see my baby, that would be so cool!"
It apparently caught Kiki's attention. The gorilla soon paid the boy and his mother a visit, and Pablo eventually swung by, too.
"She intentionally moved her head around, and you could see her making direct eye contact with him," Emmily said as Canyon cooed in the background.
Michael uploaded footage of the interaction to YouTube Saturday, and it had over a million views as of Tuesday. The video shows Kiki looking at and gesturing toward the baby and pressing her hand against the glass. Pablo clambers over and Kiki scoops him up, leaving the two mothers holding their boys with the glass between them.
"I thought it was one of the coolest things I've seen, pretty much ever," Michael said. "It was very emotional for all three of us, I think."
"I think that she felt the same connection with me as I felt with her: A mother of a baby," Emmily said. "We both had these babies with us, and we were looking at each other's babies and how cute and beautiful and small and precious they were… She looked up into my eyes, and I could see so much love."
"I wonder if someday [Canyon] will be a zookeeper," Emmily added.
Get Boston.com's browser alerts:
Enable breaking news notifications straight to your internet browser.