Local
Keep an eye out for a beached pygmy sperm whale in the Salisbury area
Officials caution to give it a "wide" amount of space.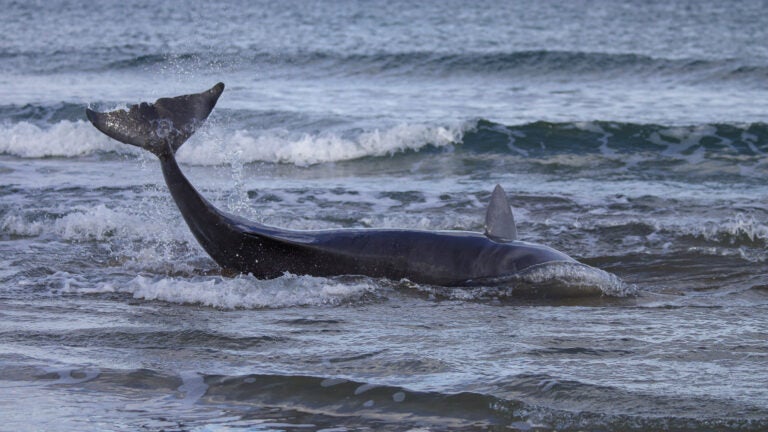 If a beach walk in the Salisbury area is on today's agenda, keep an eye out for a pygmy sperm whale that was beached Monday afternoon at Salisbury Beach State Reservation.
The adult male pygmy sperm whale is 9 ½ feet long and weighs approximately 700 pounds, according to a Facebook post by the the Seacoast Science Center (SCC) Marine Mammal Rescue team.
If you see it, officials caution to stay at a safe distance of 200 feet or more due to the "sheer strength" of its thrashing tail.
"Responders found the whale vigorously thrashing … with visible abrasions from stranding. Due to the frigid temperature and the strength of the animal's thrashing flukes (tail), it was not safe for responders to stay in the water by the animal," according to SCC Marine Mammal Rescue.
Officials said the species is usually "an elusive, off-shore, deep-water" animal, so much remains unknown, but refloating a pygmy sperm whale is generally not recommended.
During high tide later Monday evening, the whale was able to get to deeper water.
"Our prognosis remains heavily guarded, but we are hopeful for the animal," the SSC's post said.
Due to the whale's unusual behavior, the SSC theorizes an "underlying condition" caused it to exit deeper waters in the first place, particularly because the animal is susceptible to diseases of the heart muscle.
"Humane euthanasia was also not an option [Monday] afternoon, given the tides and amount of water around the animal, combined with the risk of the animal washing out to sea post-euthanasia," the SSC said. "However, we were prepared to go that route this morning if needed."
If this animal is spotted, please call the SCC's 24/7 hotline at 603-997-9448.
Newsletter Signup
Stay up to date on all the latest news from Boston.com