Arts
Abstract sculpture's annual facelift was 'little more complex' this year
You can go see the reimagined artwork on the Greenway.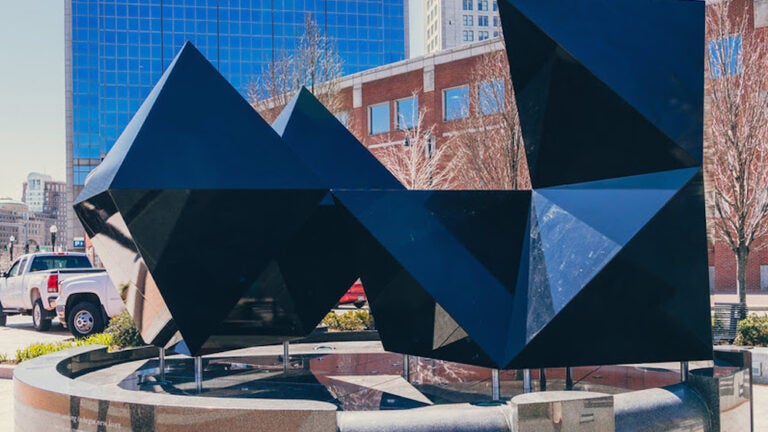 The annual reconfiguration of the abstract sculpture at Boston's Armenian Heritage Park on Sunday was a "little more complex" this year, the architect of the artwork said.
Since opening in 2012 along the Rose Kennedy Greenway in the North End, the gleaming dodecahedron has taken on a new configuration every year, making this its fifth different form. And this latest shape was particularly tricky, said Donald Tellalian, the architect and designer of the sculpture.
"The configuration this year for 2016 was a little more complex because it involved moving both halves apart and re-supporting them on different pins," he said. "So it took a few hours."
In designing the sculpture, Tellalian said he created detailed instructions for what the sculpture will look like for 25 years. Even with those instructions, Tellalian went to the reconfiguration on Sunday to help answer any questions and advise any issues from workers.
"It went very well," he said. "Thank God for computers."
Last year was the 100th anniversary of the Armenian genocide, giving special significance to that configuration.
The sculpture and its periodic changing represents how almost all Americans came here as immigrants and began a new life, Tellalian said.
"They pulled themselves away and came to this great country … and began to recreate themselves in new and different ways," he said. "So that's the symbolism of pulling the dodecahedron apart in two halves and every year reconfiguring it in a new and different way."
A few days ago, a billboard near the park encouraged passersby to go to a website that denied the Armenian genocide. Clear Channel removed the billboard after numerous complaints.