Arts
'This beauty is in our hands': How Roxbury artists are fostering hope with the help of a billboard
"When you see things like this where the care is not being given to you, that you might see in another neighborhood, you want to do something about it."
The vacant billboard above the rounded brick building in John Eliot Square wasn't looking so good in January 2020.
Passing by the empty advertisement space, the remnants of the last campaign tattered and blowing in the winter wind, Dayenne Walters found herself returning to the same thought over and over.
"This neighborhood is such a beautiful neighborhood, and we deserve better," she recalled in a recent interview with Boston.com. "When you see things like this where the care is not being given to you, that you might see in another neighborhood, you want to do something about it."
Walters, a longtime resident of the area and an artist, found herself trying to think of a way that she could step up and try to "do better" for the neighborhood she loves so much.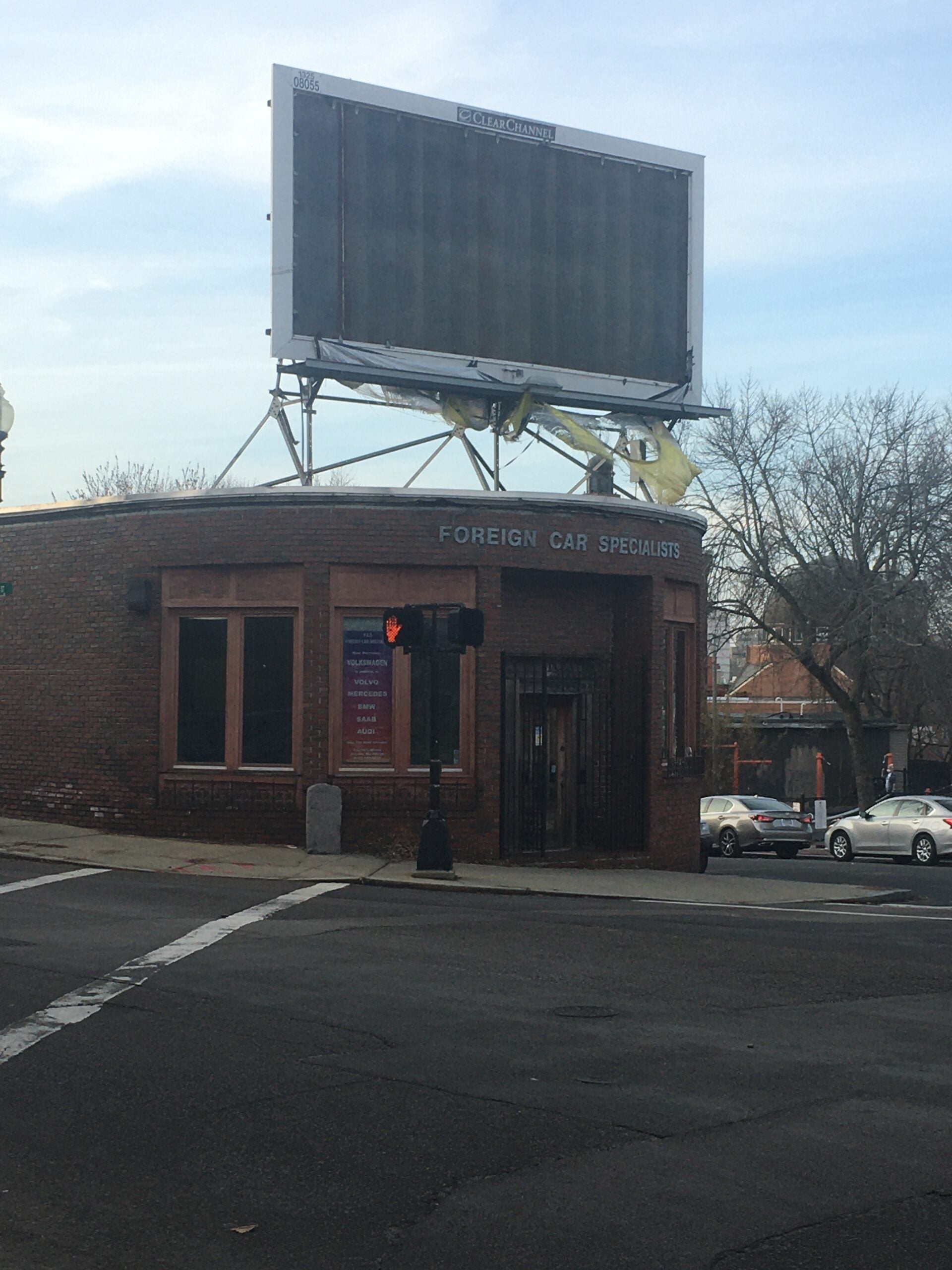 She began to question if instead of having the billboard sell products like insurance or cable or alcohol, it could serve as a canvas for art.
Instead of selling products, could the billboard "push" joy and beauty, she wondered.
"Could we just drop something in people's eye that might get them smiling for 30 seconds if they walked past it and give them something positive, on the positive side for their day?" Walters said. "That just got me thinking."
She wrote down the name of the billboard owner and called them to present her idea.
"At first they were a little puzzled, but then they kind of got into it," she said. "I said, 'I'm not a foundation, I'm just a citizen — this is going to be a passion project for me, and I would appreciate any help you can give me.'"
The billboard's owners worked out a discount for Walters, and she took the next year to plan for her project — Billboard Hope.
Over the course of 2020, she turned to the artists she knows, asking if they'd want to be on the billboard. She reached out to people across the Roxbury community to try and include as many people as possible.
Walters said she wanted to provide support to all the local artists who have spent the pandemic maintaining their creative artistic "fires," while also putting their bodies on the line for the Black Lives Matter movement and protests after the killing of George Floyd.
"Maybe this is a moment for us to have a voice," Walters said. "I've seen the neighborhood changing a lot. I've seen the demographics changing, but in my part of Fort Hill, our neighborhood has been pretty much the same for the past 30 years. And I wanted to represent us and for what we love and what we support."
The artist formed a group to serve as an advisory and selection committee for the project, as they reached out to artists across Roxbury.
In the end, they selected 13 artists to exhibit a piece of artwork on the billboard every four weeks.
"It's a mix of people who are known nationally and just happen to live in the Roxbury area and people who are just starting their art journey with ties to Roxbury," Walters said.
The first installment, a work by Hakim Raquib, went up in late March 2021. The last, by Larry Pierce, will be shown in March 2022.
The theme for the artists was hope and inspiration for the future, with each of the creators developing 2D visual art addressing what gives them hope or what inspires them.
"I wanted it to be a place where neighbors could check in and be a conversation starter for people walking through the area, or who live in the area and see it," Walters said. "I wanted to engender a feeling of hope for people that there is still beauty in the world and this beauty is in our hands. I feel that when you have some agency on your own, when you don't feel like you are completely living at the mercy of something that you can't control — when you have that agency, it can give you a sense of hope for your future."
But the name of the project was also taken from the feeling Walters has herself — her hope that the billboard can make a small difference in the lives of those around the neighborhood.
"I hope this gives them something that makes their lives a little bit easier," she said. "I hope this can create a connection between us all."
Walters wants to expand the project to go for another year and is working to make that happen. The project is accepting donations to support the effort.
But what Walters is really hoping for is that in 10 years, Billboard Hope may have evolved into a new phase.
Maybe it will be taken over by another generation of artists who will expand it beyond just a billboard, to include work that is 3D and out in the world, she said.
"I have ideas about ways to engage even more deeply with people in the neighborhood through music and through poetry and through video, and we're just at the beginning," she said. "We're just walking through the door of possibility here."
Growing up in Dorchester in the 1960s, Walters remembers the impact it made on her to see a group of Boston muralists band together in 1968 after the riots to put up artwork all along Blue Hill Avenue.
"I was always inspired by that," she said. "I wanted to be a muralist when I was a kid, and I've always loved that big public art world."
Now, she's part of a resurgence in public art in Roxbury. And she's seeing young people captivated by the work, in the same way she was.
Recently, she was standing near the billboard when a young teen walked by, carrying a basketball in one hand, a soda in the other. Speaking with him, she learned he'd been watching the changing artwork for Billboard Hope since it began.
He, too, was an artist.
He showed her his work on her phone — anime drawings — and shared that he planned to stay in Boston when he goes to school for art.
Walters told him to stay in touch — maybe his work could be on the billboard next year.
"There are so many people that are so ready and willing to show what they can do and who are just looking for an outlet," she said.
Newsletter Signup
Stay up to date on all the latest news from Boston.com