COVID
Ayanna Pressley ramps up pressure on Charlie Baker to 'change course' on COVID-19 response
"We must change course before it is too late."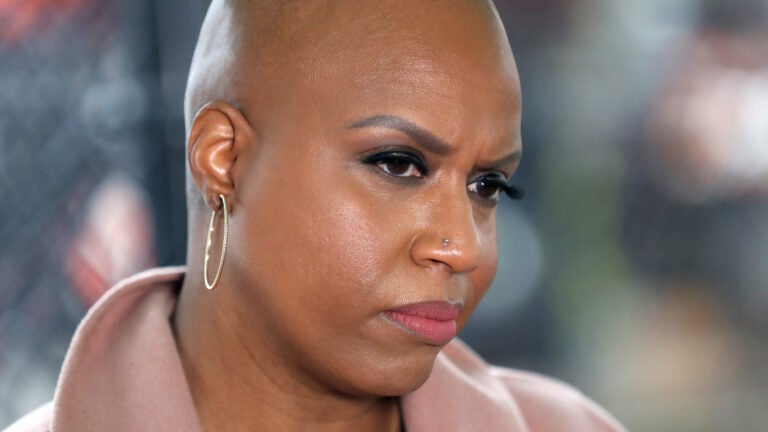 Rep. Ayanna Pressley is calling on Gov. Charlie Baker to impose more stringent statewide COVID-19 rules in the face of rising infections and hospitalizations fueled by the delta variant, even in highly-vaccinated Massachusetts.
In a letter to Baker released Wednesday morning, Pressley called on the Republican governor to impose indoor mask mandates and require the vaccine for school, prison, and hospital employees.
Baker has resisted calls on both of those fronts, opting instead to increase vaccine access and strongly encourage residents to get shots; due to low vaccine hesitancy, Massachusetts already has one of the highest vaccination rates in the country, with over 75 percent of adults fully vaccinated.
However, Pressley says that strategy is not enough.
While the Boston Democrat noted that the vaccines are "safe, effective, and lifesaving," she pointed to the growing number of breakthrough infections, as well as hospitalizations and deaths, among vaccinated residents "as clear evidence that
the Commonwealth's current approach is inadequate in the face of the highly contagious delta variant.
"We must change course before it is too late," Pressley wrote.
State health officials stress that hospitalizations and deaths due to COVID-19 among vaccinated individuals are exceedingly rare. However, federal officials plan to recommend most people get booster shots eight months after their last COVID-19 vaccine shot, amid evidence that the vaccines' effectiveness may wane over time, leaving those who are elderly or have a weakened immune system particularly susceptible.
Pressley called on Baker to implement a statewide mask mandate for all individuals, regardless of vaccination status, inside schools in accordance with recent Centers for Disease Control and Prevention and American Academy of Pediatrics recommendations.
"Many states have taken this step, including neighboring Connecticut, because they know school district boundaries cannot contain the virus," she wrote
Pressley also suggested that Baker should reimpose a broader statewide indoor mask mandate to align with the CDC guidelines, noting that the number of new daily COVID-19 cases is approaching levels seen last spring when Baker first ordered face coverings in public (though hospitalizations and deaths remain much lower).
"The science hasn't changed: masks offer vital protection and help slow the spread of the coronavirus," Pressley wrote. "A mask mandate made sense then and it makes sense now, particularly for high transmission indoor settings."
In addition to mask mandates, Pressley said Baker should extend his recent order requiring vaccines for nursing home staff to those at schools, prisons, and hospitals. Her letter comes after the Massachusetts Teachers Association also voiced support Tuesday for a vaccine mandate for all eligible public school students and staff.
"Because many classrooms, filled with unvaccinated children and lacking
proper ventilation, have the potential to be petri dishes for the coronavirus, there is growing support by educators and public health experts for requiring vaccination for all school personnel," Pressley said.
Citing the state's high vaccination rates and comparatively low COVID-19 levels, Baker has refrained from reissuing statewide mandates — either for masks in schools and broader indoor settings or for the vaccine for public employees or students.
However, during an appearance on GBH radio Wednesday morning, Baker said the administration is "seriously considering" a vaccine requirement for state workers and has been discussing the details of what the mandate would entail.
"I think we'll have more to say about it shortly," he said.
The letter Wednesday isn't the first time Pressley has spoken out in opposition of Baker's pandemic response; the congresswoman has particularly scrutinized the impact of administration's response on communities of color.
In the letter Wednesday, she also reiterated that the Baker administration's recent decision to stop reporting demographic breakdowns on patients in Massachusetts hospitalized due to COVID-19 "must be reversed."
And at least on that issue, the two sides appear to agree. During a press conference Monday, the governor suggested that officials will soon resume that data reporting.
Officials previously argued the data wasn't a good indicator of daily trends when case rates were at the lowest this summer, though equity advocates, including Pressley and Sen. Elizabeth Warren, said the decision could damage efforts to monitor the pandemic's impact on the state's poorer, hardest-hit communities, where vaccination rates have lagged.
"When we got down to sort of 80 cases a day, a day-over-day adjustment really didn't tell people very much," Baker told reporters Monday. "We've gone back to the hospital community and asked them to work with us, now that we're sort of more in the 350-360 range, to reinstate those data, and we will shortly."
Newsletter Signup
Stay up to date on all the latest news from Boston.com