Politics
Ayanna Pressley introduces resolution to remove Lauren Boebert from House committees over anti-Muslim comments
The Massachusetts Democrat says the House must "immediately" pass the measure. It's unclear if they will.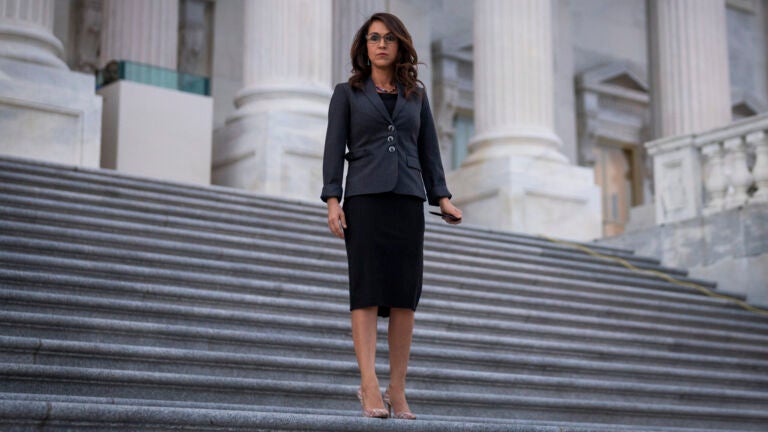 A growing number of House Democrats are calling for Rep. Lauren Boebert to be punished for her repeated comments referring to a Muslim colleague as a terrorist.
And now, Rep. Ayanna Pressley is introducing a measure to make it happen.
The Massachusetts congresswoman introduced a resolution Wednesday morning to remove Boebert from her assignments, calling the Colorado Republican's disparaging remarks about Rep. Ilhan Omar "dangerous."
"It has no place in our society and it diminishes the honor of the institution we serve in," Pressley said in a statement.
"Without meaningful accountability for that Member's actions, we risk normalizing this behavior and endangering the lives of our Muslim colleagues, Muslim staffers and every Muslim who calls America home," she added.
The resolution, which could lead to the House voting to remove Boebert from her seats on the House natural resources and budget committees, comes after Republican leaders declined to punish the first-term lawmaker.
Multiple videos have surfaced in recent weeks of Boebert speaking at events and joking that Omar, a Minnesota Democrat and the first Somali-American to serve in Congress, was a suicide bomber. In her remarks, Boebert tells a story about encountering Omar in an elevator and joking that since she didn't have a backpack, "we should be fine." Another video was unearthed Tuesday night by MSNBC of Boebert directly labeling Omar a "terrorist" during a cable news appearance.
She initially apologized "to anyone in the Muslim community I offended" — but not Omar specifically — before doubling down on her attacks and suggesting Omar sympathizes with terrorists.
Omar told CNN on Sunday that she was confident House Speaker Nancy Pelosi would take "decisive action" to reprimand Boebert this week.
However, Pelosi told reporters Wednesday that it was "the responsibility of Republicans to discipline their members" when asked about Pressley's resolution, which was first reported Tuesday night by the Washington Post.
According to the Post, some Democratic aides are privately concerned that punishing Boebert could set a "messy" precedent forcing them to censure their own members for "false, racist or cruel statements." They also reportedly say it may only embolden members like Boebert, helping them fundraise with their base.
Top Democrats have called on Republican leaders to unilaterally remove Boebert from her committee assignments over her remarks. However, in the absence of such action, Democrats could do — and have done — the same with a House-wide floor vote.
In February, the House voted 230-199 on a resolution to remove Rep. Marjorie Taylor Greene from her committee assignments — with 11 GOP lawmakers joining the narrow Democratic majority in support — for the Georgia Republican's litany of incendiary comments and actions.
And just last month, the House similarly booted Rep. Paul Gosar, an Arizona Republican, from his committees in a near-party-line vote after he posted a cartoon depicting himself attacking President Joe Biden and killing Rep. Alexandria Ocasio-Cortez.
Now, despite Pelosi's apparent reluctance, Pressley says Democratic leaders should use the same process to punish Boebert, if Republican leaders won't.
"The House must unequivocally condemn this incendiary rhetoric and immediately pass this resolution," she said. "How we respond in moments like these will have lasting impacts, and history will remember us for it."
The resolution also comes less than 24 hours after a group of local activists and elected officials released a public letter urging members of the Massachusetts congressional delegation to "take a leadership role" in holding Boebert and Greene accountable for their rhetoric.
However, none of the state's eight other Democratic members were listed among the 18 co-sponsors of Pressley's resolution.
The letter Tuesday was led by the Cambridge-based Muslim political advocacy group Jetpac, and its signatories included Cambridge Mayor Sumbul Siddiqui, Boston City Councilor-elect Tania Anderson, and over a dozen other political groups and unions.
"The normalization of Islamophobia has been a group effort," the letter said. "Now, a collective effort is required to combat it."
Newsletter Signup
Stay up to date on all the latest news from Boston.com