Beer
Somerville Brewing Company is making a beer with Cap'n Crunch Berries cereal. Seriously.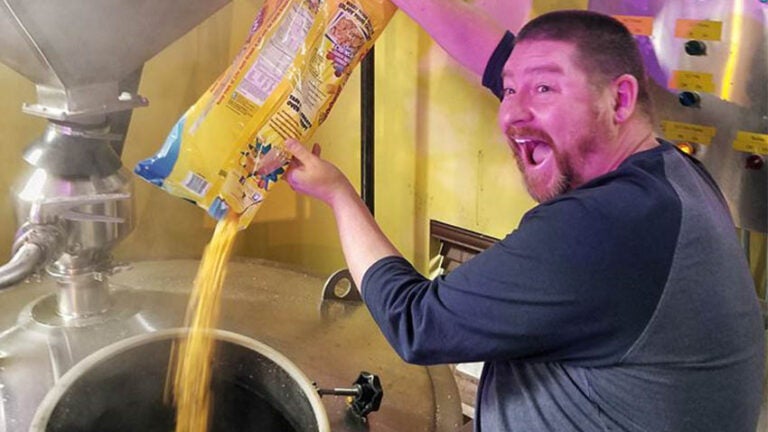 Beer in cereal: Bad
Cereal in beer: Apparently good.
At least that's according to Somerville Brewing Company, which is getting ready to release a new Belgian ale brewed with Cap'n Crunch Berries cereal.
The 9 percent alcohol-by-volume brew is called "Saturday Morning," and for a brewery that constantly plays Cartoon Network in its Somerville taproom, it kind of makes sense.
Brendan O'Toole, Somerville Brewing's sales and operations manager, says the beer's flavor profile is still developing, but sums it up as a "richer-bodied Tripel with a lingering cereal note." He adds it also has a "a light fruity note that really does come across as [Crunch Berries]."
The production process is pretty straightforward, according to O'Toole.
"We start with a base recipe roughly similar to that of our Trekker Trippel [the brewery's standby Tripel-style Belgian ale], and add the breakfast cereal during the mash-in," he told Boston.com in an email. "We also added a good amount of flaked corn to the mash in order to add smoothness to the body and further emphasize the cereal-like overtones."
[bdc-gallery id="2178239″]
Somerville Brewing plans to launch the beer with a March 24 party at their brewery. It will be available at the taproom, as well as canned and locally distributed.
"If curious drinkers can't make it to Somerville, they'll still get the chance to try out this unique brew," he said.
Caitlin Jewell, the cofounder and owner of the Somerville brewery, said "Saturday Morning" is a tribute to local beer aficionado and friend Mike Johnson, who brewed a Crunch Berries beer in 2000. After Somerville Brewing teased the upcoming release last week, a Facebook commenter joked that they shouldn't encourage Johnson's knack for eccentric beers. The brewery's Facebook account responded: "Life is short."
"Be fun and try crazy things," they wrote.
Just like cereal in beer.