Beer
Trillium's beer garden is returning to the Greenway for a second season
The brewery says the space will have "improved seating" and "more accommodating hours."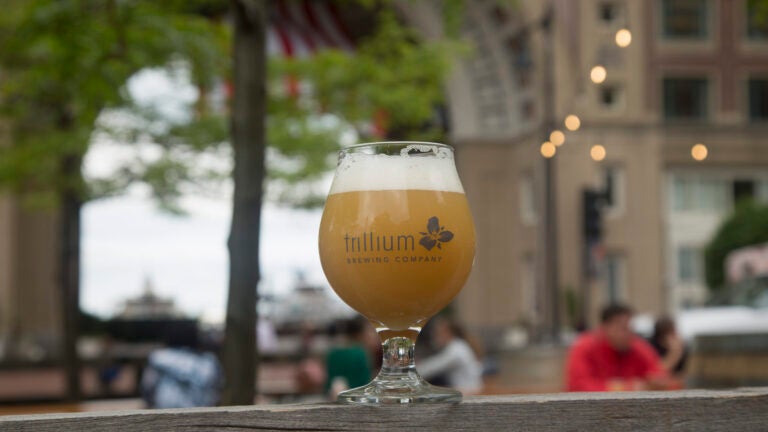 Get ready for season two.
Trillium Brewing Company's beer garden on Boston's Rose Kennedy Greenway is officially coming back for another year, the acclaimed local brewery announced in a press release Monday with the Greenway Conservancy, the nonprofit that runs the winding urban park.
After debuting last summer, the open-air beer garden is slated to reopen in late May and run through the end of October, assuming that the the New England weather cooperates. The exact opening date will be announced in the next several weeks, the press release said.
In addition to its popular IPAs and other brews, Trillium will again be pouring wine from Westport Rivers Winery, an acclaimed South Coast vineyard, at the garden.
Last year's inaugural season provided the five-year-old brewery the opportunity to sell beer outside of its small, flagship location in Boston's Fort Point neighborhood or its taproom in Canton. Trillium also operated a seasonal, indoor beer garden in Roslindale this past winter.
The Greenway garden will be located at the same location on High Street this year, across from Rowes Wharf with a view into the harbor.
Trillium co-owner Esther Tetreault said Monday the company is "psyched for our second season." According to the press release, this year's Greenway garden will offer "improved seating" and "more accommodating hours of operation." Jonathan Tompkins, Trillium's director of marketing, told Boston.com that they "were able to layout a configuration of tables that optimizes" the expanded space.
Tompkins said the garden will be open from 2 p.m. to 10 p.m. Wednesday to Friday (compared to 4 p.m. to 10 p.m. last year), 11 a.m. to 10 p.m. on Saturday, and 11 a.m. to 6 p.m. on Sunday.
"Last year, the Trillium Garden on The Greenway was an unqualified success as Boston's first open-air beer garden in a public park, and we are thrilled to again partner with such a great local brewery," Jesse Brackenbury, the executive director of the conservancy, said in a statement.
This year, the Trillium garden will also have a neighbor on the Greenway — or, perhaps, competition.
The conservancy announced last week that Charlestown-based Downeast Cider will operate a pop-up "drinkery" on the Greenway, offering cider, wine, and a rotating selection of New England craft beer. "Downeast Back Porch" will be located at Dewey Park, less than a half mile walk south of the Trillium beer garden. The drinkery is also expected to open in late May and run through October, running on Mondays, Wednesdays, Fridays, and weekends.
The news comes as more and more local breweries look to build a presence in downtown Boston. Everett's Night Shift Brewing is hoping to open its upcoming brewpub near the TD Garden by the end of the year, and Boston Beer Company is slated to open a Samuel Adams taproom just steps from Faneuil Hall by summer 2019.