Beer
Harpoon and Dunkin' Donuts are planning to release a beer this fall
"Hopefully, it will be worth the wait."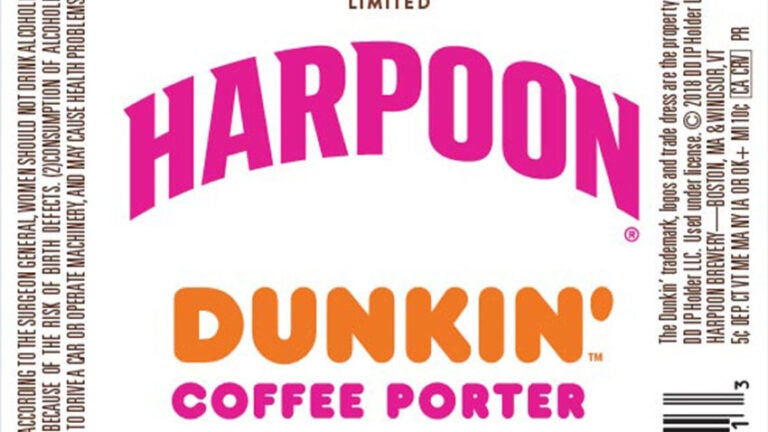 Fresh off its Polar Seltzer beer, Harpoon Brewery is collaborating with another iconic local company. And let's just say that Quincy won't be the only place where you'll be able to pour Dunkin' Donuts on tap.
"Yup, we've got a product in the works," Harpoon spokesman Chris Bonacci told Boston.com over the phone Friday afternoon.
Bonacci says that the Boston-based brewery is planning to release a Dunkin' Donuts collaboration this fall — sometime around late October to early November — when coffee beers come into season.
According to labels filed last week with the Treasury Department's Alcohol and Tobacco Tax and Trade Bureau, the beer will be called Dunkin' Coffee Porter and will be bottled and canned in the Canton-based brand's recognizable purple and orange colors. Technically classified as a flavored malt beverage, the "roasty" porter will be brewed with Dunkin' coffee and have a 6 percent alcohol-by-volume content.
The back bottle label even evokes the flavor descriptions on the sides of Dunkin' Donuts iced coffee cups.
"This porter is our tribute to all the days that Dunkin' has helped us fire up the brew kettle," says another one of the 12-ounce bottle labels.
Word of the forthcoming beer was circulated earlier this week on several craft beer websites and forums, after the label filings were first reported Monday by the blog Tenemu. According to the Alcohol and Tobacco Tax and Trade Bureau's website, all three label filings have been approved.
This isn't the first time that Dunkin' Donuts has teamed up with a local brewery to produce a beer. But it's expected to be the first time that the beer will be widely available. Whereas the national coffee chain's collaboration beer with Wormtown Brewery was sold exclusively on draught at the Worcester-based brewery's taproom, Bonacci says Harpoon plans to distribute its Dunkin' Coffee Porter regionally.
Bonacci says that Harpoon and Dunkin' have worked together before on internal products for private events and functions. Those pilot batches never went much further than a single keg, he said. But once they found a brew they were particularly confident in, they decided it was worth sharing.
"Hopefully, it will be worth the wait," Bonacci said.