Beer
This local beer writer is giving up his column so that he 'has a chance to live'
"If I want to live, I can't be the Beer Nut anymore. And, to be blunt, it sucks."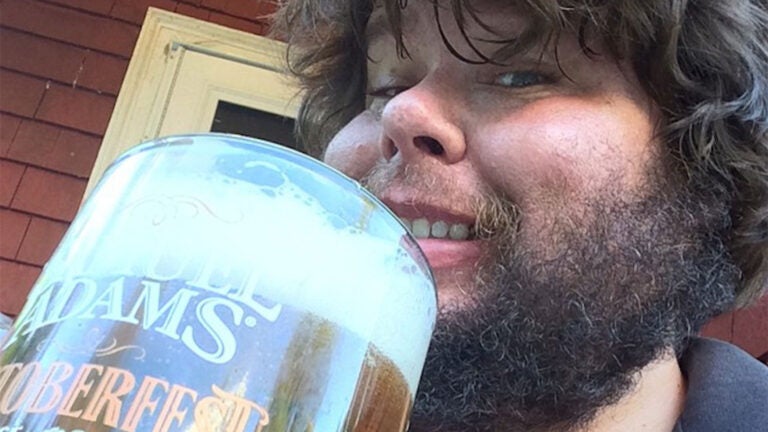 Norman Miller says his alter-ego is killing him.
For the last 12 years, Miller has written a popular column as the "Beer Nut" for the the MetroWest Daily News, providing everything from recommendations to local news on all things brew. While his main beat for the Framingham-based paper has always been covering local crime, Miller says his writing as the Beer Nut was always the part of the job he looked forward to the most.
"Beer has become more than just a beverage I enjoy, it has become part of my persona," he wrote in his column Wednesday. "I don't just write the Beer Nut column, I AM the Beer Nut."
However, the lifestyle that comes with that persona has become too much. Having struggled with obesity since childhood, the 44-year-old says he's decided he needs to virtually give up beer — and put an end to his column, effectively immediately — so he "can see 45, let alone 50 or beyond."
"I am killing the Beer Nut so Norman Miller has a chance to live," he wrote Wednesday, in his final Beer Nut column.
"If I want to live, I can't be the Beer Nut anymore," he said. "And, to be blunt, it sucks."
The job of reviewing and reporting on beer wasn't one he took lightly, and it eventually became a major social aspect of his life.
"I've never felt the physical need to drink a beer," Miller told Boston.com. "It's all about the camaraderie. Almost all of my best friends I've met because of beer. Almost everything I do socially involves beer. Trips are based on what breweries I want to visit."
In order to do the Beer Nut column justice, he also took it upon himself to make sure he was getting adequate samples of local beer. And while Miller says his weight has been a lifelong struggle, it's a struggle he says is catching up to him with age. The beer isn't helping.
"Every Friday and Saturday, and occasionally Thursdays and Sundays, I sit down and have five or six beers, sometimes more," he wrote Wednesday. "I'm getting more calories through beer than food just drinking a few days a week."
Millers says his weight has made daily tasks — such as walking up a flight of stairs with grocery bags, taking out the trash, or even standing for long periods — difficult. The idea that he might have to sacrifice his love for beer had been on his mind for some time, but the pivotal moment came during a recent hospital visit for what turned out to be just a minor stomach issue.
"As I'm sitting in the ER, in pain and exhausted, I was thinking, 'If I don't try to do something now, the next time I come to an ER it will most likely be very serious.'" Miller told Boston.com. "I needed to make a change and it needed to be done now."
That said, he knows there will be more changes to come.
"I know giving up beer isn't a fix all," he said. "It's just a start. I plan on eating better. I want to try to exercise more. I need to sit down with a nutritionist and really get a real plan in place, but, until then, I'm going to try to eat better and cut the beer."
Millers says he's failed to commit to such efforts in the past, but this time feels a renewed sense of commitment, especially with the perspective from having an aunt who is currently battling cancer.
"I have too many people I care about in my life and I'm not ready to say goodbye to them or to have them see me being buried," he wrote. "I want to live to be there for them."
Miller says he isn't necessarily ruling out beer completely; he'll allow himself to have one or two for a holiday or special occasion — and only in someone else's house, as opposed to in his own. But for the sake of his health and his readers, he needs to also give up his Beer Nut column.
"I don't feel like I can do a good job of being a local beer writer without drinking the local beer," he wrote. "How can you talk about local beer and not drink it?"
The answer, he says, is that you can't. His announcement Wednesday was met on social media with an outpouring of gratitude and well wishes from readers. By midday Wednesday, Miller's tweet had more than 100 universally supportive replies.
After more than 12 years, I'm ending the Beer Nut. Here's my final column explaining why. https://t.co/37ChmgfGGi

— Norman Miller (@RealNormMiller) November 28, 2018
"Norm is more important to the world than BeerNut," one user wrote, echoing the sentiment of many.
In the meantime, Miller plans to continue his regular work on the crime beat, which he says he also enjoys. He even floated the idea of taking some time to work on his third book. But instead of a beer guide, he's thinking about a crime novel.