Business
Former HubSpot employee's 'scathing' memoir hits stores Tuesday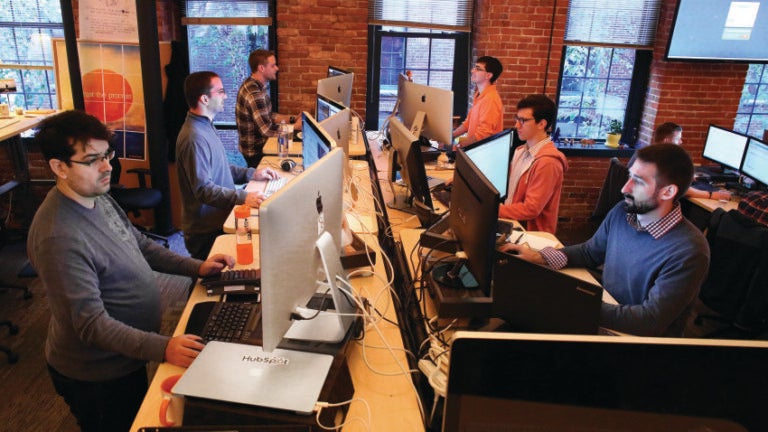 When veteran Newsweek journalist Dan Lyons opted to join the startup world at HubSpot, he didn't know anything about marketing and had only foggy expectations of what the career shift would entail. Just over a year and a half later, he said goodbye to the company and set out to write an account of his time there — a move that led his former supervisors to allegedly pursue a draft of the book through efforts that caught the attention of FBI investigators and led to their subsequent ousting, creating a management shakeup at the Cambridge-based software company.
Now, three years after he first walked into HubSpot's office and just months after federal authorities dropped charges against the company's former employees, Lyons' memoir, titled Disrupted: My Misadventure in the Start-Up Bubble, is hitting shelves Tuesday. The book, which he described as "scathing," is expected to reveal a lesser-known side of the company that topped The Boston Globe's list of best large workplaces— one where older employees are subjected to "frat-house behavior," and, according to an early review of the book, a"ruthless, predatory, and unforgiving" culture.
Lyons, who rose to fame while writing a satirical "Fake Steve Jobs" blog, lives in Winchester and now serves as one of the writers of HBO's Silicon Valley. He was 52 when he took a marketing fellow position at HubSpot, working with the company from April 2013 to December 2014.
"Hiring Dan, a world class journalist (who is also darn funny), is another step along that path," the company's top marketing executive, Mike Volpe, wrote on HubSpot's blog in 2013. "And for the same reason, Dan knows the future for someone like him is in working at a company that values inbound marketing."
For Lyons, at least, that relationship quickly turned sour. The book's summary hints at a party culture that included office hook-ups, Nerf gun shootouts, and a lack of open communication from absentee bosses. To Lyons, the company that believed it was making the world a better place was simply selling email spam and rewarding bad ideas with big investments.
Last summer, Lyons' former manager, Volpe, triggered a company ordered investigation into a violation of HubSpot's ethics code and caught the attention of authorities when he allegedly tried to get his hands on a draft of Disrupted without permission. The incident led to not only his termination, but also the resignation of the company's vice president, Joe Chernov, and a pay cut for co-founder and CEO Brian Halligan, who knew about Volpe's actions but failed to bring the ethical violation to the board's attention "in a timely fashion." The scandal even brought a criminal investigation against Volpe, but federal investigators dropped the case without pressing any charges.
While the company has been public in detailing the incident's fallout, little has been said about how or why, exactly, Volpe and Chernov tried to get their hands on a copy of Disrupted.
"I still don't know what they did. And I tried to find out — I hired a lawyer who tried to find out," Lyons told BetaBoston at the time. "I cooperated with the FBI and the assistant U.S. attorney and I was interviewed by them. They wouldn't tell me."
The story behind Volpe and Chernov's actions remains mysterious, but the content of the book they sought became clearer as its release date neared. Lyons teased some of the book's content in a Fortune article last week titled, "My Year in Startup Hell."
Many have praised the company's laid-back, open-space culture, but Lyons describes the office as a vast, open space, where employees are "crammed next to one another like seamstresses in Bangladeshi shirt factories, only instead of being hunched over sewing machines people are hunched over laptops." Employees switch seats every three months in what Lyons saw as a "corporate version of musical chairs," and management gives "pep talks that start to sound like the brainwashing you get when you join a cult."
Although Disrupted is expected to raise a variety of complaints about the company and startup culture, Lyons did say that a main focus was to expose ageism that he believes dominates the company and culture of the industry rather than an attempt to deter everyone from seeking employment with the company.
"Everyone's experience is different and everyone has a different point of view," Lyons said in a statement to Boston.com. "There are a lot of customers who love HubSpot and a lot of employees who love working there, and I wish them all the best. I'm writing about my experience and hoping to start a conversation about the difficulties that older workers often have when trying to find a place in the technology industry."
Despite Volpe and Chernov's obvious concern over the book's content, the company's co-founder Dharmesh Shah told BetaBoston that he "wasn't losing any sleep over it," last summer. HubSpot hasn't seen any advanced copy of the book, and Laura Moran, a spokeswoman for the company, said the company is continuing to focus on its partners amid the book's highly-anticipated release.
"We put a ton of effort into making HubSpot a great place to work and a great company to work with, and it's unfortunate that Dan's account of his time here doesn't reflect the experience that we strive to provide all of our employees," she said. "That said, it's a big leap for anyone to take their singular experiences as an employee and use them to make a broader commentary on the company and community at large."