Books
'It's just a very magical profession': Dana Brigham is retiring from the Brookline Booksmith after 37 years
"What you're selling is learning and ideas and escape and comfort."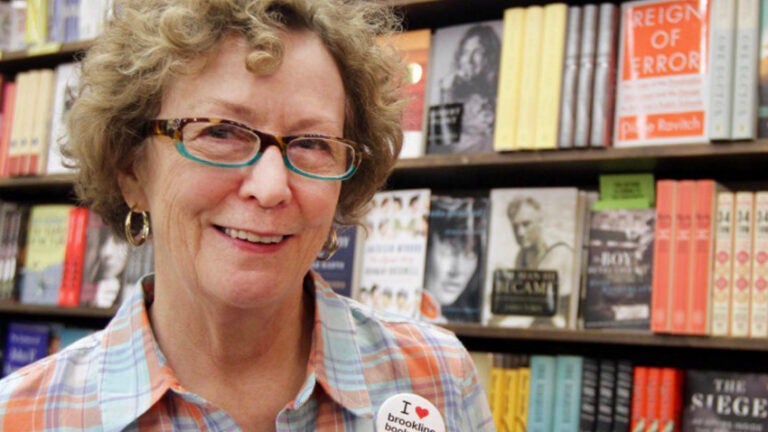 When Dana Brigham graduated from college, she realized she didn't really want to use her teaching degree.
Instead, the English major got a job at a library, which was followed by a part-time job at a Brentano Bookstore in Boston when she moved to the city in the mid-'70s. She ended up managing a few of the New York chain's stores before she was told in 1981 that Marshall Smith, the founder and owner of what was then known as the Paperback Booksmith, was looking for a manager for his Brookline shop.
"I interviewed for that, and here I am 37 years later," Brigham said.
The 69-year-old general manager and co-owner of the beloved store now known as the Brookline Booksmith is retiring at the end of May. Boston.com spoke with Brigham to learn more about her time at the local bookstore and what's next.
This interview has been edited for clarity and length.
Boston.com: Where would you say your interest and love of books comes from?
Brigham: My mother was an avid reader, and then I picked up her habit. Moving around a lot, I was kind of always the new girl and shy, so books really were my support system and then became a lifelong passion.
Can you speak to what has tied you to the Booksmith through the years?
A few years after starting here, it became my home community as well as my work community. About nine years in, Marshall Smith offered a minority ownership percentage to me and a couple of other people at the time. So that really changed my relationship with the store in some ways. At the same time that I was putting down roots in the community as a resident, I was putting down more roots as the sort of face of the Booksmith, which is a local treasure. It all just kind of synced up.
As far as the independent bookstore business, there is to my mind nothing like it. It's very arduous and challenging, but it's so much fun and there are so many great people. And what you're selling is learning and ideas and escape and comfort — and a whole long list of adjectives. It's just a very magical profession, and the people who work in it are all so terrific.
I've had the opportunity over the years to hire and mentor lots of people who went on to become either authors, journalists, work in publishing. People sort of got their feet wet here first. So that's really my favorite thing, I would say, of all the aspects of the job. All the wonderful people with whom I've had the opportunity to work.
What do you see as the role of an independent bookstore in a community?
Some years back there started to be conversations about the so called 'third place.' There's work, there's home, and then there's a third place that is sustaining for people. So we, independent bookstores, definitely think of ourselves as that third place where it's comfortable, safe, lively, interesting. As people spend more and more time on screens and [in] the world we know so much more about what's going on every day everywhere and so much of it is troubling, I think that we feel even more like we're an oasis of education, safety. That's really, really important to us.
Do you feel like that role has become more pronounced recently or has that always been the case?
I think it's always been the case. There have been challenging times all along. I think the rise of social media has meant that we all know a lot more and a lot more quickly. So it can feel more painful. We do avoid always taking any political position, but we like to have a selection of books that can appeal to, and provide an education to, people of all persuasions, political and otherwise. That's really our mission.
What do you think you'll miss most about the Booksmith once you've retired?
The people. Definitely the people. On both sides of the counter, so to speak. That will be the thing that I miss the most. Then just the sheer joy of working with books, knowing what's coming in. I love the way we have our store set up, and the merchandising and the bookshelves. It's like a treasure hunt. Whether you browse one of our front curated tables of titles or find your way back into the philosophy section or into the kids section or the gift department. We really want everybody to be able to find something really fun, and I just love that. So I'll miss having my hands in all of that.
Do you have a favorite book?
I don't have a favorite book. I've been asked that question a lot over the years, and it's like trying to pick a favorite child. As far as genres go, I really enjoy biographies, history. I'm a mystery reader. But that's one thing about the world of publishing and books, there's just so much. Things you would never think that you would be interested in, and you read a couple pages, and you're like, 'Oh wow. This is very interesting.'
Is there a book you've wanted to read for a while that you're looking forward to tackling once you've retired?
I have a towering stacks of books.
I want to read 'Warlight,' which is Michael Ondaatje's new book. We have a new author series that we're calling the transnational literature series, which are books to do with migration and loss of home and such. There's a book called 'Go, Went, Gone' by Jenny Erpenbeck that I'm really eager to read.
There's a great new book out by a local author Joyce Antler — 'Jewish Radical Feminism.' It's a fascinating study of the women's movement from the 60s till now, so I'm looking forward to reading that too.
[Brigham later emailed to add the following titles to the list she plans to read in retirement: 'Sour Heart' by Jenny Zhang, 'Circe' by Madeline Miller, and 'Bad Dreams and Other Stories' by Tessa Hadley.]
Do you have plans for what you'll do in retirement? What are you looking forward to?
I'm not one of those people who has a list of things I'm immediately going to do, like travel or write a book or any of that. What I've said to people is I can't think outside the box until I get out of the box I'm in. But I have family I will love to visit. And certainly lots of reading. I like to garden, and then I still will have an involvement here as a board member and adviser. So I think I still will have some room in my brain for things Booksmith.