Books
Frugal Bookstore responds after receiving 'disheartening' emails from customers demanding sold-out titles
In a span of three days, Boston's only Black-owned bookstore received over 10,000 orders, largely for the same 10 books.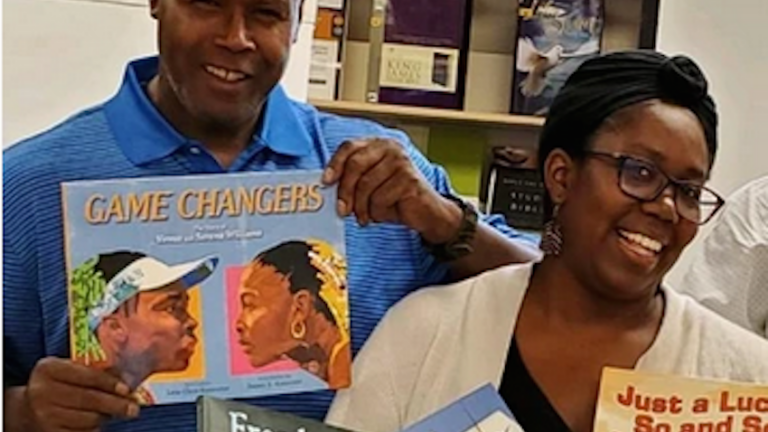 Roxbury's Frugal Bookstore is asking for understanding from its supporters as it handles the thousands of orders that have flooded in since the end of May, citing backlash they've received from impatient customers demanding titles that have been sold out nationally.
The owners of the shop in Nubian Square, Clarissa and Leonard Egerton, told WBUR they were on the verge of closing the doors to their 12-year-old business in early May. But in recent weeks, the city's only Black-owned bookstore has received such an outpouring of support amid the nationwide protests against racism that they've had to hire two new employees to keep up with the demand.
In an email to customers on Monday, the Frugal Bookstore owners said they've been receiving hundreds of emails a day with a variety of questions and requests, writing they are doing the best they can to answer each one.
And while most of the communications to the bookstore have been pleasant, the owners shared they are receiving "disheartening" backlash from customers demanding titles on racism that have sold out nationally.
"The majority of emails we are receiving are encouraging and very fair, you would like to know the status of your order," the husband and wife wrote. "We are also receiving a number of disheartening emails asking us to cancel orders and refund payments, criticisms about how slow we are and that we have poor customer service because we have not answered an email. We do hope each and every one of you who has shown us support by purchasing through our website believe we are not accepting your money with the intention to keep it and not send out your orders."
The Frugal Bookstore owners said that between May 30 and June 1 they received more than 10,000 orders and to-date the number has risen to more than 20,000.
"Seventy-five percent of the orders are for the same 10 titles, and those titles were quickly depleted from bookstores across this country," the store owners wrote. "We have since learned that we are not the only Black-owned bookstore receiving tremendous support and thousands of orders for the same titles. The publishers of the titles in demand had to go to reprint which is taking some time but they are beginning to trickle in to us."
The business owners said they have hired a fulfillment company to help them catch up on the orders, telling customers their orders will be received. 
"We humbly ask that you PLEASE bear with us," they wrote in concluding their message to customers. 
As news of the blowback that the business is experiencing spread, other local bookstores and community members condemned the backlash.
Protip: demanding that a black-owned business miraculously produce books that do not, currently, exist/produce 100X more labor than they have the capacity to do in order to meet your needs is incredibly racist. Please do not do this. https://t.co/KueDcSSGyn

— Harvard Book Store (@HarvardBooks) June 22, 2020
Ugh, please be nice to your booksellers! We are not used to being fulfillment centers. @FrugalBookstore is a wonderful neighborhood bookstore and overnight converted themselves into a e-commerce site. Support them. Be kind. Be patient. https://t.co/BCUYjCSQk4

— Trident Booksellers & Cafe (@TridentBooks) June 22, 2020
attention fellow white people: be nice to @FrugalBookstore. they're helping you become an anti-racist and they're too busy to also help you become an anti-asshole. https://t.co/aU1mClAKEW

— Sophia Bernazzani (@soph_bern) June 22, 2020
Putting in my @FrugalBookstore order soon, fully expecting my books to not arrive for at least a month. If you are one of the people who've been harassing hardworking booksellers with emails because your orders haven't arrived the second you expect them, you are the ACTUAL WORST!

— Cathy Messier (@cathytown) June 22, 2020
I also got this email this morning & got so mad about the customers being terrible to Frugal Bookstore. you aren't "supporting" anyone if you are being demanding and impatient. by doing so, you are perpetuating the idea that Black people only exist to serve you. https://t.co/xCM3ScFrJu

— e.b. bartels (@eb_bartels) June 22, 2020
from frugal books, a black owned bookstore: how the hell can anyone justify sending criticisms via email when this is a family owned shop, especially when it's obvious the "same titles" include "white fragility"? THIS is neoliberalism; happiness to "learn" until it's inconvenient pic.twitter.com/87yNNTwljF

— BLACK LIVES MATTER (@jiminy_bricket) June 22, 2020
3. Express gratitude that these important books are in high demand AND that people are supporting local black-owned businesses
4. Search online for book clubs or other forums to join to discuss these issues
5. Diversify your social media — follow more black authors and POC

— Newtonville Books (@newtonvillebks) June 22, 2020