Books
'It's a matter of existence or nonexistence': Local bookstores are working hard to stay afloat as pandemic stretches on
"We can't physically meet the demand and the crunch time that we would have in years past."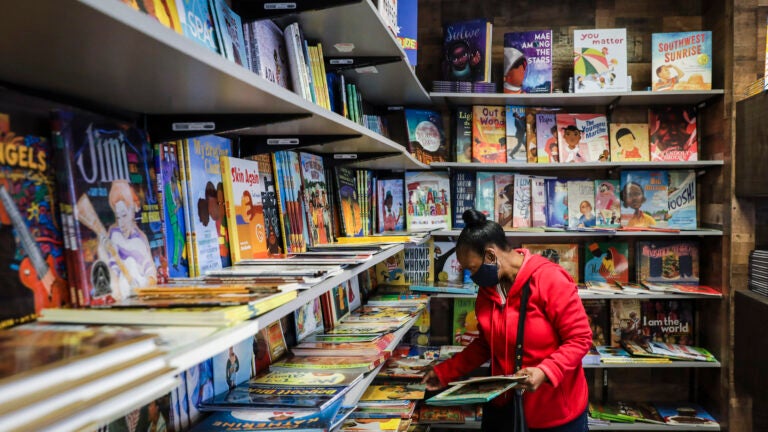 There's no doubt that the holidays will be very different this year due to the COVID-19 pandemic.
With cases surging in Massachusetts, state officials and public health experts are urging people to be vigilant with masking and social distancing measures, to stay home as much as possible, and limit their in-person celebrations to just within their households. 
That means no jam-packed crowds of customers can flood local bookstores the week before Christmas this year; efforts to prevent transmission of COVID-19 don't allow  aisles of books to be crammed with people searching for that last-minute, perfect read for a friend or loved one. 
The expected impact to the volume of holiday sales is a big concern for local booksellers, with the drastic change coming at a time when the pandemic has already forced bookstores to quickly revamp and adapt.
Typically, the sales made in November and December can carry a bookstore for the three months of the next year, which are generally a slower time for the shops. 
"We rely heavily on the holidays to make us be able to survive through the winter," Courtney Flynn, manager of Trident Booksellers & Cafe in Boston, told Boston.com.
Booksellers at four other local shops agreed that the holidays are typically pivotal for independent shops and are only more-so during the pandemic. 
The holidays usually account for a third of the sales for the year for Porter Square Books in Cambridge, Ellen Jarrett, book buyer and an employee-owner at the Cambridge store, told Boston.com. 
"It's just not going to be that," she said. "If we're 75 percent of last year, we'll be very grateful. But I'm sure it's not going to be. At some point we're just not going to be able to get the books."
Publisher's warehouses have been hit hard by the pandemic with staff cuts as well, she said. She'd already gotten many emails by mid-November from companies urging bookstores to place their book orders earlier rather than later. 
Jarrett and others said the hope is that sales of certain popular titles that the shops stocked up on — such as Barack Obama's new book "A Promised Land" — will help "save them" during the holidays. 
"It's going to be tough," Jarrett said. 
In preparation for the holidays looking very different, the owners of the Harvard Book Store in Cambridge wrote a candid letter to customers in October about the challenges the business continues to face during the pandemic. They also announced the decision to move typical holiday sales up to October, rather than November, urging customers to "shop early and local."
Alex Meriwether, general manager for the Cambridge store, called the response from customers "tremendous" in an email to Boston.com. Orders poured in for the October sales and they have remained strong in-store into November, but Meriwether said they still don't make up for the  "significant losses" from the spring months of the pandemic. Large-scale, in-person author events and signings are an "important" part of the store's business, which the pandemic completely upended.
But with sales expected to decline in January and February as they usually do, there remains a lot of concern, he said. 
"We are so grateful that our customers heard our call and responded with both orders and patience," Meriwether said. "Our staff worked tirelessly to fulfill these web orders while continuing to run the bookstore for in-person shopping and curbside pickup. We plan to keep the messaging going about how vital it is to shop early and shop local for the holidays. We won't be able to be a bustling, busy bookstore like we are most Decembers, simply because of the restrictions we have on store occupancy. We hope that mailout and curbside pickup options will make up for this." 
'There are a lot of things that we've pivoted on'
Early in the pandemic as the first shutdowns occurred, Trident saw a good portion of its customer base, typically made up of tourists, students, and locals, disappear. 
When spring COVID-19 restrictions forced the store and its cafe to close temporarily, both Flynn and Lydia McOscar, assistant buyer for the Brookline Booksmith, said their stores were forced to downsize or furlough staff. 
Since then, the Booksmith has been able to restore its staffing — with more than enough work to go around as they fulfill orders. 
"The community has been so great," McOscar said. "I know we're really lucky because a lot of indie bookstores around the country rely more on tourism I think than we do … We are lucky that Brookline is largely residential and the customers have grown up with the store, they were kids here, and now they're bringing their children here, so we got a real outpouring of support, both financial and messages of support." 
For Trident, they tried to keep as many people on as they could, but there were many servers for the cafe, in particular, whom they couldn't retain. 
Staffing for the store has rebounded to close to what it was pre-pandemic, but the cafe's numbers remain reduced as restaurants remain heavily impacted by COVID-19 restrictions. 
"We've been very much affected," Flynn said. "We have been down upwards of 40 percent month over month. It's definitely been a struggle, because we have to keep all of our other numbers in line with a dramatic decrease in sales."
Clarrissa Cropper, co-owner of Frugal Bookstore in Roxbury, told Boston.com that at the start of the pandemic there was real concern about whether or not the store, the only Black-owned bookstore in Boston, was going to make it. 
"It didn't look good at all," she said. 
With the help of the Boston Book Festival, Cropper and her husband Leonard Egerton started a GoFundMe, which quickly exceeded its goal. The donations and surging sales over the summer from people purchasing books on anti-racism after the killing of George Floyd in Minneapolis have allowed them to continue on and hire four staff members. Those hires have been a tremendous help, Cropper said, as the store continues to work on fulfilling the wave of backorders they've received throughout the pandemic.
"We've been steady — we've been good," Cropper said. "We've been able to, with the support of our customers and people, we've definitely been able to stay afloat." 
In adapting to operating during the pandemic, some of the stores around Greater Boston have gotten creative in their interactions with customers to keep them engaged with virtual events and shopping. 
"There are a lot of things that we've pivoted on," Jarrett said. 
Porter Square Books started communicating "big time" with customers, using social media and starting a daily newsletter called "Shelf Stable" to talk about books and reading recommendations with customers, she said. 
In November, they launched the 12 days of Shelf Stable, an effort to get people shopping early for the holidays, and the shop is now offering customers the opportunity to make FaceTime appointments with booksellers, where the staff member will take them around the store. 
"We're also doing pods where we're offering the opportunity for customers to come in with their pod of five people for an hour in the store if they're not comfortable being with the general public," Jarrett said. "We're only allowing 10 people in at a time anyway, but you're really in there by yourself and with staff. We've increased the number of slots for that."
The Booksmith started a membership program in the spring, which allowed people to help the store immediately keep its doors "open" and invest in its future and get shopping benefits, like some discounts, at the same time.
"People were so thrilled and excited to take part in that and just have a way to help at a time when everyone was feeling pretty helpless … I don't know what the store is going to look like in a few weeks, but I'm very grateful that as many people have come in [to] help out now," McOscar said. 
For Trident, the bookstore portion of the business has been able to make up sales online, which Flynn said has been "wonderful." The store manager said things at the store have "evened out" as the months of the pandemic stretch on, with the staff adjusting and figuring out how to stay afloat with the restrictions in place. 
"But nothing can really replace a busy Saturday," Flynn said. "Our store relies on volume — we're on a busy street with high rent, so we really do rely on busy days. And those don't happen because of lack of people and also can't happen because of the necessary measures to stop the pandemic."
'It's a matter of existence or nonexistence'
The best thing the public can do to support their favorite independent bookstores, the booksellers agreed, is shop as early as possible. Don't wait to the last minute, since staffing is already strained and the pandemic has caused issues with the supply chain for books. 
"We can't physically meet the demand and the crunch time that we would have in years past," said McOscar, who is hoping "people can come in early or during off hours, or shop online or by phone right now …  before we run into possible closures, or the fact that only so many people can be in the store at once. The publishing industry is seeing all kinds of delays and shortages, and we're expecting to maybe not even get books back in stock that we normally would expect."
So far, it seems people are responding to those recommendations, the booksellers said. 
Frugal isn't seeing the same level they have in past holiday seasons, but the bulk of the volume is still there, Cropper said. 
She said she's not worried so far based on how people are buying books and gifts for the holidays. 
"I think that people genuinely from their hearts, they want to see bookstores, independent bookstores and small businesses in general, survive," she said. "So I think that we'll be OK. Obviously some more than others, but I think that as long as people still realize that, as a small business and independent bookstore, we still depend on the support of customers. If you don't know if you want to buy a book or which book to give, even a gift card will help."
Flynn said it's clear people are reading "more than ever," with the store's print sale numbers up throughout the pandemic. 
Now, it's just about remembering your local bookstore when you're looking for a title to gift this holiday season, she said. 
"People are buying more books, so that's wonderful," she said. "But if a small percentage of that goes through independent bookstores, that makes our lives completely different. Amazon won't miss that tiny portion of sales. For us, it's a matter of existence or nonexistence."
Added to the unease about holiday sales is nervousness about what new potential restrictions could be on the horizon as COVID-19 cases keep rising.
"We're just trying to get as much done now as possible and shore up for any coming storm," McOscar said. 
On Tuesday, Gov. Charlie Baker announced Massachusetts will revert back to the first step of Phase 3 of the state's reopening plan on Sunday in an attempt to slow the "disturbing" rise in cases. For retail businesses, like bookstores, that means capacity will be lowered down to 40 percent, from 50 percent. 
Both Meriwether and Jarrett told Boston.com they don't expect the update to impact their shop operations, since both stores were already operating under the allowed capacity.
But the possibility of more stringent restrictions if cases continue to rise unchecked remains a source of stress and concern for the booksellers.
"It's nerve-racking to think about dealing with a huge change again because those changes come with a lot of stress and fear," Flynn said. "But as things are now, we've kind of figured out how to work with the business that we have. But it's never fun to be not doing as well as you used to do. That's never great. So things are fine, but it's definitely hard."
McOscar agreed. When the Booksmith was shut down in the spring, the business adapted as best as possible, but a complete second lockdown during the Christmas rush would result in "disastrously lower income."
"No one knows if we closed again, if we could have staff in the building or we'd have to go back to full closure or what degree of adaptation that would require," she said. "Fingers crossed that things don't get that bad."
Jarret said ahead of Thanksgiving, Porter Square Books decided to restrict the store's hours again, rolling back three hours each day in anticipation of a post-holiday surge and in recognition of the staff's rising discomfort with being in contact with customers as the state's case counts mounted. 
Hopefully, she said, online orders will continue to pick up and the store will continue operating as they did in the spring as the weeks go on. 
"We have to be hopeful," Jarret said. "We haven't had to lay anybody off. We're hopeful that when there's a vaccine, which we're hearing about, that hopefully Main Street hasn't died. I know it hasn't been great for a lot of businesses — it's terribly sad, especially the restaurants. But we have a very loyal customer base, and I'm just hoping they stick with us."