Celtics
Jayson Tatum says he has been trash-talking Joel Embiid over the summer
"We should have swept them."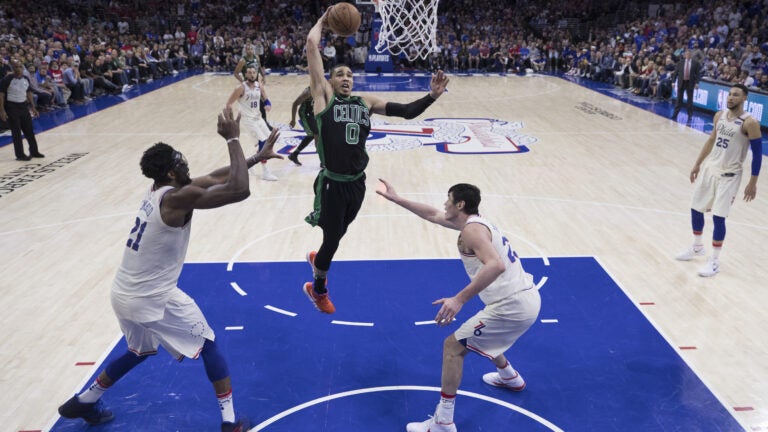 The NBA season-opener Tuesday night between the Boston Celtics and Philadelphia 76ers won't be the first time Jayson Tatum and Joel Embiid see each other since their playoffs series in May.
The two rising stars share a trainer, Drew Hanlen, so they spent time working out together over the summer — and Tatum made sure Embiid didn't forget the result of that hard-fought series.
"I just kept reminding him that we almost swept them," the Celtics guard told reporters before the team's practice Sunday. "We should have swept them."
The Celtics went up 3-0 in the series, before the 76ers won Game 4 in Philadelphia. The Celtics ultimately clinched the series back at TD Garden in a close Game 5 to advance to the Eastern Conference Finals.
"We let 'em win one game," Tatum added Sunday, with a slight smile.
Tatum and Embiid have shared plenty of friendly banter over the last few months. Tatum somewhat famously told Embiid, "You got lucky," after nearly dunking on the 76ers center in Game 3 of their playoffs series. In July, Hanlen's company shared footage of the two playing one-on-one over the summer, during which Tatum repeatedly reminds Embiid about the playoffs.
"Four-to-one is all I know," Tatum says at one point during the video.
In August, the 20-year-old told The Boston Globe that he's enjoyed his fledgling rivalry with Embiid.
"Obviously he's one of the best players, especially best big men, and we kind of have that rivalry between us and Philly," Tatum said. "He's a cool guy. We have the same trainer so just to be in the gym together and just competing against each other is cool."