Music
Bruce Springsteen rocked out in a benefit show for Boston College financial aid
The New Jersey native played a two-hour set to help out students in need at his son's alma mater.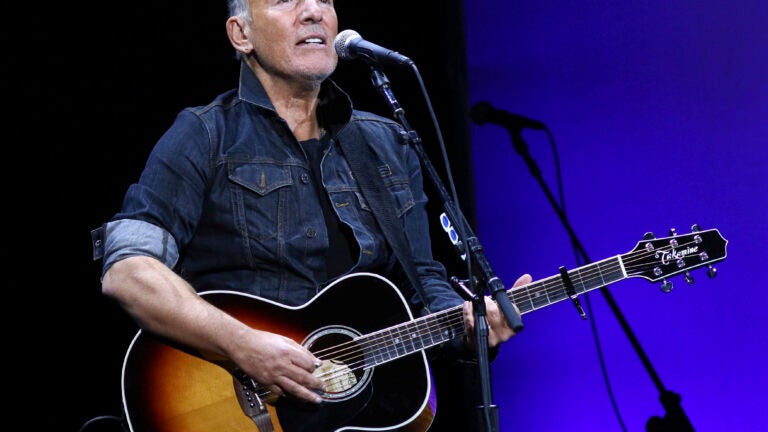 Bruce Springsteen may be The Boss, but it appears he was working on behalf of Boston College students in need over the weekend.
Taking the stage at the legendary Stone Pony in his beloved Asbury Park, New Jersey, Springsteen played a surprise, 22-song set in a private show to benefit financial aid services at the esteemed Boston institution Saturday night.
A few familiar faces reportedly joined him for the two-hour show, including former Bon Jovi rhythm guitarist Bobby Bandiera and his band, along with longtime E Street Band drummer Max Weinberg, who got behind the kit for about half the set.
The gig marked Springsteen's return to the historic club's indoor stage for the first time since 2011, per the Springsteen-centric Backstreets magazine.
That show was also a benefit for Boston College, where Springsteen's oldest son earned his undergraduate degree in 2012, the outlet reports.
Saturday's concert was the fourth time the Rock & Roll Hall of Fame inductee raised money for the university at the legendary venue, Backstreets reports.
"Patti and Bruce Springsteen are great friends of Boston College and have been committed to helping us provide scholarships to deserving undergrads since they joined the parent community," Boston College spokesman Jack Dunn told Boston.com in a statement Monday.
"The Stone Pony benefit directly supported need-based financial aid for B.C. students," according to Dunn. "All of us at B.C. are deeply grateful to the Springsteens for their generosity and friendship."
The roughly 400 attendees who took in Saturday's performance were treated to a career-spanning set featuring defining hits like "Born to Run" and "Dancing in the Dark," as well as fan favorites like "4th of July, Asbury Park (Sandy)" and "Cadillac Ranch," and covers including "634-5789" and "Twist and Shout."
Springsteen also dusted off live staples "Rendezvous" and "Detroit Medley," closing out with a solo, acoustic take on "Thunder Road."
The benefit show comes amid a busy fall for Springsteen, who turned 70 in September. Last month, he made his directorial debut with "Western Stars," a film showcasing music from his album of the same title released earlier this year. He's also said fans can anticipate a new album with the E Street Band and a tour in 2020.