Marathon
Mass. father ran 6 marathons in a year for his autistic son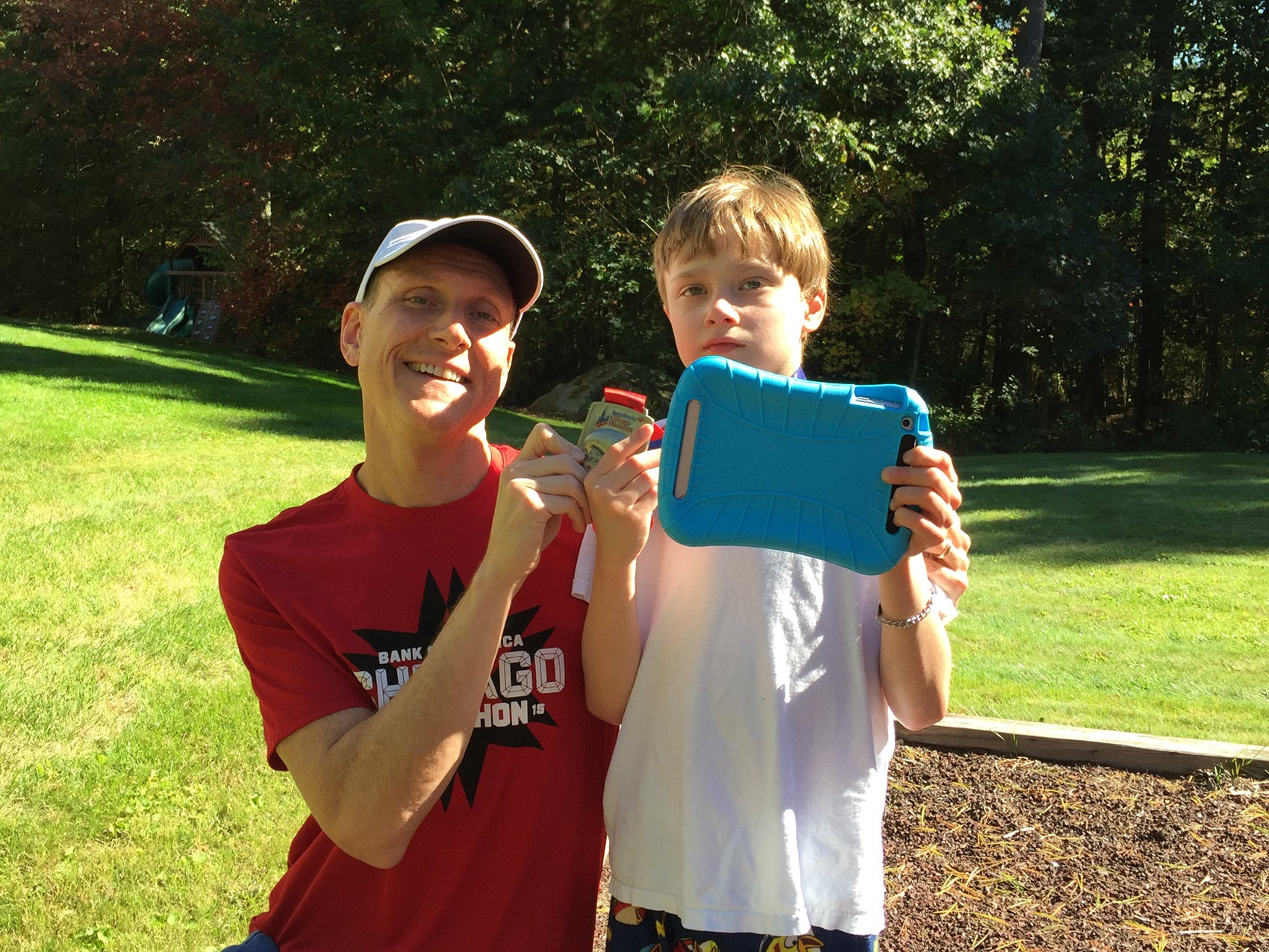 For Chris Beck, crossing the finish line of the Boston Marathon on Monday marked the end of an exhausting, but rewarding year. He ran the Abbott World Marathon Majors, of which Boston is one, in one year to raise awareness about autism for his son Owen.
"He can't speak, so he's never going to get the chance to talk about it," Beck said of his son's experience and why he ran.
Beck said the idea to run the six marathons began after Owen turned 10, almost two years ago. Beck said his son's behaviors had become unbearable. Owen is nonverbal and operates at the level of a 24-month-old. Only able to use a few signs and his iPad to communicate, he would become so frustrated at not being able to communicate what he wanted that he would hurt himself.
Beck and his wife Melissa found they could not prevent him from injuring himself and decided he should join the residential program at the New England Center for Children, which Owen had been attending daily since he was three.
"All of a sudden he was gone," Beck said.
Chris and Melissa Beck take their daughter Jessica, Owen's twin, to see him every weekend at the center. But the time that was once-filled with caring for Owen and his needs was left open. Melissa Beck returned to work, and Chris Beck said he seized on running and raising money for autism with Team Up for Autism Speaks.
He signed up to run the London Marathon last August, training with a coach, and raising money for the nonprofit as he did.
Beck said when he was in London, he'd never heard of the Abbott World Majors — but that was the buzz among runners there, asking who was running what race and when.
"That sort of planted the seed for continuing this on a little bit," he said.
When Beck got back to the states, he began mapping out his year of running, signing up to tackle the five remaining Abbott marathons — Berlin, Chicago, New York, Tokyo, and Boston.
"Once I got London under my belt, I figured I could do it," he said.
PR 3:46:41! 4 down, 2 to go! @tokyo42195_org next! Run fast rAbbott! @wmmajors @nycmarathon @teamupwithautismspeaks pic.twitter.com/J8Naf7iJ5P

— Chris Beck (@irunforowen) November 2, 2015
And he did, becoming the fourth American to complete all six marathons in a year and raising over $50,000 for Autism Speaks.
"I never thought it would turn out this well," he said of the response he's gotten over the last year.
I ran 26.2 #BostonMarathon @CharityMiles for my son Owen and @autismspeaks. #AbbottWMM #everymilematters pic.twitter.com/jpIGHF4JWP

— Chris Beck (@irunforowen) April 18, 2016
It's been a tough year for the whole family.
Running wasn't just a way to help Owen, Beck said. It was also a way to help fill the void that was left for both he and his wife after Owen had to move away from home. Melissa, he said, has had her own journey. For him, running became a vehicle for processing the change his family was experiencing.
"Running was great way to reflect on all that," he said. "It was a great way to clear the head and think about things."
Beck said ending with Boston — and running through the town where Owen now lives — was special. Owen was with the rest of the family at the three-mile mark to watch his dad run. He liked the cheering of the crowds and movement of the runners.
"It was just really cool to stop and see him," he said.