Boston Marathon
How Boston is commemorating the 5th anniversary of the marathon bombings
People around the city will mark the anniversary with community service, moments of silence, and more.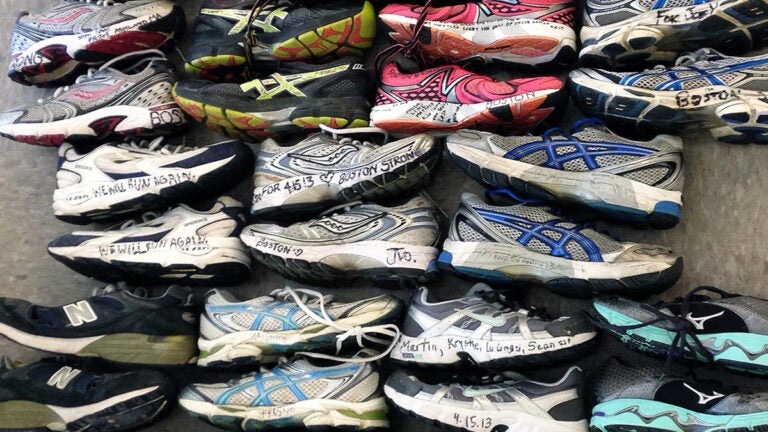 As Boston gets ready to celebrate the 122nd Boston Marathon on April 16, the city also prepares to mark the five-year anniversary of the Boston Marathon bombings, which killed three people and injured at least 264 on April 15, 2013.
Here's how people in Boston are commemorating the tragedy, five years later:
View 65 pieces of art inspired by the Boston Marathon at an Attleboro Arts Museum exhibit called "A Long Distance Relationship: The 26.2 Mile Journey." Pieces include a tower of 200 running shoes left by mourners at the finish line in 2013 and three running chairs used by father-and-son team of Dick and Rick Hoyt, who competed in the race 32 times. Sculptor Bobbi Gibb, the first woman to finish the Boston Marathon in 1966, also contributed her artwork. (Through Saturday, May 5 from 10 a.m. to 5 p.m. Tuesday through Saturday; Attleboro Arts Museum; Attleboro; free; all ages)
You can see "Boston: The Documentary" at the Seaport's ShowPlace Icon Theatre for a brief period. The film, narrated by Matt Damon and billed as the first feature-length documentary film about the history of the marathon, debuted in April 2017 and was directed and produced by filmmaker and marathoner Jon Dunham. The kickoff screening will benefit the Martin Richard Foundation. After that, multiple showings each day will include Q&A sessions with special guests. (Thursday, April 12 at 7 p.m.; Friday, April 13 to Thursday, April 19 at various times; ShowPlace Icon Theatre, Boston; $10-$19.50; must be 7 and up before 6:55 p.m. and 18+ after 6:55 p.m.) 
Commemorative ceremony at Fenway Park:
Boston Marathon bombing survivors, as well as family members of Krystle Campbell, Martin Richard, Lingzi Lu, MIT Police officer Sean Collier, and Boston Police officer Dennis "DJ" Simmonds, will take part in a commemorative ceremony before the 7:10 p.m. Red Sox game at Fenway Park on April 13. Fans are being asked to donate toiletries at all gates during the Friday and Saturday games to benefit The Dimock Center in Roxbury, which provides Boston residents access to high-quality, low-cost health care and human services, and Heading Home, an organization that aims to end homelessness in Greater Boston. (Friday, April 13 before the game at 7:10 p.m.; Fenway Park, Boston)
Red Sox players give back:
On Saturday, April 14, from 11 a.m. to noon, veterans at the New England Center and Home for Veterans will be treated to Red Sox gear and photos with the World Series trophies when Red Sox alum Lenny DiNardo, members of the Rex Sox front office, and Tessie pay a visit from 11 a.m. to noon.
On Sunday, members of the Red Sox front office will join the Martin Richard Foundation in cleaning up Peabody Square in Dorchester.
On Monday, the Red Sox will wear jerseys with "Boston" on the front during the 11:05 a.m. game, a practice that began during a marathon tribute at Fenway Park on April 20, 2013.
Wreath-laying ceremonies:
At 8 a.m. Sunday, Mayor Marty Walsh and Gov. Charlie Baker will take part in simultaneous wreath-laying ceremonies to honor the victims and survivors of the Boston Marathon bombings in 2013. Walsh will lay a wreath at the former Forum restaurant at 755 Boylston St., while Baker will lay a wreath at Marathon Sports at 671 Boylston St. The family of Martin Richard and Lingzi Lu will accompany Walsh. The family of Krystle Campbell will accompany Baker.
Directly after the wreath ceremonies, Walsh and Baker will speak at a private ceremony for families and survivors inside the Boston Public Library.
One Boston Day, which is April 15, offers plenty of service opportunities honoring the "… resiliency, generosity, and strength demonstrated by the people of Boston and those around the world in response to the tragedy of April 15th, 2013."
Just a few of the many ways you can give back: Give blood to the American Red Cross at the Sheraton Boston Hotel; donate new or gently used sneakers through a sneaker drive benefiting St. Francis House; donate locker locks and new socks to the Pine Street Inn by dropping them in a box in the lobby of 26 Court St.; volunteer for Operation Thank a Vet, a citywide effort to thank veterans; and/or help to clean up the city with the Martin Richard Foundation.
You can see a full list of activities on the One Boston Day website.
Moments of silence:
Walsh and Baker will both take part in a moment of silence with the Martin Richard Foundation at IBEW Local 103 at 256 Freeport St. in Dorchester at 2:49 p.m. Sunday, the time the first bomb went off on April 15, 2013.
The bells at Boston's Old South Church will ring at 2:49 p.m. As it does each year, the church will also hold a blessing of the athletes during its 9 a.m. and 11 a.m. services.
The Red Sox will also observe a moment of silence during the 7th inning stretch of the 1:05 p.m. game at Fenway Park.
New England Conservatory of Music students will celebrate the city of Boston on Sunday with a commemorative concert called "Boston Strong Music," led by faculty members Thomas Handel and Charles Peltz. Hear jazz, classical, and contemporary music from the likes of Johann Sebastian Bach, Antonio Vivaldi, Leonard Bernstein, and Aaron Copland, as well as students' original compositions, which will be performed by the conservatory's chamber singers and gospel, string, and wind ensembles. (Sunday, April 15 at 3 p.m.; Church of the Covenant, Boston; free; all ages)
In March 2017, the play "Finish Line: A Documentary Play About the 2013 Marathon" premiered, telling the story of the bombings through firsthand accounts. This year, the Boston Theater Company will perform a staged reading of the show at the Virginia Wimberly Theatre at the Calderwood Pavilion. The cast includes many of the original actors, including Karen MacDonald, who portrayed both Liz Norden, the mother of two sons injured in the bombings, and Paula McLaughlin, the wife of a Boston cop. You can buy tickets here. (Tuesday, April 17 at 7:30 p.m.; Calderwood Pavilion, Boston; $20 to $40; all ages)
Gallery: The Boston Marathon through the years
[bdc-gallery id="138482″]