Boston Marathon
'They paved a path for me': Deb Haaland on running the Boston Marathon on Indigenous Peoples Day
"I run because my ancestors gave me this ability."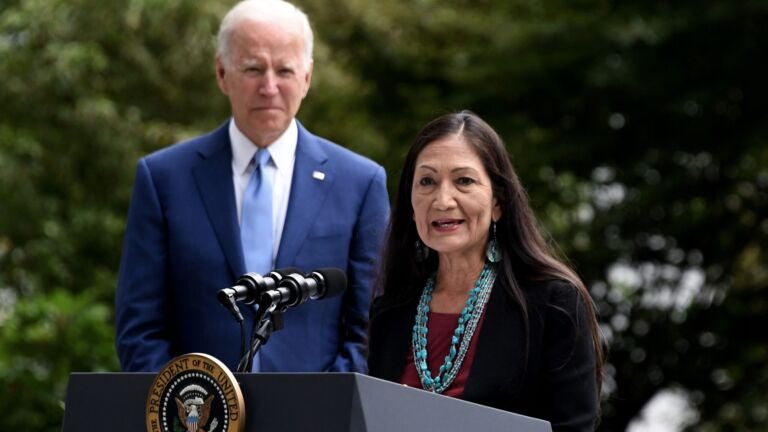 The decision to reschedule the 2021 Boston Marathon on Indigenous Peoples Day elicited pushback from some Native Americans — and ultimately an apology from the Boston Athletic Association.
However, U.S. Secretary of the Interior Deb Haaland, the first Native American cabinet secretary in U.S. history, says it's an opportunity to honor indigenous people and their rich running history, including in the Boston Marathon.
Haaland revealed her plans to personally participate in the 125th marathon in a Boston Globe opinion piece Sunday.
"My feet will pound the ancestral homelands of the Massachusett, the Mashpee Wampanoag, and the Pawtucket people and will follow in the footsteps of Indigenous runners who have participated in this race over its 125-year history," she wrote.
Haaland noted that the 1907 race was won by Tom Longboat of the First Nations Onondaga tribe, and how Ellison "Tarzan" Brown of the Narragansett tribe won in 1936 and again in 1939 (it was Brown's legendary finish in the 1936 race that gave "Heartbreak Hill" its name). The official starter of the race Monday was also Patti Dillon, a Mi'kmaq tribe member and three-time Boston Marathon runner-up who "helped to pave the way for women runners," Haaland wrote.
"These runners have a place in history," she said. "They are inspirations to all runners, but particularly to Indigenous runners."
The 60-year-old former New Mexico congresswoman said she took up running "about 20 years ago" and has since completed several marathons. Along the way she "began to think deeply about the story of my people who have used running not only to get places but to preserve their traditions and culture."
"In the days of my ancestors, runners ran from house to house and village to village to spread news," Haaland wrote. "In the high desert, runners kept watch for spring floods, alerting villagers and sprinting to the fields to capture water for that year's crops. Native American runners saved lives during the tragedies of colonization. Now, traditional foot races in our Pueblo villages honor those who were strong and fast. I run because my ancestors gave me this ability."
Haaland said that Indigenous Peoples Day is also a day to remember the "sacrifices" and "survival" of Native Americans amid eras during which atrocities were committed against them that still manifest today in the form of "health disparities, lack of basic infrastructure, the missing and murdered Indigenous peoples' crisis, and so much more."
"On this special day, I will run for missing and murdered Indigenous peoples and their families, the victims of Indian boarding schools, and the promise that our voices are being heard and will have a part in an equitable and just future in this new era," Haaland wrote. "I will run for Tom Longboat, Tarzan Brown, and Patti Dillon because they paved a path for me."
Read the full piece at The Boston Globe.
Newsletter Signup
Stay up to date on all the latest news from Boston.com