Boston Marathon
What spectators should know about the 2022 Boston Marathon
From COVID-19 guidelines to what not to bring.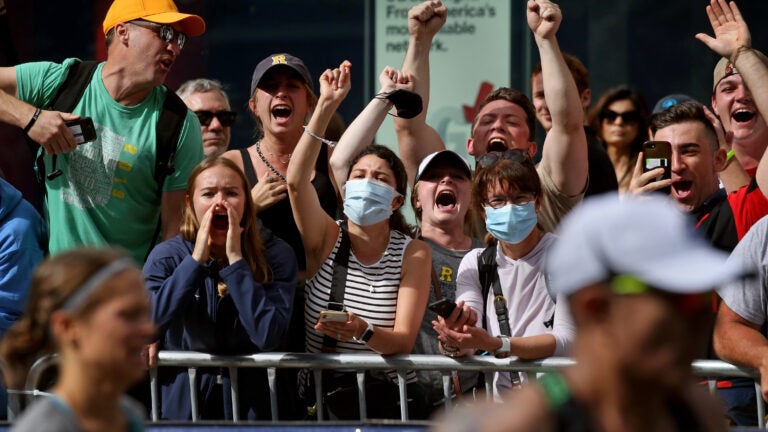 Marathon Monday has rolled around again, just a little more than six months since the last running of the historic course. It brings with it a rush of spectators and the accompanying safety protocols.
This spring, the race is back to featuring a field of around 30,000 athletes, after a dip to about 20,000 in-person competitors in the fall. Even though it has only been half a year since thousands flocked to watch runners compete on the 26.2-mile course from Hopkinton to Boston, it's a good time to remind yourself of the rules.
Here's what you need to know:
What are the COVID-19 guidelines?
The official rules are minimal, though the B.A.A. encourages "personal responsibility" for everyone involved with regards to COVID-19.
All race participants are required to be fully vaccinated and have a plan for if they do test positive, according to B.A.A.'s website. In addition, masks will be required on official buses and in medical tents.
"The B.A.A. strongly encourages everyone practice personal responsibility for the 126th Boston Marathon and B.A.A. 5K," the B.A.A.'s website reads. "From guests traveling with athletes to spectators cheering on participants, everyone is encouraged to take efforts to mitigate the spread of COVID-19."
Vaccination with a World Health Organization-certified vaccine for those participating will be enforced prior to bib pick up April 15. Anyone who develops symptoms of the virus must avoid public activity with the exception of getting a COVID test, according to B.A.A.
According to the marathon organizers, the previous race in October had a 93% vaccination rate among participants.
Boston Mayor Michelle Wu is also urging marathon-goers to take precautions, as the city sees a rise in COVID-19 cases. At a press conference Tuesday, Wu said the community positivity rate hung at 5.4%, above the 5% threshold of concern set by the city's public health leaders.
"We are monitoring that very carefully," Wu said. "So it's important that we take steps to protect ourselves and those around us who might be at high risk of severe infection."
Wu advised participants and spectators to mask up for Marathon Monday, especially if they are at higher risk.
"Even outdoors when many, many people are crowded together, it is a situation where we want everyone just to be aware," Wu said. "And so if you are able to take a test before you attend, especially if you're going to a party or a more crowded situation or an indoor event, that always helps."
What should I leave at home?
The marathon will have the usual host of safety measures, from security check points to banned items.
Though the B.A.A. does not implement security policies itself, it does have a list of allowable and banned items for participants and fans alike to keep in mind. Spectators can expect a significant presence of both uniformed and plain-clothed police officers, as well as a number of security checkpoints.
The B.A.A. said spectators along the course, or within any official B.A.A. venue, are "discouraged" from possessing any of the following items, warning that carrying any of the objects could result in delays when going through security checkpoints and enhanced screening:
Weapons or items of any kind that may be used as weapons, including firearms, knives, mace, etc.
Backpacks or any similar item carried over the shoulder.
Suitcases and rolling bags/rollers.
Coolers.
Glass containers or cans.
Flammable liquids, fuels, fireworks, or explosives.
Any container capable of carrying more than 1 liter of liquid.
Handbags or packages or bulky items larger than 12 inches x 12 inches x 6 inches.
Large blankets/comforters, duvets, sleeping bags.
Costumes covering the face or any non-form fitting, bulky outfits extending beyond the perimeter of the body.
Props (including sporting equipment and military and fire gear).
The entire course has also been designated a "No-Drone Zone," according to B.A.A., so spectators will have to do without aerial shots of the festivities.
When should I get there?
Depending who you want to see and where along the race you want to go, officials have created a grid of estimated arrival times for the April 18 race:
| Location | Split | Lead Wheelchair men | lead wheelchair women | lead open men | lead open women |
| --- | --- | --- | --- | --- | --- |
| Main St. Hopkinton | Start | 9:02 a.m. | 9:05 a.m. | 9:37 a.m. | 9:45 a.m. |
| Rt. 135, Ashland | 5K | 9:11 a.m. | 9:15 a.m. | 9:52 a.m. | 10:02 a.m. |
| Rt. 135, Framingham | 10K | 9:20 a.m. | 9:28 a.m. | 10:07 a.m. | 10:20 a.m. |
| Rt. 135, Natick | 15K | 9:32 a.m. | 9:40 a.m. | 10:24 a.m. | 10:40 a.m. |
| Rt. 135, Wellesley | Halfway | 9:42 a.m. | 9:50 a.m. | 10:41 a.m. | 10:56 a.m. |
| Rt. 30, Newton | 35K | 10:06 a.m. | 10:17 a.m. | 11:16 a.m. | 11:38 a.m. |
| Coolidge Corner, Brookline | 38K | 10:15 a.m. | 10:28 a.m. | 11:30 a.m. | 11:55 a.m. |
| Boyolston St., Boston | Finish | 10:22 a.m. | 10:35 a.m. | 11:45 a.m. | 12:08 p.m. |
Newsletter Signup
Stay up to date on all the latest news from Boston.com