Boston Marathon
Watch: Boston honors victims, survivors of the 2013 marathon bombings on 10th anniversary
April 15 marks 10 years since three died and hundreds were injured when two bombs exploded at the Boston Marathon finish line.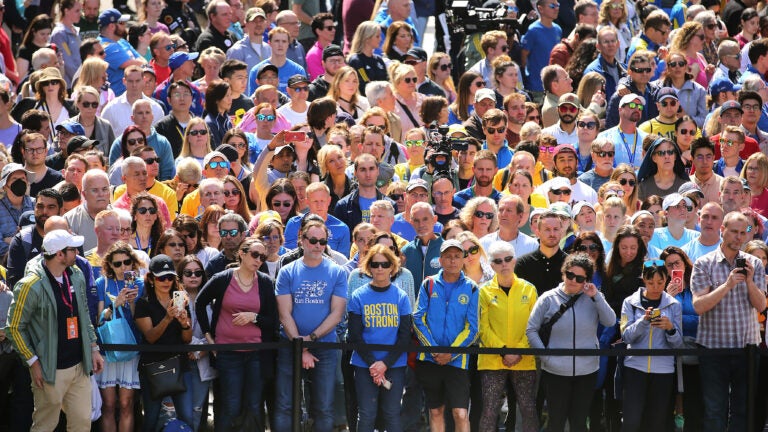 The Old South Church bells echoed across Copley Square Saturday afternoon, tolling at precisely 2:49 p.m. — the same time two bombs went off at the Boston Marathon finish line 10 years prior.
The blasts injured hundreds and killed Martin Richard, 8; Lingzi Lu, 23; and Krystle Campbell, 29. The bombers, brothers Dzhokhar and Tamerlan Tsarnaev, killed MIT police officer Sean Collier, 27, while on the run days later. Boston Police Sgt. Dennis "DJ" Simmonds, 28, died a year later from a head injury he sustained in a shootout with the Tsarnaevs.
Saturday afternoon, hundreds gathered on Boylston Street to dedicate a commemorative finish line and unveil a new One Boston Day marker. Among the crowd were Red Sox stars, first responders, elected leaders, and marathoners from near and far.
"In the 10 years since April 15, 2013, Boston has become best known for its strength, resilience, and unity," 2014 Boston Marathon champion Meb Keflezighi said during the ceremony. "For on that day, 10 years ago, at the Boston Marathon, our city was shaken. On that day, 10 years ago, the unimaginable happened and lives were forever altered."
The somber event featured performances from members of the Boston City Singers and the Boston Pops. Keflezighi, who won the first Boston Marathon following the bombings, provided the finish line dedication.
"We dedicate the finish line to Martin, Lingzi, Krystle, Sean, and Dennis," he said. "We dedicate it to those injured and affected. We dedicate it to those heroes among us. We dedicate it to the city of Boston. And we dedicate it to those who are still yet to cross it."
The new One Boston Day emblem on Boylston features three rings to symbolize those lost, those injured, and those affected by the bombings, Keflezighi explained.
"In this emblem, we are reminded of the spirit of the people of Boston, for we are One Boston and the finish line will always be home," he added.
Newsletter Signup
Stay up to date on all the latest news from Boston.com