Boston Marathon
How Mass. leaders remembered the Boston Marathon bombings on the 10th anniversary
"Boston Strong, to me, is the strength of turning to one another, not on one another," former Gov. Deval Patrick said.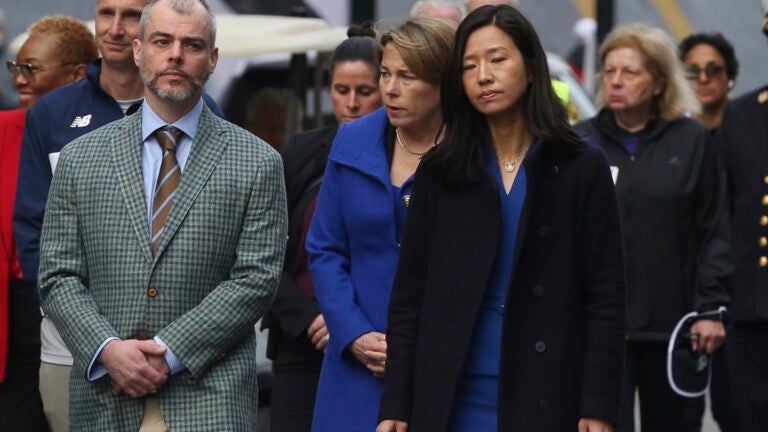 Past and present elected officials and leaders around Massachusetts are sharing their thoughts on the 10th anniversary of the 2013 Boston Marathon bombings, reflecting on one of the city's darkest days, as well as the legacy of resilience and strength that followed.
Gov. Maura Healey — who took part in two remembrance ceremonies held Saturday — contemplated the landmark anniversary on Twitter, writing, "We remember the lives lost, the survivors, and the heroes who ran towards danger that day. We also remember that Boston is resilient. Boston is hopeful. Boston is strong."
Ed Davis, the Boston police commissioner at the time of the bombings, also described the anniversary as a day to remember and reflect.
"Ten years on, we remember the event like it was yesterday," Davis said on Twitter. "Powerful day today, reuniting with families whose lives were forever changed that Marathon Monday."
Former Gov. Deval Patrick offered similar thoughts, adding, "Boston Strong, to me, is the strength of turning to one another, not on one another."
Attorney General Andrea Campbell shared photos from a Saturday afternoon ceremony dedicating a new commemorative Boston Marathon finish line and One Boston Day emblem.
Meanwhile, former Boston Mayor Kim Janey recalled being just a few doors down from the bombings while attending the 2013 race.
A decade after the "devastating attack on our city," Rep. Ayanna Pressley said she was "thinking of those still impacted by grief & trauma, physical injuries & invisible wounds."
Likewise, Sens. Elizabeth Warren and Ed Markey both said they were remembering victims and survivors on the 10th anniversary.
U.S. Attorney Rachael Rollins praised the first responders "who demonstrated momentous bravery and selflessness in response" to the bombings.
"Now a decade past, they remain our heroes whose selfless service — both highly visible and behind the scenes — made Boston and our Commonwealth stronger than ever," she said.
And the Red Sox, of course, doubled down on David Ortiz's famous declaration, made just days after the bombings: "This is our f****** city."
Newsletter Signup
Stay up to date on all the latest news from Boston.com