Boston Marathon
Strong police presence around Black marathon spectators in Newton draws condemnation
The spectators say their Heartbreak Hill cheer zone was singled out after a wall of police officers blocked them from the course.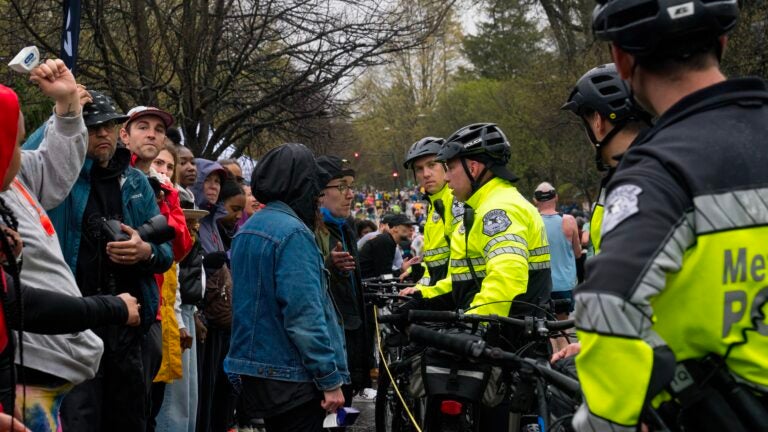 A racially diverse group of Boston Marathon spectators say they were targeted during Monday's race when police officers surrounded their Heartbreak Hill cheer zone and blocked them from the course.
As marathoners surged up Heartbreak Hill, the Pioneers Run Crew and TrailblazHers running club were waiting on Commonwealth Avenue in Newton to cheer them on.
"We're having a blast. We're cheering everybody on, we're high-fiving, we're waving. Confetti's popping, DJ's spinning," J. Mike Remy, one of the spectators, recalled in a YouTube video. "And along the way, a strong police presence shows up, specifically to our cheer zone to back us on up…"
He added: "This just left a sour taste in my mouth." Boston.com has reached out to Remy for comment.
Dave Hashim, a New York City-based photographer and runner who operates the community-based website NYCRunPhoto.com, was at the cheer zone to take pictures and support marathoners. He said the officers on bicycles arrived just after midday, followed by cops on motorcycles.
"They informed us that they were told our group was interfering with the runners, and there was a problem," Hashim told Boston.com in an email interview. "They also noted they were following orders."
He called the wall of officers between the spectators and runners "unsettling."
"My joy in running stems from the community, and when the community comes together to support runners and the sport of running, it's a beautiful thing. These events tarnished that joy," Hashim said. "Some people were in tears, others were angry. The police presence felt overwhelming, as though we had done something terribly wrong, and that was not the case."
The Newton Police Department said in a statement that it sent officers to the scene after hearing from the Boston Athletic Association, the marathon's organizer.
"After being notified by the B.A.A three times about spectators traversing the rope barrier and impeding runners, the Newton Police Department responded respectfully and repeatedly requesting that spectators stay behind the rope and not encroach onto the course," the department explained.
When spectators continued to cross the rope, "NPD with additional officers calmly used bicycles for a short period to demarcate the course and keep both the runners and spectators safe," according to the statement.
In photos and video from the scene, several officers are shown wearing Metropolitan Law Enforcement Council gear. MetroLEC explained in an email to Boston.com that it coordinates and facilitates mutual aid for its member agencies, which includes the Newton Police Department.
Separately, the B.A.A. said in a statement that it is "committed to creating a safe and enjoyable experience for athletes, volunteers and spectators across all our events."
However, the large police presence didn't sit right with many in the running community.
"We were at Heartbreak Hill, but it was a different type of heartbreak," Aliese Lash, a Pioneers Run Crew leader, told The Boston Globe. "We want to experience the joy of running, the joy of the course, but yesterday was just so blatant that we weren't welcome there."
She acknowledged Boston Marathon rules barring non-entrants from getting onto the course, but told the Globe that other spectators along the marathon route behaved similarly and faced different results.
"It's so common for people to support their runners," Lash told the Globe. "But for some reason we do it and it's not OK for us to do it."
Another running group, November Project Boston, shared similar thoughts in a series of Instagram stories.
"Thousands of spectators have jumped onto the course. Thousands of spectators cheered their hearts out," November Project wrote. "But the only group that saw a massive police presence as a result was a group of predominantly Black and Brown spectators (in an affluent, overwhelmingly white suburb)."
"Make no mistake — this is racially targeted overpolicing," the group added, sharing a copy of a form letter to the B.A.A. demanding a formal apology and condemnation of the officers' actions, as well as concrete actions to back up the association's stated commitment to racial justice.
"This is the energy that they tried to police," Pioneers Run Crew wrote on Instagram, sharing a video showcasing the electric scene at the cheer zone. "This is what they don't want to see. But we are here … and we're growing."
Newsletter Signup
Stay up to date on all the latest news from Boston.com