Boston Marathon
Ashland Select Board says 'no thanks' to statue of Spencer the Boston Marathon dog
The iconic marathon dog will still be memorialized in Ashland, his owner says, at a different site.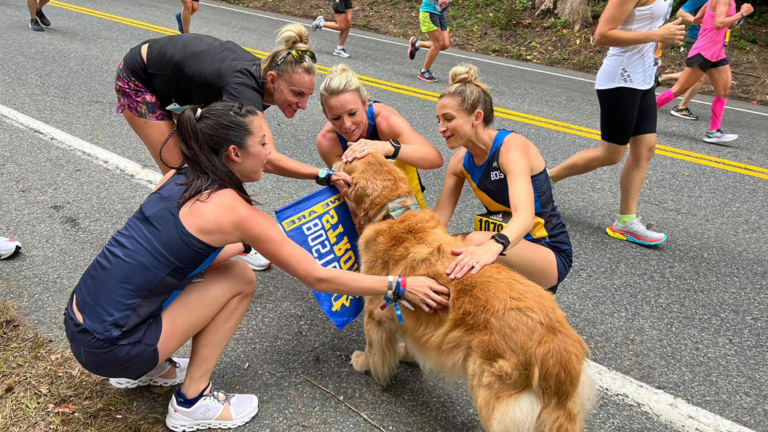 The town of Ashland Select Board voted "no" on Wednesday to a proposal to place a bronze statue of Spencer, the iconic Boston Marathon dog, at the Ashland Community Center near the spot where he delighted runners from the sidelines for years before his death in February.
The golden retriever, who attended his first marathon in 2015, became a Patriots' Day fixture and was even honored by the Boston Athletic Association in 2022 as the official dog of that year's Boston Marathon. A therapy dog by training, he and his sister Penny volunteered at schools, hospitals, assisted living facilities and clinics, including a COVID-19 vaccination clinic in Ashland.
Though Spencer's owner, Rich Powers, told the Select Board at its July 12 meeting that the statue would come at no cost to the town — he's raising the funds himself and will take care of maintenance — the board ultimately nixed his proposal in a 3-2 vote.
Select Board member Brandi Kinsman said she doesn't think the statue belongs at the community center, although she appreciates how Spencer has become a symbol of perseverance for marathoners.
"I do feel like it's more of a marathon connection," Kinsman said of Spencer's story, "than an Ashland connection."
Select Board Clerk Joseph J Magnani, Jr, who also voted no, added that memorializing Spencer, a dog, on town property would amount to a "slap in the face" to human community members whose contributions to Ashland go unrecognized.
Select Board members in the "yes" column countered that Spencer's statue wouldn't replace alternate projects, reminding their colleagues that the town wouldn't pay a cent. Plus, they said, the statue would likely draw crowds of press and fans to Ashland each April.
Powers appeared unoffended by the Select Board's final decision, his voice wobbling with emotion only when he described Spencer's legacy as a "symbol of hope" who battled spleen and liver cancer and raised thousands of dollars in donations for cancer research.
Spencer will still get a statue in Ashland, Powers said, just not at the marathon sideline spot where the retriever famously stood on race day. Powers has found an alternate home for the bronze at a "retail location" in town, and has already paid the commission deposit.
Over 400 donors have collectively contributed upwards of $26,000 via GoFundMe to support the project, which Powers says will cost about $50,000 total.
Was Ashland correct to turn down the statue of Spencer the Boston Marathon dog?
Newsletter Signup
Stay up to date on all the latest news from Boston.com