COVID
Varying approaches: Here's how Boston, Cambridge, and Somerville are planning to handle school during COVID-19
"There is no perfect plan to reopen schools this fall."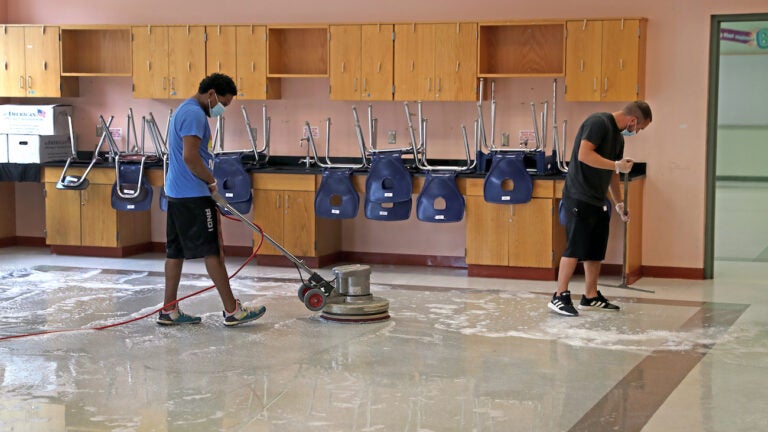 With August underway, public school officials in Boston, Cambridge, and Somerville are sizing up plans for what will be a very different return to class next month amid the coronavirus pandemic.
The array of considerations come as districts across Massachusetts prepare to submit finalized plans to the state Department of Elementary and Secondary Education by Monday.
For Boston Public Schools, educators are considering either having all students learn remotely or instituting a potential hybrid model that mixes both virtual and in-person learning, a draft plan released this week says.
What's certain, officials say, is that all students will not be back in school buildings at the same time.
"We have not yet made a final decision regarding which of these options is best for the students of the Boston Public Schools," the report says. "We continue to monitor local health data and will be guided by the advice of our public health officials."
Meanwhile in Somerville, students and their families already have an answer for how the beginning of the year will go. All classes will be held virtually, officials announced Tuesday.
"We are doing everything we can to be ready for an eventual return to phased in-person instruction under the new safety guidelines," Mayor Joseph Curtatone, Superintendent Mary Skipper, and School Committee Chair Carrie Normand said in a joint statement. "At day's end, we need to ensure that we have done everything possible to mitigate the risks of a return to our schools – so that our staff, students, and families feel safe and are safe."
Older students, or those in grades 4 through 12, in Cambridge can expect to attend classes remotely again when school starts up. But parents and guardians of younger students will be given the option for in-person learning four days a week, plans say.
The revised approach aims to meet feedback school leaders received from the community "while providing some families with safe in-person learning opportunities for students with specialized needs," Superintendent Kenneth Salim wrote to Cambridge Public Schools families Tuesday.
But even with the efforts to balance those factors, he noted that not everyone will be satisfied with the approach.
"There is no perfect plan to reopen schools this fall," Salim wrote.
Here's what to know about back-to-school plans in Boston, Somerville, and Cambridge:
Boston parents can decide whether their students will continue to learn remotely, under the current plan.
In their report, school officials say their final decision for what form the school year will take depends on the science behind the virus, which, of course, is ever-changing.
"BPS will only reopen our school buildings to students and staff if and when the Boston Public Health Commission determines it is safe to do so given its constant monitoring of public health metrics," the proposal says.
The final word will also not be made until the school system receives feedback on its plan.
"We have included school leaders, teachers, other staff and BPS families in the past several months of planning. Reopening Task Forces are currently meeting to contribute their ideas in order to improve this draft plan," the report says. "As new ideas are received and old ones are improved, updated versions of this plan will be released."
Under the current plan, teachers will return to school on Sept. 8, followed by students in grades 1 through 12 on Sept. 10. Pre-K and kindergarteners will return on Sept. 14.
Parents will be allowed to decide whether to have their students learn entirely remotely, or partake in the hybrid model, which allows for learning in a brick-and-mortar classroom two days a week. Students can switch between the two as the school year progresses.
"There is also an option for special populations: students who receive special education or English Learner services," plans say. "Depending on the needs of the learner, these students may be allowed a longer week of in-person learning."
Even under the hybrid model as proposed, classes would start remotely and students would return to school buildings through a phased approach, with half learning in-person and half online, plans say. Grades 1 through 8 would make up the first phase of students welcomed back, followed by grades 9 through 12, with the timing of the latter "dependent on each building being prepared to be open," the proposal says.
Pre-K and kindergarten students would return during the third phase of the hybrid model.
The plans say families will be contacted by the district this month and will be asked to select which learning model their students will enroll in this fall. The district will also have the ability to quickly change course to fully remote learning should it need to do so.
"We will start in-person instruction on September 10, 2020 only if the community infection rates, in light of the number of tests and emergency room admissions related to COVID-19, and other public health metrics remain under identified guardrails, as determined by the Boston Public Health Commission," the plans say. "If the metrics exceed those guardrails on or immediately before the calendared start of the school year — or on any other date in the school year — BPS will immediately and fully pivot to the Remote / At-Home learning model for all students."
Parents and guardians will be responsible for performing a health screening at home before sending students to school each day, the proposal says. The district will not be regularly testing students or conducting temperature checks. Neither the U.S. Centers for Disease Control and Prevention nor the BPHC recommend those protocols under current guidelines, the district notes.
But everyone must wear masks inside schools and on buses when there isn't enough space to maintain six feet of distance from other people. Students and staff are expected to bring their own face coverings, and those who do not will be provided a disposable mask.
Bus benches will be limited to one person per row with assigned seating. High touch areas inside schools will be cleaned and disinfected multiple times a day and bathrooms "should be monitored every two to three hours through the day," cleaning plans show.
Officials acknowledged that the proposed "hybrid model is not perfect."
"Many have commented that the simultaneous teaching of students in person and online is impossible for our BPS teachers to do, no matter what technology supports are provided," the plan says. "Now is the time to identify how BPS teachers can equitably teach all students — each of whom is legally entitled to structured instructional time, every day of the school year. That is the task before us; the time to complete that task is now."
Individual schools within BPS will submit their plans to district administrators by Aug. 21.
"Given that all of our school facilities are different, it is likely that there will be some variation in how schools safely welcome back students this fall," the report says. "We will continue to work in partnership with school leaders to define these guardrails and plan for the safe reopening of all of our schools."
Read the full draft plans and daily cleaning protocols for Boston Public Schools.
Somerville will host classes entirely virtually for the start of the year.
Somerville was among the first school districts in Massachusetts to opt for a fully virtual start for the school year when officials announced the plan Tuesday.
In their statement, Curtatone, Skipper, and Normand said Somerville Public Schools worked to put in place the pieces needed for a return to in-person instruction "in a phased hybrid model."
"That planning has included bringing in an engineering firm to assess the ventilation and filtration systems in our school buildings, and working to set up a virus surveillance testing plan for students and staff," the statement says. "As we have said from the beginning, the safety and health of our students, staff, and families is and will remain our top priority. We do not believe that opening school for in-person instruction without these two important safety components of the school reopening plan in place and resolved is safe or in the best interest of our school community."
School officials say addressing those two issues will be apart of their work in the coming weeks, along with identifying a timeline and conditions for an in-person return to the buildings, "especially for our (English Language Learners), Special Education, and Pre-K-2 students who struggle the most in a remote model."
"We are actively exploring options including outdoor solutions as a way that staff, students, and families can meet in person," the statement says. "We are also actively working with our partners who provide youth services in the hope that we can develop a menu of activities outdoors to help support the social emotional needs of students for the remote learning time."
The approach will vary by age in Cambridge, at least for some students.
Cambridge Public School students in grades 4 through 12 will start the year remotely, district plans show.
However, families of students in preschool through grade 3 will have the option to attend class in-person four days a week, with limited capacity available for second and third grade students.
According to officials, the district is prioritizing students who are at lower risk of transmitting the coronavirus and students who have specialized needs for this initiative, such as students who are experiencing homelessness, those enrolled in special education programs, and those in Sheltered English Immersion programs across all grades.
"Every elementary school building will open up to two classrooms for Grade 2 and Grade 3. Seats will be prioritized for students experiencing homelessness, students with disabilities, English language learners, and former English language learners," the district wrote on its website. "If additional seats remain, schools will identify students most in need of in-person instructional opportunities based on district criteria."
Schools are also slated to open in stages, with staff planning, training, and family conferences kicking off Sept. 1, and students beginning school with half days on Sept. 16. Full days would start on Oct. 5.
Classrooms will generally hold about 10 to 12 students depending on the size of a room, according to plans. Desks will be placed six feet apart, and the district has already ordered 230,000 masks, 5,000 child-size face shields, and 1,000,000 pairs of gloves. Additional custodial staff will handle daily cleaning and sanitizing protocols.
School officials are working to have all staff tested before school starts.
"There aren't any simple answers to this and we won't have complete consensus," Salim said of the plans Tuesday, according to WCVB. "They're imperfect plans and there are imperfect answers here."
Read the full plans for Cambridge Public Schools.