Local
The MBTA is opening 2 new Green Line stations this Monday
And the city of Chelsea is also getting a new, relocated commuter rail station.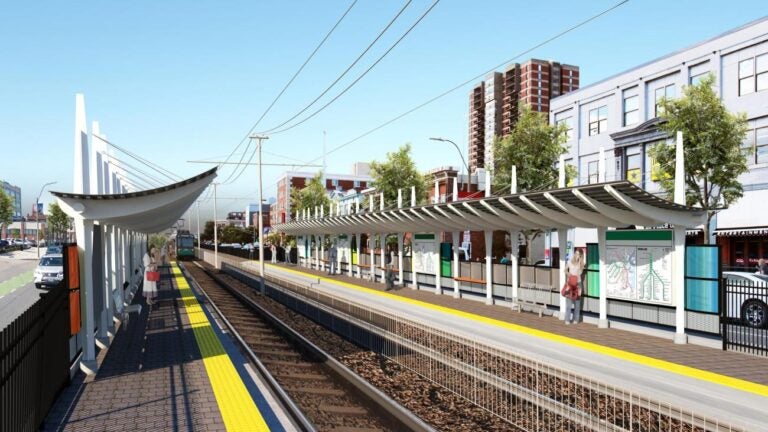 Two "proper" new stations are coming to the Green Line's B branch next week.
After over eight months of at-times disruptive work to merge four cramped Commonwealth Avenue stops by Boston University, MBTA officials announced Friday that the two new fully accessible stops — a relocated Babcock Street station and newly named Amory Street station — will open Monday.
According to the MBTA, the two stations will feature longer, 225-foot raised platforms for easier boarding, 150-foot-long canopies, safety barriers to separate riders on the platforms from traffic, countdown clocks, digital screens, and new benches and lighting.

They'll replace four stops — the previous Babcock Street stop, along with Pleasant Street, St. Paul Street, and Boston University West — that were all located within a half-mile distance, contributing to delays on a branch that is so notoriously slow that amateur athletes have been able to outrun B line trolleys. According to the site fixmbta.com, it takes the Green Line trolleys 35 minutes to travel the 4.2 miles between Boston College and Kenmore station.
Reducing the number of stops has been one proposed solution.
In a video released Friday, the MBTA's chief of capital transformation programs, Angel Peña, said riders can expect the change to shorten trips by "at least one minute" over the short distance.
The $29 million project was originally slated to be completed in February 2022. However, the MBTA announced in April that it would close the majority of the B branch and replace trolley service with shuttles for a total of seven weeks to accelerate work.
While the stations will open Monday, Peña said Friday that MBTA staff are still continuing to work with internal departments to make sure vehicle announcements and MBTA maps are updated throughout the system.
"Thank you to the Boston University community and all B branch writers for being so patient during this time of transformation and improvement," he said in the video Friday.
The openings Monday also coincide with the opening of the new Chelsea commuter rail station on the Newburyport/Rockport Line, as the MBTA announced earlier this month.
The new Everett Street station — located less than a half mile away from the existing commuter rail station on Chelsea Street — is situated at the end of the Silver Line busway, as well as near the Market Basket in Chelsea. Like the new Green Line stops, it also comes with a new canopy, benches, and ramps.
In addition to providing "faster boarding and improved accessibility for people of all abilities," MBTA General Manager Steve Poftak has said the new station will give riders "the choice of traveling to North Station on the Commuter Rail or South Station on SL3 from a single point."
According to the MBTA, the existing commuter rail station on Arlington Street will close permanently on Sunday after the last train departs at 11:11 p.m.
Newsletter Signup
Stay up to date on all the latest news from Boston.com