COVID
Brookline announces vaccination mandate for certain settings
Starting Saturday, patrons of affected businesses ages 12 and up are required to show proof of one dose.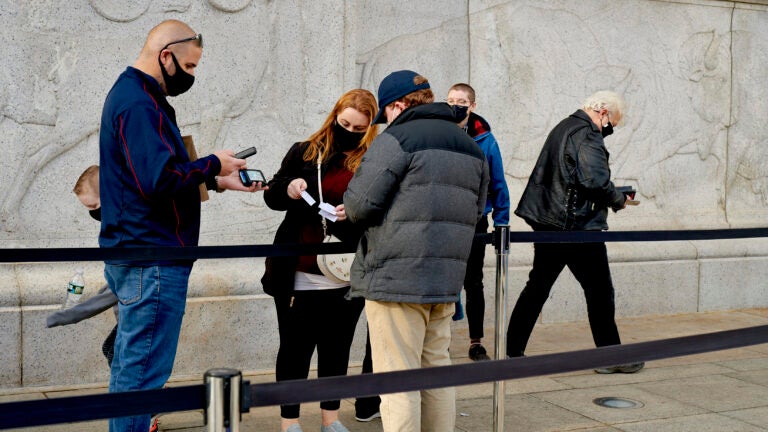 Following Boston's lead, neighboring Brookline announced a COVID-19 vaccination requirement that goes into effect Jan. 15. The regulation covers indoor entertainment, recreation, and event venues; food service establishments with seating areas; and all commercial indoor gyms and fitness settings.
The announcement, made Tuesday, requires all patrons ages 12 and up present proof of at least one dose of a vaccine, starting Jan. 15. From there, it follows a multi-phase approach, similar to Boston's vaccine mandate.
"By implementing this regulation, Brookline is doing its part to mitigate a continuing surge that is stretching our healthcare system to its limits, because vaccination is proven to severely limit the potential for hospitalization due to COVID-19," said interim Health Commissioner Pat Maloney in a statement.
Patrons ages 12 and up will be required to show proof of full vaccination, meaning one dose of the Johnson & Johnson vaccine or two doses of Pfizer or Moderna, starting Feb. 22 to enter impacted businesses.
Starting March 22, the requirement also affects patrons ages 5 to 11. As Pfizer is the only vaccination approved for that age group, they will be required to show proof of one dose of that vaccine March 22. By May 1, those patrons will be required to prove they received both doses of the vaccine.
"This approach helps to protect our entire community as we approach the start of the third year of a pandemic that's touched all of our lives," Maloney said in a statement. "I want to thank the Advisory Council on Public Health and the Select Board for their leadership on this issue."
| Date | Requirement |
| --- | --- |
| Saturday, January 15 | People 12+ must show proof of 1 dose of vaccine |
| Tuesday, February 17 | People 12+ must show proof of full vaccination (2 doses) |
| Tuesday, March 22 | Children ages 5-11 must show proof of 1 dose of vaccine |
| Friday, May 1 | Children ages 5-11 must show proof of full vaccination (2 doses) |
Brookline's mandate does not apply to patrons entering establishments for a quick, limited purpose such as using the restroom, picking up a take-out order, or performing necessary repairs. It does not apply to K-12 schools, child care settings, senior centers, community centers, non-commercial municipal functions, and sites that are not open to the public.
The vaccine requirement takes full effect Jan. 22, and violators of the policy will face fines of $300 per violation.
Visitors to businesses covered by the regulation can provide proof of vaccination in a number of ways, including:
A CDC COVID-19 vaccination card
A digital image of a CDC card
Any official immunization record from where the vaccine was administered
A photo of an official record that includes the person's name, vaccine brand, and dates administered
A letter, digital image, or report from a health care provider, pharmacy, or vaccination site establishing proof of vaccination
Any vaccination verification smartphone app developed by Massachusetts or developed or endorsed by Brookline
Massachusetts launched its COVID-19 verification webapp earlier this week. My Vax Records is a browser-based tool that pulls information from a state-run database. Boston is set to roll out a smartphone app called B Together on Saturday.
Boston Mayor Michelle Wu announced a similar vaccination policy last month, the first phase of which goes into effect Jan. 15.
Following Wu's announcement, many surrounding cities and towns indicated they were looking to require vaccination proof for certain indoor venues. Medford reinstated an indoor mask mandate and instated a vaccination mandate for large-scale entertainment venues Dec. 22, 2021, but has yet to announce any more widespread mandates. Salem adopted a vaccination requirement, similar to Boston's, for certain businesses starting Jan. 15. Arlington, Cambridge, Lynn, Melrose, and Somerville have yet to announce widespread vaccine mandates.
Newsletter Signup
Stay up to date on all the latest news from Boston.com