Business
Shoppers steer away from Shaw's
High prices hurt once-flourishing grocery chain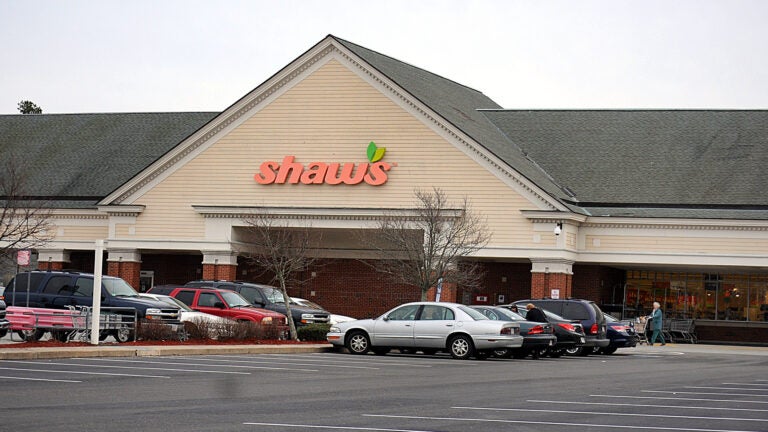 Elizabeth D'Oliveira was a loyal Shaw's supermarket shopper until last year, when she began checking prices at other local grocers. The Charlestown mother of two says she never recovered from the sticker shock.
On all the basics — eggs, milk, bread, pasta, and juice — Shaw's had the highest prices, according to D'Oliveira. "It just blew me away. Shaw's was more expensive than everyone else, except for maybe Whole Foods,'' she said.
And with that, Shaw's, once one of the region's dominant grocery sellers, lost another customer. D'Oliveira ditched her regular visits to the Somerville location and started making a longer trip to Market Basket in Chelsea.
Multiply D'Oliveira by thousands of other consumers and you get an idea of the problem Shaw's is facing. During the past decade, a growing number of the West Bridgewater-based chain's devotees have defected. Some say they left because of steep prices, poorly-trained staff, dingy stores, and better alternatives.
Shaw's sales have eroded by about $1.5 billion since 2006 and its New England market share has dropped from 19 to 11 percent, according to The Griffin Report of Food Marketing, a Duxbury trade publication.
"Shaw's has simply lost its way. They have become so overpriced that shoppers have left in droves,'' said Edgar Dworsky, who runs the consumer education site ConsumerWorld.org.
With a group of private investors about to take control of the company, what's next for Shaw's is unclear. But the status quo, analysts say, is unsustainable.
Most industry analysts blame the state of the 169-store chain on Supervalu Inc. — the Minnesota supermarket empire that bought Shaw's and its sister brand, Star Market, in 2006. The conglomerate, which previously focused on wholesale food distribution, took on a lot of debt from the transaction, did not understand the regional supermarket business, and barely invested in Shaw's, according to Kevin Griffin, publisher of The Griffin Report.
"Shaw's has been neglected for many, many years,'' Griffin said. "Supervalu kept bleeding the place, kept cutting staff, and wouldn't remodel stores.''
At the same time, major expansions and renovations by Hannaford, Trader Joe's, Market Basket, Whole Foods, Stop & Shop, and Walmart increased competition. Despite the razor-thin profit margins endemic to the grocery business, many companies cut prices during the recession to fight for market share. Shaw's, however, made no major moves to reinvent itself, analysts said.
Shoppers rated it among the nation's worst supermarket chains based on service, cleanliness, price, and perishables in the 2009 and 2012 surveys conducted by Consumer Reports.
"There's a lot more competition out there these days, and shoppers looking to get good quality but save money can get better deals by paying attention and shopping around,'' said Sharon Britton of Cambridge, who has shifted from shopping almost exclusively at Shaw's and Star Market to Trader Joe's and Coscto Wholesale Club.
"It's no secret that we have been operating in a very competitive environment and a challenging economy that have forced us to make some difficult, but necessary decisions in recent years,'' said Shaw's spokesman Steve Sylven, who said the chain has remodeled 88 stores since 2006.
Shaw's, which traces its roots to a Portland, Maine, grocery store in 1860, was one of New England's largest family-run supermarkets until it was sold to British grocery operator J Sainsbury PLC in 1987. In 2004, Idaho-based Albertsons bought Shaw's, and two years later, Supervalu took over in a $17 billion deal. The Minnesota conglomerate made a series of cost-cutting moves at Shaw's, including exiting the Connecticut market in 2010, shuttering dozens of stores, and laying off 700 employees in 2012.
Sales shrunk from $5.3 billion to $3.8 billion and last year, and Supervalu went looking for a new owner for the New England chain. Several weeks ago, an investment group, including New York private equity firm Cerberus Capital Management, paid $3.3 billion for Shaw's and several other supermarket brands, but no specific plans for the companies have been released.
In 2009, Consumerworld.org's Dworsky compared prices of 14 items at Shaw's, Stop & Shop, and Market Basket. He rang up the biggest bill at Shaw's — $20 more than the total at Market Basket.
Recent price-checking visits at Shaw's and Stop & Shop stores in Dorchester found not much has changed since. Stop & Shop was selling beef Kayem Fenway franks for $1.30 less than Shaw's; Cabot butter was at least 30 cents cheaper; and Pete & Gerry organic eggs cost about $1 less.
Sylven said that during the past year Shaw's has focused on "bringing our pricing back in line with our competition'' by reducing the cost of thousands of items and launching promotions, including its recent "Gotta Love Great Deals'' initiative.
Dworsky contends the effort is too little too late.
"You can go to the Somerville Shaw's at Twin City [Plaza] on a Saturday, and have the store almost to yourself,'' Dworsky said. "Go to the Market Basket outside Union Square in Somerville, and you often can't even find a parking spot in their lot. And people there load up their baskets like there is a pending hurricane.''
Similar scenes play out in other communities. In Plymouth, customers often have trouble finding a parking space at the Stop & Shop off Route 3. The Shaw's lot a half mile west on the same road is frequently a sea of open pavement.
Stop & Shop Supermarket Co. of Quincy made major investments in stores and pricing initiatives. The moves have helped the chain defend its roughly 30 percent New England market share in the past decade. The firm has more than 400 locations, including some in New York and New Jersey.
Hannaford Supermarkets, a Maine-based chain, has grown more than any other grocer in New England since 2003, increasing its store count from 88 to 166 by last year, the Griffin Report said. Its arrival in the town of Easton six years ago slowly transformed the shopping habits of many residents, including Gail Ziniti, who converted from Shaw's to Hannaford after discovering the new store had better deals.
"When the Shaw's market first opened in Easton, it was crowded and there were lines at the registers and deli,'' Ziniti said. "Today, you can stop in during the [week]day or even on a weekend day and there are only a handful of shoppers.''