Business
The man behind bag fees
His idea buoyed beleagured carriers, and incensed everyone else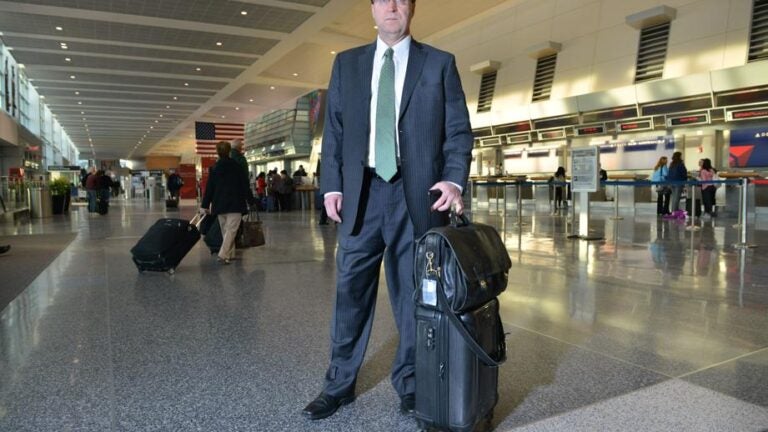 John Thomas is a mild-mannered airline consultant, a cheerful native of Australia with a ready laugh who is known for throwing great parties at his Needham home. So why do his friends want to stick pins into a voodoo doll of his likeness?
Thomas, 54, is the guy who brought baggage fees to airlines in North America. He first advised carriers to start charging for checked luggage in 2008, setting off a chain reaction that saw one airline after another adopt the charge and opening the floodgates for a steady stream of other new fees.
Passengers fumed, but analysts say it was necessary at a time when jet fuel prices were soaring and the industry seemed near collapse.
Without the infusion of cash provided by baggage fees — which now generate more than $3 billion a year — some airlines might have shut down, said Jay Sorensen, president of the Wisconsin-based travel consulting firm IdeaWorksCompany.
"It was a tsunami of money,'' Sorensen said. "I would credit bag fees with saving the industry that year.''
Bag fees don't affect Thomas, though. He either flies on his seven-passenger Cessna Citation jet, which he keeps at Norwood Memorial Airport, or stuffs his belongings in a carry-on — even on a three-week trip to China.
His response to the irony? "Oops.'' And then a sheepish giggle.
Thomas grew up in the southeastern Australia city of Wagga Wagga. He got his pilot's license after high school and started a small airline while studying accounting at the University of New South Wales, flying 10-seat Piper Chieftains from Sydney to remote towns.
After earning a financial analyst certificate and an MBA, Thomas started doing aviation work for LEK Consulting, a London-based global management consulting firm. In 1995, he and his wife, a stock trader from upstate New York, relocated to Needham and raised three children, now 21, 20, and 15.
Thomas works from LEK's Boston office, where his main job is helping airlines make money, something the industry has needed desperately in recent years.
Carriers were still recovering from losses after the 9/11 terrorist attacks when oil prices started to climb in 2007, eventually hitting record highs. Meanwhile, online travel sites made it easier for customers to compare prices and more difficult for airlines to raise fares to cover rising costs.
"They were looking at certain economic death,'' Thomas said.
Thomas first proposed baggage fees to a Canadian carrier in 2006. Several low-cost airlines in Europe started imposing bag fees around that time, but none of the major North American carriers had. The Canadian airline, which Thomas can't reveal under his contract, didn't go along with baggage fees — or with another of Thomas's suggestion, to sell teeth whitener to passengers on red-eye flights.
So, when a US airline came to him for ways to generate new revenue streams, Thomas had a solution in hand. He and his team did a route-by-route analysis for the carrier, which Thomas also can't identify, determining that revenue gained from bag fees would more than offset any loss of passengers if competitors didn't do the same.
Still, airline executives were nervous. If the airline lost more customers than he projected, Thomas's reputation, and LEK's, would have suffered. "It's my head on the line,'' he said.
On Feb. 4, 2008, United Airlines announced it would charge $25 for the second checked bag. Within two weeks, US Airways said it would do the same, and almost all the major carriers except Southwest Airlines followed, according to LEK.
In May
that year, a week before United was to implement the fee, American Airlines said it would charge for the first bag, too.
The other carriers that were planning to make passengers pay for the second bag said they would also start charging for the first, with the exception of JetBlue Airways.
"We were ecstatic,'' Thomas said. The success ushered in the era of airlines imposing fees for services once included in ticket prices, such as sitting in a window seat, while adding new charges for perks such as extra legroom and early boarding.
"Baggage fees were the first horse out of the barn and the door was never closed,'' said Sorensen, of IdeaWorks.
The revenue stream that resulted has been credited with helping to stabilize the industry. From 2008 to 2011, non-ticket revenue reported by airlines around the world more than doubled, to $22.6 billion from $10.3 billion, according to IdeaWorks.
Passengers have grown resigned to these fees. Ken Lynch of Mont Vernon, N.H., usually travels with a carry-on and pays to board early so he doesn't have to battle for space in overhead bins. The 6-foot-5 technology and banking consultant, who flies once or twice a month, also shells out for extra legroom.
"Everybody hates the airlines,'' he said. "It's the modern-day version of the stagecoach: It's uncomfortable, cramped, and the air stinks. The only thing missing is the smell of horse manure.''
Thomas knows he's not going to win any popularity contests among fliers. His wife, Paula Vanderhorst, gets a kick out of telling flight attendants that they have him to blame for all the passengers jamming carry-ons into overhead bins.
One friend, Jayne Garlick, who estimates her family has paid thousands in bag fees, threatened to stick a Thomas voodoo doll "somewhere unpleasant.'' A former British Airways flight attendant whose children went to school with Thomas's, Garlick said she considers him a "lovely chap.'' But she is unhappy about bag fees.
"It was a moment of madness,'' she said.
But that won't stop Thomas from dreaming up new ways for airlines to make money. He advised a British carrier to charge passengers $100 to guarantee that the seat next to them would be empty and recommended that another airline offer a service that picks up passengers' bags at home and delivers them to their destination.
The next revenue frontier: Wi-Fi. If airlines begin offering free Wi-Fi to passengers, they could offset costs, and then some, by charging restaurants, rental cars, and tourist attractions to aim promotions at this captive audience, Thomas said.
And with the recent loosening of online gambling regulations, passengers might someday be able to gamble with their frequent flier miles.
"Think of it as being in the mall with nothing to do, and there's a blizzard outside, so you're stuck in the mall for five hours.'' he said. "That's probably worth another $5 billion.''