Business
Stephen Marriott, 54, manager in family's hotel chain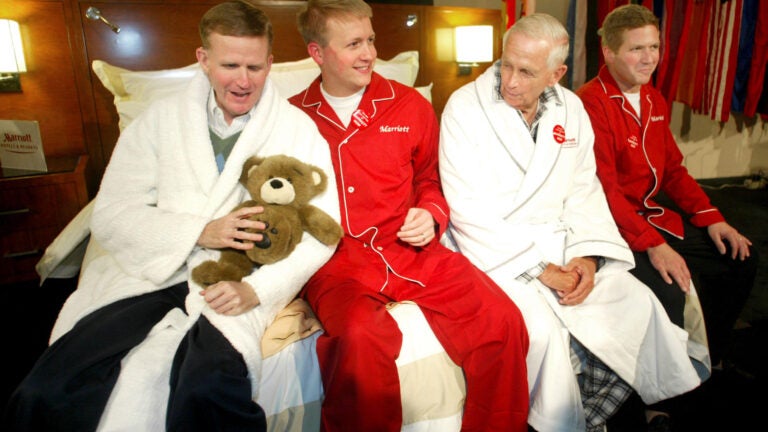 WASHINGTON — Stephen Marriott began using hearing aids in ninth grade, and his father tried to reassure him that the device was no different than a set of eyeglasses.
Mr. Marriott's vision slowly worsened, too. By his early 20s, after completing a Mormon mission in British Columbia and entering graduate business school, Mr. Marriott could barely make out his professor's notes on the chalkboard.
His condition was diagnosed years later as mitochondrial disease, a rare muscular disorder. It left him with a stutter and spasms in his hands that prevented him from mastering Braille. It has no cure.
''My dad likes to fix things fast,'' Mr. Marriott told Washingtonian magazine a few years ago. ''I think he got a little frustrated because he wanted to fix my eyes and my ears, and he didn't know how to do it. None of us know how to do it yet.''
For decades, his father presided over the Marriott International business empire, which grew from a root beer stand in Washington during the Roaring Twenties to a sprawling, multibillion-dollar company that includes hotel management, real estate operations, airplane catering, and the Big Boy and Roy Rogers fast-food chains.
Mr. Marriott, who died Sunday at 54, was part of the close-knit Marriott family management. He rose through the company from the lowest rungs.
At 16, he was a cook at a Roy Rogers. Later, as a hotel manager, he went by Stephen Garff, his middle name, to shield himself from the notoriety of his family. By the early 1990s, he was director of resort marketing at the company's corporate headquarters in Bethesda, Md.
He was mentioned as a potential heir in running the company, but his health problems deepened. In 2011, his father, J.W. ''Bill'' Marriott Jr., the son of the company founder, retired as Marriott International chief executive and was succeeded by Arne Sorenson, the president and chief operating officer.
Since 2006, Stephen Marriott has held the title of executive vice president for culture, in which he helped employees with training and job promotion opportunities.
He made his presence known at Marriott properties. He told the Washingtonian that a friend was once guiding him through a hotel lobby when he sensed his escort pause, reach down and pick up trash — the ''Marriott bend,'' he called it.
Stephen Garff Marriott was born in Washington and grew up in Chevy Chase, Md. He received a master's in business administration from Arizona State University in 1985.
Since 1996, he chaired the Marriott Business Councils worldwide, which promote company culture, community service, and public policy. In May, he received the council's top award, which has been named in his honor.
He leaves his wife of 32 years, Juliana Baughman Marriott of Potomac, Md.; three children, S. Blake Marriott of Boston and Jennifer Jackson and Ashley Samuelian, both of Orange County, Calif.; his parents, Bill and Donna Marriott of Bethesda, Md.; two brothers, John W. Marriott III and David Marriott, both of Potomac; a sister, Deborah Harrison of Potomac; and five grandchildren.
He died at his home in Potomac, said his father,
Marriott International's chairman. The cause was complications from mitochondrial disease.