Business
Defunct businesses of yesteryear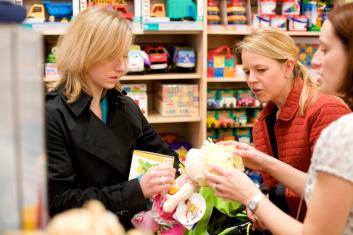 Whether they were victims of the Great Recession and its aftermath or long-ago met their demise, there have been many New England shopping destinations that no longer exist.

Take a trip down memory lane and look back on some of the businesses and stores of yesterday — or in some cases, yesteryear.

Building #19

First opened: 1964

Closed: Nov. 30, 2013

Building #19 Inc., a Hingham-based chain of 10 discount stores known for quirky advertising and low prices, filed for bankruptcy protection and closed its stores throughout New England.

In its new incarnation, it plans to operate as The Rug Department, offering Oriental rugs and some mattresses.

Isis Parenting

The upscale maternity and early parenting business for expectant mothers with classes on prenatal education, breastfeeding, and sleep support announced on Jan. 14 that it is closing all of its stores in Greater Boston, Atlanta, and Dallas.

Details about why it is closing were unclear.

Isis was founded as Isis Maternity back in 2003 in a small Brookline space.

Pictured: Amy David and her daughter, Zoe, 9 months, of Wayland, participated in sign language classes at Isis Maternity Center in Needham in 2005.

Howard Johnson's on Boylston Street

Hotelier Robert Sage (pictured) intends to sell his Howard Johnson's to developers who are transforming the Fenway neighborhood. The hotel opened in 1959. At the time, a single-room rate was $10.50 per night.

Hilltop Steak House

First opened: 1961

Closed: Oct. 20, 2013

The iconic Saugus restaurant's giant cactus was shut off for good on Oct. 20. Its owners cited a dramatic drop in business as the reason for closing down, just six years after Hilltop's Braintree location also went out of business.

First opened: 1960

Closed: July 2013

Anthony's Pier 4, a seafood restaurant that locals and celebrities alike considered a landmark, stood on Boston's waterfront for just over 50 years before slowed-down business forced it to close.

Filene's Basement

First opened: 1909

Closed: Dec. 29. 2011

Edward A. Filene founded Filene's Basement more than a century ago as a way to sell excess merchandise from his father's department store upstairs. The basement pioneered the concept of bargains when it devised a system of automatic markdowns.

Daddy's Junky Music

First opened: 1972

Closed: Oct. 26. 2011

Daddy's Junky Music was a small but beloved New Hampshire-based chain of music stores with shops across much of New England. The company's website simply said: "Daddys Junky Music Stores inc has ceased operation as of close of business on October 26th, 2011. Thank you for a wonderful 39 years.''

Left: Al Cox, tried out a guitar at Daddy's Junky Music on Massachusetts Avenue in 2009.

Borders

First opened: 1971

Began liquidating last stores on: July 22, 2011

According to media reports, Borders demise is a result of the chain overextending itself at a time when consumer reading habits were changing. Instead of buying books at a brick-and-mortar store such as a Borders, many consumers now buy books online, and others download digital prose for their e-readers.

Globe Corner Bookstore

First opened: 1982

Closed: June 2011

The Globe Corner Bookstore shuttered its storefront in 2011 but continues to operate as an online retailer. Patrick Carrier, the store's president, cited health problems in late 2010 as one of the reasons for closing.

A.J. Wright

First opened: 1998

Closed: 2011

When TJX Cos. announced that it would be shutting down the A.J. Wright chain, the move slashed nearly 1,400 jobs across the state and took its biggest toll on Fall River, where 800 positions at the distribution center there were eliminated.

Yolanda's Bridal Salon

First opened: 1969

Closed: 2009

Over 41 years, Yolanda Cellucci built a wedding empire in Waltham, making fortunes on sealing the fates of young brides across the region. After closing the doors of Yolanda's Bridal Salon, the glamour gal said she would continue working as a wedding consultant.

Circuit City

First opened: 1949

Closed: 2009

The electronics retailer was founded in Richmond, Va. It had about 556 stores nationwide when it filed for bankruptcy and failed to find a buyer in 2008. In 2009, Systemax bought Circuit City's brand, trademark, and e-commerce business at an auction. CircuitCity.com relaunched on May 19 of that year as an online-only retailer.

KB Toys

First opened: 1922

Closed: 2009

KB Toys began in Pittsfield as a family-owned business, Kaufman Brothers. After getting into the toy business in the '40s, it changed its name to Kay-Bee Toy & Hobby Stores, then to KB Toys in the '90s. The company at one time operated 1,200 stores worldwide, and had around 26 stores in Massachusetts at the time of its bankruptcy. It filed for Chapter 11 protection in December 2008 and began liquidation sales that ended in February 2009.

Linens 'N Things

First opened: 1975

Closed: 2008

The New Jersey-based home-furnishing retailer, facing growing competition from Bed, Bath & Beyond, filed for bankruptcy protection in May 2008, and started liquidation in October of that year after failing to find a buyer. All of its retail stores closed by December 2008. In February 2009, LNT Acquisition, LLC, bought the name, website, and brands in the bankruptcy proceedings and relaunched Linens 'N Things as an online-only store at www.lnt.com in April.

Tweeter

First opened: 1972

Closed: 2008

The electronics store was founded in Boston. It closed 49 stores and cut about 20 percent of jobs in 2007. The next year, the company was sold to liquidator Schultze Asset Management and closed all of its stores in December 2008.

Tower Records

First opened: 1960

Closed: 2006

Tower Records was founded in Sacramento, Calif. Facing competition with Internet music piracy, the retail music chain filed for bankruptcy in 2004 and for a second time in 2006. Great American Group bought Tower Records' assets in 2006 and closed all stores in December 2006. The company's website was recently relaunched by Caiman Inc.

Filene's

First opened: 1881

Closed: 2006

The department store was founded in Boston, with its best-known location in Downtown Crossing. It merged with Federated Department Store in 2005. By 2006, the Filene's brand and name were completely phased out and replaced with Macy's.

Ames

First opened: 1958

Closed: 2002

The discount department store was founded as a small general store in Southbridge. Despite its success in nationwide expansion, it faced many financial difficulties, underwent two bankruptcies, and closed in August 2002.

Bradlees

First opened: 1958

Closed: 2001

The discount department store was founded in New London, Conn. Facing low sales, the chain filed for bankruptcy in 1995 and again in 2000. It had 35 Massachussetts locations but closed down all of its stores by March 2001.

Ann & Hope

First opened: 1953

Closed: 2001 (in Mass.)

Founded in Cumberland, R.I., some credit it as the first real "big box store'' after which Walmart and Kmart modeled their businesses. Almost ironically, it was competition from these mimicking stores that drove Ann & Hope to close. Its Rhode Island stores were kept open and turned into outlet stores. It now operates under the name Curtain & Bath Outlet and has five Massachusetts locations in Millis, Danvers, Seekonk, Randolph, and North Dartmouth.

Caldor

First opened: 1951

Closed: 1999

The discount department store was founded in Port Chester, N.Y., and had many locations throughout New England. In its prime, it was considered the largest discount retailer in the country. Like many other discount retailers, it had troubles competing with stores such as Walmart. It filed for bankruptcy in 1995 and closed all its stores by May 1999.

Lechmere

First opened: 1913

Closed: 1997

Lechmere was founded in Boston. When the retail store tried to expand across Massachusetts it faced many financial and business issues. In 1968, Dayton Hudson Corp. bought and took over the stores. The chain was sold again In 1989 to Boston mall developers Steve Karp and Steve Wiener, and again in 1994 to Montgomery Ward. Due to competition from larger discount stores like Walmart and Target, however, Lechmere closed all its stores 1997.

Woolworth

First opened: 1879

Closed: 1997 (in the US)

At its peak, Woolworth had over 2,000 locations worldwide. Founded in Utica, N.Y., Woolworth was the first department store to have chains operating in all 48 continental states. In the early 1900s, it expanded overseas and opened locations in England, Germany, South Africa, and elsewhere.

As it expanded and diversified, however, it lost its 'dime store' focus, and ended up closing its US department stores to concentrate on sporting goods sales. The company now exists in the United States as Foot Locker, but still remains a department store overseas as a separate company.

Child World

First opened: 1970

Closed: 1992

The chain toy store's first location was opened in Quincy in 1956 and was later headquartered in Avon. For a time it was second largest toy retailer in the US behind Toys 'R' Us. Child World faced financial difficulties during the recession in the 1990s and filed for bankruptcy in 1992. It closed all of its stores by July 1992.

Jordan Marsh

First opened: 1841

Closed: 1991

The department store was founded and headquartered in Boston. In the 1950s, it expanded and opened chains in Florida called Jordan Marsh Florida. Due to a number of extensive takeovers and mergers, all Jordan Marsh Florida stores were disbanded in 1991, and most of the New England stores were turned into Macy's department stores.

Zayre

First opened: 1956

Closed: 1990

Founded by Russian immigrant brothers, Zayre opened its first store discount department store in Hyannis. The company expanded to the South and Midwest before filing for Chapter 11 bankruptcy in 1988. After the bankruptcy, the Zayre department stores were sold to Ames's parent company, and its other businesses went on as TJX Companies, which at the time included BJ's Wholesale Club. The Zayre stores were closed by 1990. BJ's was later separated from TJX, and both continue to operate today.