Business
Employees: Appreciation more important than pay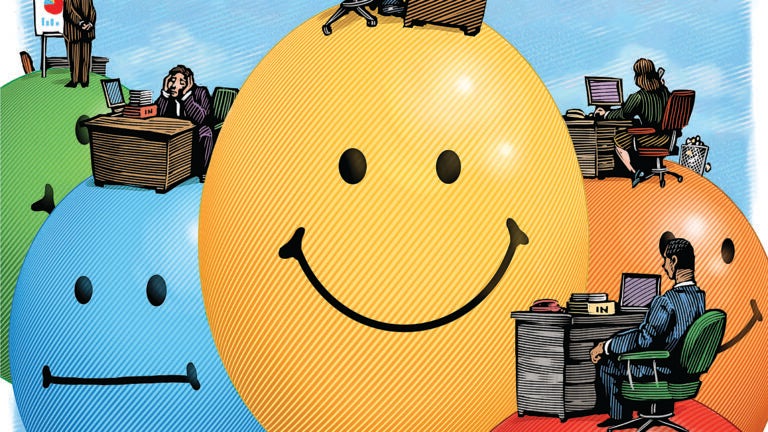 They say that money can't buy happiness, but it seems like a big paycheck would go a long way toward making people like their jobs more.
Not true, it turns out.
Each year, Massachusetts workers rank being appreciated, feeling that they are part of something meaningful, and having confidence in their future among the key factors that determine how they feel about their jobs.
The least important? Pay, benefits, and work-life balance.
These responses may seem unusual to the unlucky masses who aren't employed by a company that makes the Top Places to Work list, compiled for 38 publications across the country by the employee-survey firm WorkplaceDynamics. But in fact, it's the common order of things from the roughly 1 million Americans who participate in the annual survey.
The reason is simple, explains Shawn Achor, the author of "Before Happiness'' and a nationally recognized positive psychology researcher: Career fulfillment is not about money.
"The way we define happiness is the joy you feel striving toward your potential,'' said Achor, who has lectured at Harvard University. "If we feel we and our organizations are striving toward that potential, that's when we feel happiness. Even if your income is increasing, if you feel like you're stagnating at work, your happiness drops.''
Achor has studied the connection between employee happiness and success in more than 50 countries and has found that appreciation pays off. His studies revealed that productivity rises by 30 percent when a team is given one piece of praise each day.
Work-life balance becomes less important when people are confident in their jobs and feel their work is meaningful, said Doug Claffey, chief executive of WorkplaceDynamics of Exton, Pa.
"If I'm in an organization where I feel connected, then I'll find a way to manage my work-life balance,'' Claffey said. "If I feel my work is meaningless and I have no future there, then work-life balance will be a struggle as each minute at work stretches on.''
Legacy Marketing of Boston emerged this year as one of the best in the state in appreciating, providing meaning, and instilling confidence in its employees.
Olivia Vo, Legacy's human resources director, said the 75-person company is rated favorably due to a management training program that places entry-level workers on a two-year path to start their own marketing firms.
Employees begin as marketing associates and are promoted to higher-ranking positions every few months through training, leadership abilities, and by achieving skill-oriented goals.
Once employees reach the highest level, director of operations, they have the skills to branch out on their own in a new geographical area as a profit-sharing subsidiary of the company, Vo said.
To accomplish this, the employee must have $10,000 in savings, which is amassed along the way through bonuses, pay incentives, and their own income. Vo said this starter fund is often doubled by signing bonuses provided by new clients.
In Legacy's four-year history, four employees have branched out on their own.
"We call ourselves the laboratory,'' Vo said. "When they are a full-fledged company, they already have the skills they need under their belts. It also helps our clients expand to new markets and tap into new demographics.''
The Top Places survey results are determined by responses to 22 statements about how employees view the work they do, as well as their connection to the company and its direction, leadership, and execution. Overall, Boston-area workers rated their employers more positively than any other metro area or region in the country. Dallas and Austin, Texas, ranked second and third, respectively.
"You guys moved up from the third most positive city last year to the number one,'' Claffey said. "To see the statements go up across the board is not something I recall seeing elsewhere ever.''
Claffey said the findings suggest Boston companies are more focused on creating engaged and healthy workplaces. Rather than sitting in an "ivory tower,'' he said, leaders are in tune with employees and communicate the direction of the company. Workers feel confident in their own futures and in turn put more into work.
"There's a virtuous circle happening in Boston,'' he said. "You see that link between senior leaders feeling more connected with employees, employees being more clued in, and people feeling like they count.''
Foundation Medicine, a biotechnology company that employees also ranked highly in appreciation, confidence, and meaningful work, seems to exemplify this cycle.
Sarah Larson, vice president of human resources for the Cambridge company, said its workers are kept up to date with leadership decisions through frequent e-mails and town hall gatherings that follow every board meeting. The hiring process is very selective, and the company only employs people who share its mission and goals. As a result, Foundation's employee retention rate is greater than 90 percent, she said.
"Everyone on the team realizes that in order to be great, you need a team of great people, and you cannot do it alone,'' Larson said. "So the focus is on a mission bigger than any one person.''