Business
What the Heck Happened at Market Basket?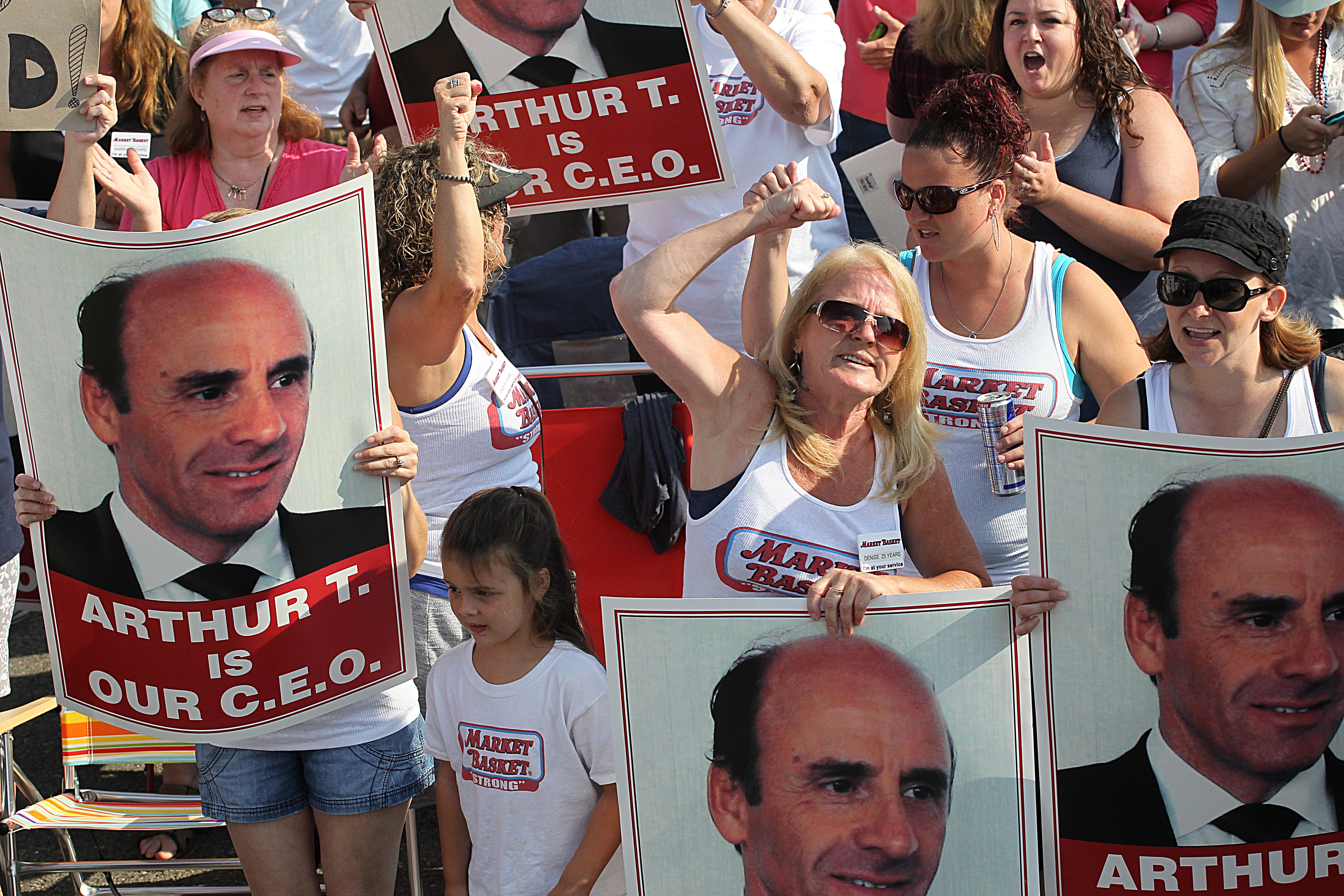 Market Basket employees' movement to reinstall ousted CEO Arthur T. Demoulas gripped New England throughout the summer of 2014. Here's a quick(ish) refresher of what happened when, and why.
8/27/14 — DONE DEAL:
Arthur T. Demoulas and his family will buy Market Basket. Arthur T. will regain full control of the company's business operations, though he will not formally serve as CEO, until the deal closes in the next several months. The summer saga is over, pending the closing of the deal in the next several months.
Read about the deal—and the path to it—here.
Read about Market Basket's restocking efforts here.
And read our full coverage of the saga here, with a timeline of events here.
The below was last updated on the afternoon of August 27, with slight adjustments added after Arthur T. reached the deal.
Final days before resolution:
Market Basket's financial situation was thought to be dire more than five weeks after worker and customer action first brought the company to a standstill. With that as a backdrop, Arthur T. Demoulas remained in negotiations about a possible buy-out of the chain from rival family members including his cousin Arthur S. Demoulas.
On Friday, August 22, it was reported that Arthur T. Demoulas and his family made a "final offer'' for the company he led as CEO before his June firing. Massachusetts and New Hampshire governors Deval Patrick and Maggie Hassan later released a joint statement saying both sides are optimistic a deal will get done. Arthur T. followed their statement with one of his own, released through a spokesperson, saying there "is nothing that stands in the way of getting this done this weekend.''
However, a scheduled board meeting for Sunday night, August 24, was called off a few hours before its start as the sides continued to negotiate. The board of directors will meet if and when shareholders reach an agreement, a source told Boston.com.
On Tuesday, August 26, multiple sources told Boston.com both sides were optimistic about a deal. And The Boston Globe reported a contingency plan in the event a deal cannot be reached would close all but 10 Market Basket stores, according to the Globe.
The bid is reportedly worth $1.5 billion for the 50.5 percent of the company he and his family do not already own. Some of that figure will reportedly come in the form of financing from a private equity firm.
The effort to reach a quick resolution came out of a board meeting Monday, August 18, the day after Patrick and Hassan met with the two sides to try to help facilitate a deal.
The company's current co-CEOs Felicia Thornton and James Gooch have agreed to not fire anybody while discussions continue. Boston.com confirmed Monday that Thornton and Gooch were in attendance at that board meeting.
The Globe has reported another bid—from Delhaize, the Belgium-based parent company of Hannaford—may still be on the table, and that Delhaize has approached Arthur T. Demoulas about running Market Basket if it were to wind up in control. But in recent days, talks have focused on Arthur T.'s bid, and it is not clear that Delhaize is still a viable suitor.
On Monday, August 18, several local vendors, led by seafood company Boston Sword & Tuna, spoke with Boston.com, saying they had cut off business with the chain after erratic payments.
For a day-by-day look at recent events, check out our timeline.
In the executive ranks:
Let's look at recent history.
On July 24, Arthur T. Demoulas announced he and his family members had made an offer to buy the company shares they do not already control from a rival faction of family shareholders, which includes his long-time rival, cousin, and namesake Arthur S. Negotiations have reportedly carried on in the days since.
Arthur T.'s efforts to buy out the company came days into a remarkable worker and customer revolt in his support. Arthur T. was fired as CEO by the board on June 23, a move that generated immediate resistance from workers across many levels of the organization and has since sparked employee protests and a widespread customer boycott.
As negotiations on a potential buy-out drifted into early August, Arthur T. offered on Sunday night, August 3, to resume running the company in an effort to get it back on course, as he continued to work to buy Market Basket. "Time is of the essence,'' a statement from his spokesperson read. A statement from the company's board of directors released shortly thereafter voiced continued support for existing management, thereby rejecting his offer to step in as its leader.
On August 8, members of the board said they had offered a different proposal: to bring back fired and resigned members of Arthur T.'s management team in an effort to stabilize the company as negotiations continue, and to work with him in a non-CEO capacity as part of that process. Demoulas responded through a spokesperson, calling that offer "disingenuous'' and suggesting it amounted to a method to make Market Basket more attractive for another bidder.
There may be another bidder for the chain. On August 7, The Globe reported Arthur T.'s offer is not the only one being considered by the board. The parent company of Hannaford is also bidding for Market Basket, according to the report.
On August 9, Arthur S.'s family issued a statament saying they were willing to sell to Arthur T. but accusing him of dealing in bad faith. They also said they had offered Arthur T. a financing plan. Arthur T. responded on August 10, saying the two sides were not in disagreement about the price of a sale, but suggesting the terms from Arthur S.'s side to complete a deal were "onerous.''
On the protest line:
Away from the board room, employee and customer protests have continued to captivate New England.
A rally held outside the company's Stadium Plaza store on Tuesday, August 5, drew an estimated 10,000 customers and employees. It was the fifth rally held by employees since Arthur T. was fired, and the third at that store. Previous rallies had seen organizers endorse the ideas of stopping deliveries to stores and a widespread customer boycott in an effort to force the company's hand to redeliver the chain to Arthur T. Those ideas have been effective, with some workers saying business was down 90 percent during its first week. Business has since trickled to a near-halt across the chain.
Meanwhile, things appear to be coming to a head between protesting employees and the company's current leadership.
On Wednesday, July 30, co-CEOs Thornton and Gooch, who replaced Arthur T. Demoulas in June, told employees they would need to return to work by August 4 or they would be replaced. (Store workers have mostly been showing up for their shifts, but employees in warehouses and at company headquarters have not. Most store managers, though, have signed a petition saying they would rather resign than work for anybody but Arthur T. in the event of a sale of the company.) The following day, July 31, the attorneys general of Massachusetts and New Hampshire wrote a letter to management, reminding them of relevant employment laws in the state when it comes to firing workers.
Few were seen attending job fairs. Management has not yet taken action against still-protesting headquarters and warehouse workers. However, the company's part-time workforce learned on August 7 that its hours would be cut significantly, in most cases to nothing, the following week.
On August 12, the co-CEOs sent another letter to headquarters and warehouse workers, issuing a so-called "last request'' for them to return to work by Friday August 15. The CEOs also sent that week a letter to store managers asking that protest signs be removed from company property. Both orders were met with defiance, and employees continued to protest on August 15 as the imposed deadline passed. The day saw a replacement driver hired under Thornton and Gooch's management arrested after he left his truck and threatened protesters with a hammer. (Seriously.)
Customers held their own protest the evening of Saturday, August 16, drawing hundreds who emphasized they are boycotting the chain until employees' demands of Arthur T.'s reinstatement are met.
How did the protests start?
The organized customer boycott began a few days after warehouse and office employees stopped working and stores stopped accepting deliveries from replacement drivers. Stores have since seen their inventories significantly thin. That process began with a rally on Friday, July 18, at the company's Tewksbury headquarters.
(This seems as good a time as any to pause and clarify that, yes, there have been a lot of rallies. There have been five mass rallies held since Arthur T. Demoulas was fired: One the day after the firing, on June 24, in Chelsea; the July 18 rally at the company's headquarters; and July 21, July 25, and August 5 rallies each held outside the Stadium Plaza store. The rallies moved to the Stadium Plaza store after fired workers received papers banning them from company property. Stadium Plaza is owned by, and Market Basket leases its store there through, a real estate company operated by Arthur T. Demoulas and members of his family.)
At the July 18 rally, which could be seen as the first action of the protest movement, rally organizers had encouraged employees to "shut this company down'' in order to get the board of directors to listen to their demands for Arthur T.'s reinstatement. Within 24 hours, perishable items like produce and seafood were noticeably thinning at stores across the region.
The upshot of all that: Several management-level employees who have led the employee actions in support of Arthur T. were fired on the afternoon of Sunday, July 20. They were notified of their firing by courier.
The mass firings were preceded by the early tones of organized action against management.
Employees had issued an ultimatum to the board, saying they needed an answer by 4:30 p.m. on Thursday, July 17, about their demands for the reinstatement of Arthur T. When they received an answer shortly before that deadline saying only that some employees would get a chance to meet with the board the following week, employees said that wasn't good enough. They then organized Friday's rally, which drew more than 2,500 employees and supporters.
Employees were told in a letter by management that anybody who did not complete their normal job functions as a result of this movement would be canned. Neither side blinked, and between the July 20 firings and crippled business at Market Basket stores, both have seen consequences.
Market Basket said in a statement the night of the firings that the dismissed employees' "actions continued to harm the company, negatively impacted customers, and inhibited associates' ability to perform their jobs.''
After weeks of silence, Arthur T. released his first statement since his dismissal the night of Monday, July 21, asking that the company reinstate the workers fired the previous weekend.
"In the final analysis, this is not about me. It is about the people who have proven their dedication over many years and should not have lost their jobs because of it. I urge that they be reinstated in the best interest of the company and our customers,'' the statement read.
The next day, co-CEOs Thornton and Gooch released a statement to the press saying they "saw no alternatives'' to the firings, and urging workers to get back to work.
Why are employees protesting?
OK, the long answer goes back decades. In the very short-term, Market Basket employees are extremely loyal to the former CEO, Arthur T., who still remains a major shareholder. Two other executives were fired the same day as Arthur T., June 23, and seven more resigned the next day.
And why the loyalty?
Employees at Market Basket receive strong benefits, including participation in a profit sharing program and scholarships for employees in college. The company has historically also promoted from within, and it's very usual for upper management to have worked for the company for several decades. Employees are worried that new leadership wants to operate the company in a way that stresses profits. (Market Basket is already profitable, and does billions of dollars in revenue with its 71 stores.) This could, theoretically, threaten those employees' livelihood. Gooch and Thornton have said they intend to keep those benefits in place.
Employees also worry new leadership aims to sell the company; Thornton's expertise historically has been in mergers and acquisitions. The board's statement on Friday, July 22, all but confirms it is at least interested in considering the option, as does another statement issued Tuesday, July 29. Boston.com has also uncovered and reported that a sale of a controlling stake in the company to a private equity firm was explored in 2011 by Arthur T. Demoulas's rival relatives.
With that in mind, employees say they are fighting for the preservation of the company as it has long existed. Moreover, they say their fight is also about Arthur T. himself, whom they hold in extremely high regard. Here's a look at how employee loyalty is central to the company's business model. The Globe further details some of the reasons employees feel so strongly about Arthur T. and the company under his direction.
It is indeed unusual that management and rank-and-file employees would be participating in a movement together in support of an ousted executive, which might be one reason employees have resisted the idea of unionizing.
Customers, meanwhile, have long said they prefer Market Basket partially for its pricing advantage over other chains.
I heard something about politicians…
Yes you did. Seventeen elected officials from Massachusetts signed a letter Saturday, July 19, calling for a boycott of Market Basket and expressing support for employees. The number of politicians to have signed that letter has since grown to dozens, and now includes lawmakers from New Hampshire as well.
Attorney General and candidate for governor Martha Coakley issued a statement Sunday calling employees' actions "inspiring.'' Likely Republican gubernatorial candidate Charles Baker, as well as New Hampshire Senator Jeanne Shaheen, and New Hampshire Senate hopeful Scott Brown, who formerly represented Massachusetts, have all also offered varying levels of support to employees.
Governor Deval Patrick and U.S. Senator Elizabeth Warren declined to take a position on the situation for several weeks, which has generated some anger from protesters. On August 8, Patrick maintained that he would not take a side in the standoff, but called the situation "out of hand'' and offered to help reach a solution. On August 13, he suggested employees return to work while the two sides of the Demoulas family continue to negotiate.
Why was Arthur T. fired?
The board has held that Arthur T. spent money unwisely while at the helm—including through business deals that could be seen to be self-interested. (The rallies on Monday, July 21, and Friday, July 25, and Monday, August 5, were held at a Market Basket store that leases through a company for which Arthur T. Demoulas serves as president, and that has been operated with other family members, including his brother-in-law. His side of the family has benefitted from several other real estate and development deals with the company while he has been CEO.) Arthur T. has countered by saying deals with family members have created efficiencies that help to serve the company's interests. A retired judge brought in to audit the situation said in 2011 that the financial terms of most such deals were not outrageous.
Going further back: Much of the story stems from resentment between Arthur T. and Arthur S.'s sides of the family. The two Arthurs hate each other, partially as a result of Arthur T.'s side having stripped control of the company away from Arthur S.'s many years ago, after Arthur S.'s father died. In the 1990s, after a wild run through the legal system, the courts said they agreed with that allegation and restored Arthur S.'s family's stake in the company. That battle has become the stuff of legal lore in Massachusetts, and included a physical altercation between the two Arthurs. (It also saw Arthur T.'s side's lawyers concoct, and execute, a plan to wear a wire in an attempt to get an unsuspecting law clerk to discredit the judge who lowered the decision. They wound up getting the tables turned on them when the clerk taped them admitting to doing so. It resulted in eventual disbarment.) Read more on the history here.
Arthur S. gained control of the board of directors, which answers to shareholders, last year by swaying a shareholding family member, his sister-in-law who had been voting with Arthur T., to his side. Grant Welker of The Lowell Sun has a great look at that dynamic. Read it here.
The board then tried to fire Arthur T., but employee action helped to delay that move. The board next acted to take hundreds of millions of dollars out of cash reserves and deliver it to shareholders, to Arthur T.'s objections, before firing him on June 23, 2014.
This article was originally published on July 21 and was updated continuously over the next several weeks.
Check out more Boston.com coverage of the Market Basket saga here.