Business
Market Basket Makes 'Last Request' for Workers to Return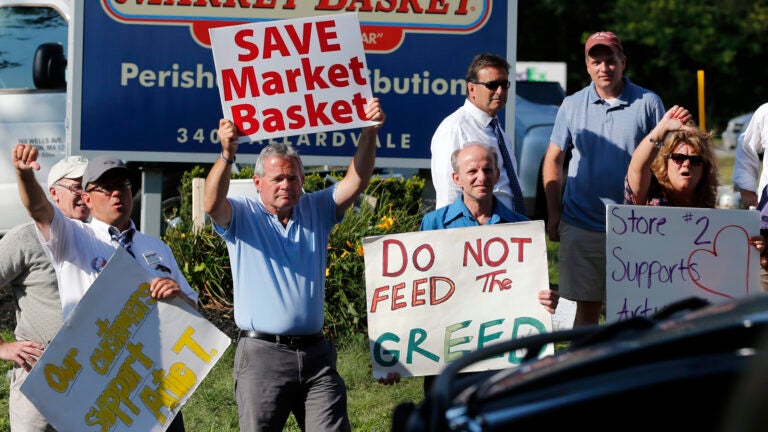 Market Basket co-CEOs Felicia Thornton and James Gooch have sent a letter to employees who have walked off the job offering what appears to be a final chance to return to the company under their leadership. Employees have until Friday to report to work, the letter reads.
"We are writing one final time, to invite you to return to work and perform your job obligations,'' the letter says. "If your role requires that you primarily work at the company's headquarters or distribution facilities, you must return to such role ready to fulfill your duties no later than Friday, August 15, 2014. Alternatively, if your job is based in the field, you are required to return to work and contact either of us prior to August 15 to review the work you are performing. Should you choose to ignore either of these directives, the company will consider you to have abandoned your job, thereby ending your employment with the company.''
A Market Basket spokesperson confirmed the letter on Thursday afternoon in a statement, reading:
"Since July 17, approximately 200 associates who work at headquarters and the distribution centers have failed to report to work, despite several company communications requesting they do so. The company has not taken any action in response to their absence, but is left with no choice but to make this last request. The company will of course follow all applicable laws should these associates choose to abandon their positions.''
Most store workers and managers have been reporting to their shifts in recent weeks—though for most part-time workers, hours have been cut to nothing as a customer boycott has crippled business operations. However, since worker action in protest of the firing of former CEO Arthur T. Demoulas began in earnest on July 18, most warehouse and headquarters workers, and traveling supervisors, have not worked.
Employees and many boycotting customers have stayed adamant that the ongoing movement will not end until Arthur T. Demoulas is reinstated as CEO.
Anne Browne, an IT worker with the company, told Boston.com she had received the letter. The letter was sent on company letterhead via FedEx, Browne said.
Browne said she has heard from other headquarters workers who have received it. She said she does not plan to report to work on Friday. "Artie's not in the office,'' she said. "If he's not, I'm not.''
Employment lawyer Bob Young, of the Boston firm Bowditch & Dewey, told Boston.com that the wording of the statement serves as "a way of saying the employee resigned rather than was terminated.'' That would likely leave workers with little in the way of legal protection should workers not return to their jobs on Friday. "It's not at all uncommon to send this kind of note'' to employees who are not reporting to work, Young added.
Thornton and Gooch had previously set a deadline of August 4 for those employees to return to their jobs or risk losing their jobs. That was met with a letter from the attorneys general of Massachusetts and New Hampshire, reminding them to follow labor laws if and when they fire workers. No consequences were lowered that week as employees dismissed the call and the company held job fairs.
On July 17, the day before the protest movement was kickstarted with a rally at company headquarters, Thornton and Gooch had warned that any employees who "abandon'' their jobs would be fired.
Eight management-level Market Basket employees were fired on July 20 for allegedly leading the protest movement. Seven other headquarters workers resigned on June 24, the day after Arthur T. Demoulas was fired.
In recent statements, three members of Market Basket's board of directors have suggested those employees could return to stabilize the company as Arthur T. Demoulas negotiates to buy it out from rival shareholders, including his cousin Arthur S. Demoulas.
Check out more Boston.com coverage of the Market Basket saga.